Visit safely, without masks
Visit your loved one without the travel, without infection risk.
Call the Care Home for a Videophone visit
Your loved one will enjoy seeing you on a Konnekt Videophone. It's big, loud, and incredibly easy to use.
Privacy: Because it's bullet-proof reliable and simple, staff don't need to stay during your call.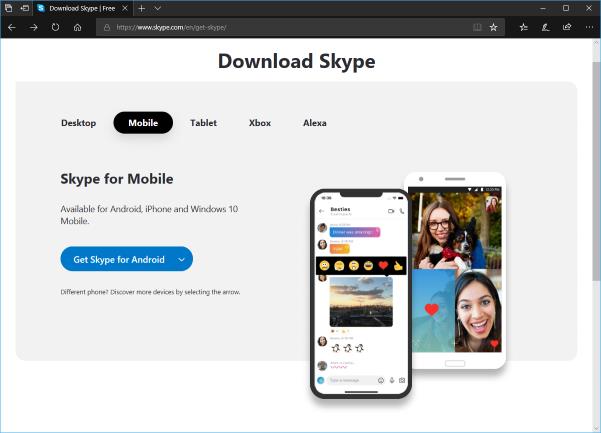 Step 1: Get Skype
On your mobile, tablet or computer:
Search for Skype in the app store, or go to skype.com. Download the app. Create a free account.
On a Mac or Windows 10 PC, you can also use Skype in the Chrome or Edge browser without any app:
Step 2: Start a video call
In Skype search, enter the Videophone phone number (it's on a sticker on its front) and tap the result (typically the organization's name).
Or even easier: Tap here to open Skype, then tap the Join button.
Then in Skype, tap the video camera at top right.
Step 3: They answer
Your loved one (or staff) will press the huge, 6-inch wide ANSWER button.
If your loved one is bed-ridden, a big wireless push-button can be used to answer.
Talk, face-to-face!
Videophone is beautifully simple. No logins, menus or settings to go wrong.
When you're done, either of you can end the call.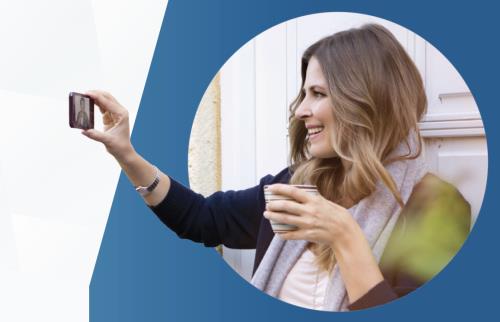 How to call from any phone, without video
Just dial Videophone on its phone number. It's written on a sticker on the front.
Frequently Asked Questions
Call staff at the Care Home during business hours and arrange for a Videophone virtual visit to your loved one's room.
Connect them to Grandkids
Bring a smile to their face! How to get the grandchildren talking? Ask them to show off their new toys.
Birthdays and Religious Festivals
Family birthdays are not to be missed! Imagine the joy you can provide by bringing the party to your loved one's room.
And vice-versa: Schedule a surprise group family call on your loved one's birthday. For a longer, more personal experience, schedule a series of one-on-one calls that makes the day special.
Palliative care
Overseas and interstate relatives can provide great comfort to care patients and to visiting family members.
Improve mental health
Increased face-to-face social engagement via video calling was shown in an OHSU medical study to reduce social isolation and halve depression risk.
A second OHSU study showed that increased face-to-face conversation increased cognitive function (brain health) after 6 weeks of 30-minute daily video calling.
To use Skype, you need a Wi-Fi connection or a mobile Internet data connection. Skype uses only a little Internet data and has virtually no impact on performance or battery life. No call costs or subscriptions are needed for Skype-to-Skype calls.
Tips:
You can use either your mobile number or email address to create an account.
If using a mobile phone or tablet, rotate it to landscape (horizontal) mode so your picture fills the Videophone's screen.
Face towards a window or light source. Minimize background lighting and movement.
Turn off TVs and avoid wind noise.
A headset, headphones or earphones will vastly improve sound quality.
Get close to your Wi-Fi router, or ensure your mobile signal is strong (3 bars).
You can show your Facebook, photos or a web page from within Skype by sharing your screen.
Microphone on mute. Tap to enable sound.
Camera off. Click to enable.
If the call drops, simply call back.
If you're having trouble connecting, try calling the Videophone's own telephone number, <blank value> or click here to call.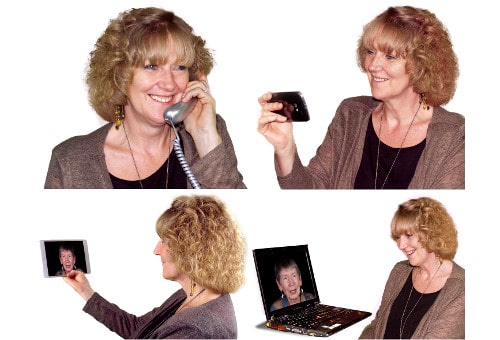 You can call the Videophone face-to-face from almost any Smartphone, tablet or computer, or via a regular call from any mobile or landline telephone.
To set up a group call,
Call the Videophone from your Skype.
In your Skype mobile app: Tap the screen "…" at bottom-right, then tap Add people.
Or if you are using a computer: At top-right, tap the head-and-shoulders "+" icon.
Search for and select others to add to your call. At top-right, tap Add.
After you've finished your Videophone visit, you might like to invite other family members to call the Videophone.
When you're all done, your loved one can press the Finished button to call staff, or simply wait for staff to attend.
Rental or purchase
Some Care Homes have multiple Videophones, and rent them to residents' families during vacations, during respite or illness, or during the pandemic when family members cannot visit in person.
Otherwise, simply contact Konnekt to organize a Videophone for rental or purchase so that your loved one can use it any time, for as long as they like, in the privacy of their own room.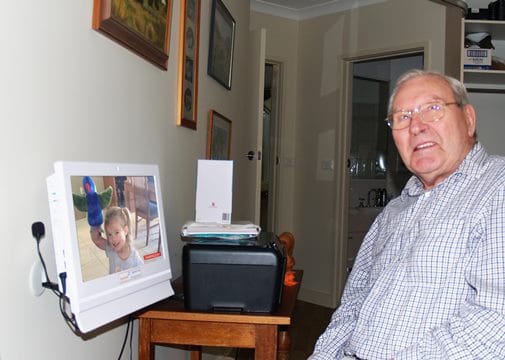 Private Videophones can have up to 40 call buttons.
Your loved one can initiate calls to family, friends and carers, with the touch of one button.
Private Videophones can also be configured to automatically answer calls, after (say) 30 seconds, from trusted callers that you nominate.
Tell or send the family member the Videophone call link. If they prefer a regular phone call, give them the phone number. Both are on stickers on the front.
Bring the Videophone and resident together. Check that the screen is pointing towards the face.
Ensure the power cable does not present a trip hazard. You might need to coil up the power cable, and allow Videophone to run using the battery backup unit.
If required, call the family member to let them know they can call. There may be a Tele-Visitor telephone book in which to keep family phone numbers, organized by room number.
When Videophone rings, the resident or the staff member can simply press the answer button.
If the resident is unable to reach the screen, give them the remote button to use, and show them how to press it.
That's it!
When the visit is over, the resident may press Finished to call staff, signaling that Videophone is available for another resident.