Friendly, fast and Australian
Seniors

Internet
Konnekt Seniors Internet is designed specifically for elderly Australians. Konnekt Seniors Internet is available almost everywhere in Australia, offering service and support that is professional, courteous and run by Australians in Australia. Our phone manner is the best, and we will not try to sell you more Internet than you need.
Konnekt can offer ADSL, NBN and mobile Internet where available. Older adults find it a pleasure talking to Konnekt because our service plans are straightforward, we take the time to understand your Internet needs, and there is no annoying long-distance delay that you experience when you talk to most other Internet companies. And Konnekt offers you the best Internet for your home or Aged Care facility room, because we're not locked to one network.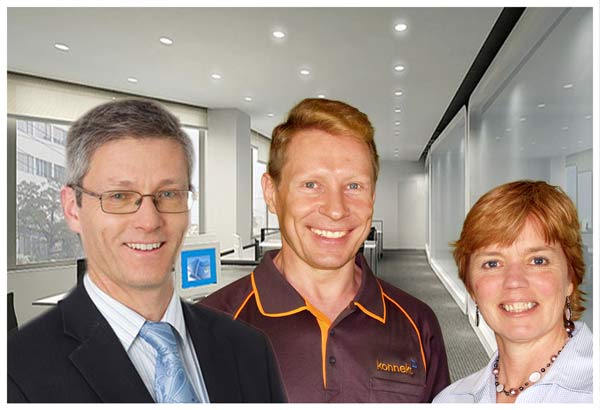 Many elderly Australians experience either social isolation, loneliness or some form of problem — such as poor hearing or vision, shaky hands, slow movement (making it hard to reach the phone in time), bad memory, or difficulties using fiddly telephones with small buttons and tiny text.
Konnekt has the answer!
Konnekt Seniors Internet allows you to connect your iPad/tablet, mobile or computer devices via Wi-Fi, and use Skype to talk face-to-face to family.
For those frustrated with fiddly tablets or struggling with complex computers, Konnekt also offers the world's simplest video phone, designed specifically for seniors. It has BIG buttons, it's SUPER loud, and even lets you talk face-to-face with your relatives and friends — all without any bill shocks.
Konnekt Seniors Internet, coupled with Konnekt Videophone, helps sons and daughters be better carers. Face-to-face contact reduces social isolation and halves the risk of depression. The one-touch user interface is extremely simple, helping restore independence. Auto-answer lets trusted family, that you nominate, have their calls automatically answered — with full two-way video and sound — letting you check in, in the event of an emergency or when there is no answer.
Pensioners:  An Australian MyAgedCare Home Care Package (HCP) may be able to fund Konnekt Seniors Internet and Videophone for you. Contact Us for our government-funding fact sheet.
Seniors Internet

Specific Features
Support in Australia. No long call delays.
Courteous, professional phone manner
Lower contention ratios. Faster in peak times.
Faster "Annex M" uplink. Smooth face-to-face calls.
Videophone seniors bundle – world's simplest phone plus Internet
Friendly installation available (metro & regional centres)
Free* with government funding