How It

Works
Konnekt provides a full service, including Videophone setup and any subsequent changes, so that you don't have to worry about the technicalities.
So you can JUST CALL US AND WE WILL MAKE IT HAPPEN.
Or read on to get an understanding of how the system works, and what happens after you place an order.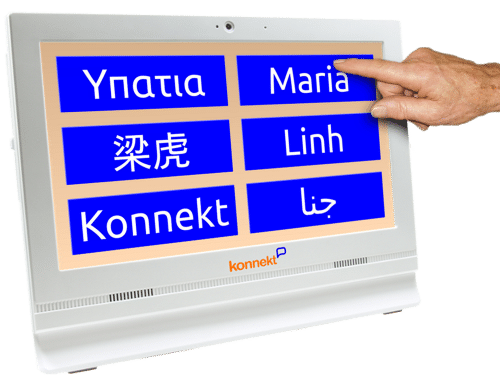 The Konnekt Videophone enables face-to-face contact with family and friends through the simplest interface possible: ONE-TOUCH TO DIAL. It requires NO COMPUTER SKILLS whatsoever. There are no menus, no passwords, no fancy options.
Using a finger, a pointer, or just about any object, you just tap the name you want to call on our large 15 inch screen, and the Videophone commences a call via Skype.
Incoming calls are equally simple, and can be automatically answered for authorised users.
The Videophone is purpose built for video calling. It can be left on permanently, and contains a genuine Intel CPU and other carefully selected components, to ensure reliability and video call performance.
The Videophone is ideal for those who struggle to use the telephone, or who are unable to use modern technology for any reason: poor eyesight or hearing, wobbly hand movements, immobility, or cognitive issues such as dementia. The Videophone enables our customers to take part in the digital communication age, without needing to understand fiddly, complicated devices. It helps them remain at home that little bit longer, or eases the transition into Residential Care. It helps retain independence, reduces social isolation and increases visual contact with loved ones.
See further below for more information on Using The Videophone
Many of our users are 80-104 years old, or have poor hearing or vision, shaky hands, or dementia, or are disabled, or bed-ridden / chair-bound. So we really like to talk to you, or get a bit of information via email / Skype, so we can properly understand your particular needs, and make sure we choose the correct options. We want to ensure the Videophone will be a huge benefit to you and your family! We will call you anywhere in the world to save your call costs. You can then sign up over the phone, or we can send you an application.
After you place your order for Purchase, Rental or Trial, Konnekt personalizes and tests your Videophone. You provide us with the names to go on the Call Buttons, and we do the rest! We contact each family member & friend, no matter where they are in the world, to help them get setup with Skype and connected. While more contacts can be added later, we conduct test calls with the first ones, optimize their call quality, and make sure the Videophone is shipped with a set of working contacts. We have partners / resellers worldwide including Australia, America, UK, Europe and Asia.
The Videophone requires either fixed Internet, Wi-Fi or cellular / mobile Internet to work. Skype is fantastic and performs well even on slow Internet services. However, we recommend at least 2/0.7 Mbps downlink/uplink speed (2/2 Mbps for lip reading). Data usage is under 5GB per month for the 90% who make less than an hour of video calls per day, but up to 50GB per month for extreme users who love to talk face-to-face all day.
Konnekt can help you with Internet worldwide, recommend or supply a reliable Wi-Fi modem-router, and answer your technical questions. We even provide IT support for family and friends.
Setup is often completed in a matter of minutes. Connecting the Videophone to Internet, via Wi-Fi or LAN cable, is very easy. If you are able to tell us your Wi-Fi network name and password beforehand, we will configure the Videophone to automatically connect to it. No more to do!
Konnekt Videophone Unboxing
Videophone set-up is easy.
Unbox, plug in, and go.
Most customers place Videophone on a low table beside the "favourite chair". Simply unfold the kickstand and secure it to the table using our strong furniture-friendly tape. Wall-mount brackets and other installation options for bed or chair-bound users are also available.
For your peace of mind, one of our technical team will be on the phone with you or your nominated contact during setup. This allows you to have the Videophone setup in a different state or country without having to be there yourself.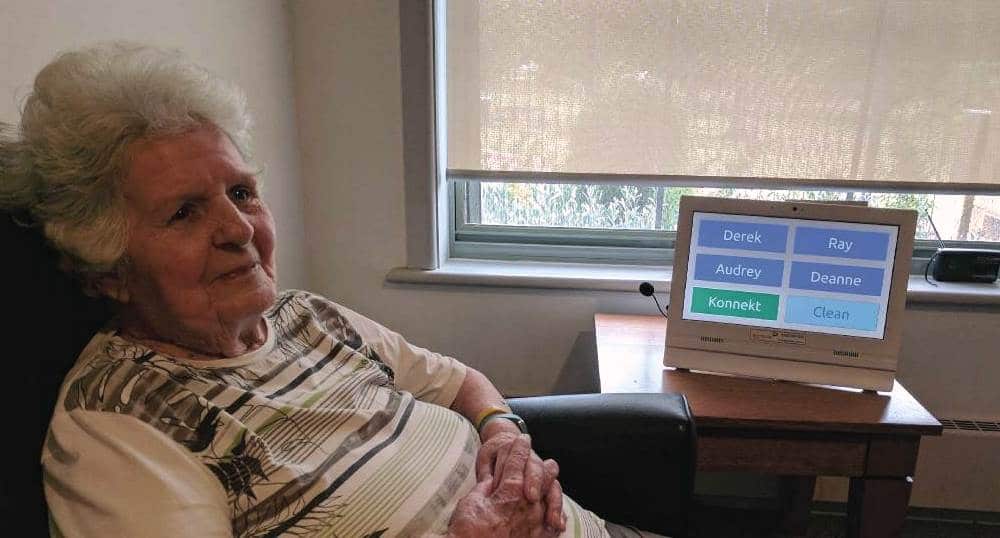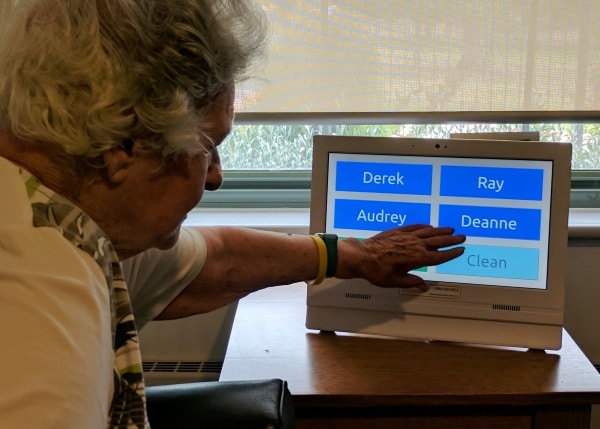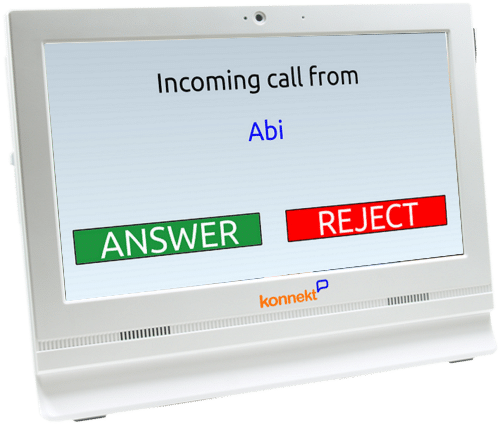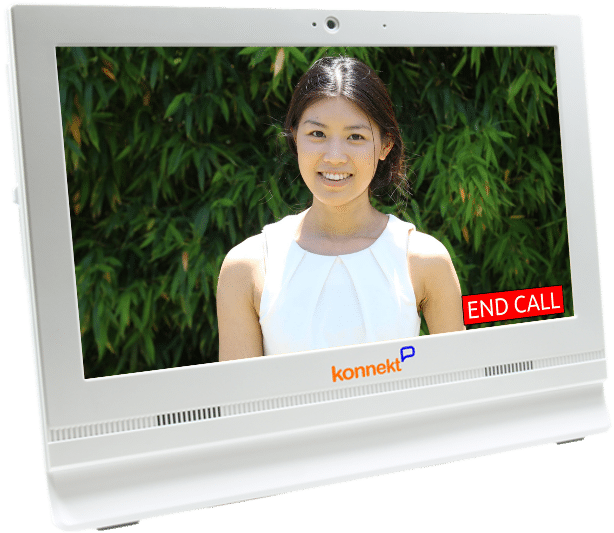 June using innovative videophone nominated for business award
Seniors Videophone USA User - Konnekt
Using a finger, a prosthetic, or just about any object, you just tap the name you want to call, and the Videophone commences a call via Skype.
Answering incoming calls is equally simple, and calls from authorised callers can be Auto Answered if the Videophone user is unable to answer for any reason (e.g. if they've had a fall). This means you can look into the home, see what's going on, and talk and provide comfort in an emergency while help is arranged.
During a call, the Videophone user can sit close by, or a few metres away in their favourite chair, and talk in a normal voice — thanks to a highly sensitive auto-adjusting microphone, very loud speakers, and other carefully selected components.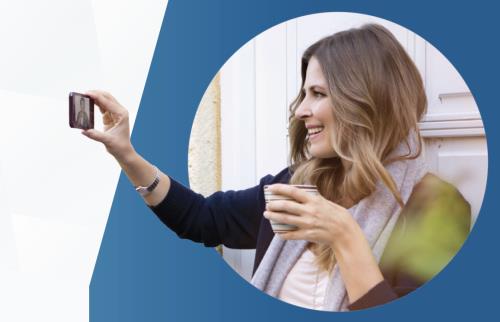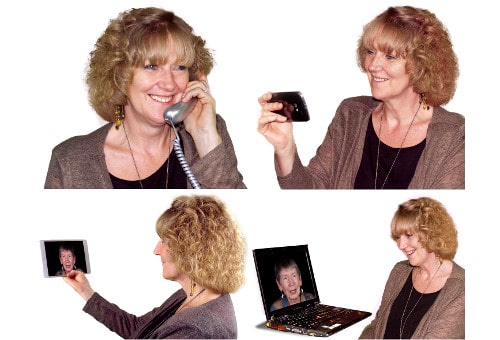 Daughter using her tablet or iPad to talk to her Mum
Family answers Videophone on a PC
You can answer on a mobile tablet iPad computer or regular phone B
Family and friends use the free Skype app, which can be installed on just about any device: Android phone, iPhone, Windows Phone, iPad, PC or Mac. We contact family members and friends to help them to get setup with Skype, no matter where they are in the world.
For close family or carers, who are unable to visit as often as they would like, or who perhaps worry when their calls are not answered, the Videophone provides peace of mind. The ability to talk face-to-face from any device means you can visually check on health and happiness any time, regardless of your location. Using the one login, you can use Skype on your iPad when you're at home, your PC at work, and your mobile phone anywhere it's online. While you're away, keep in visual contact by using your free hotel / restaurant Wi-Fi, or your cellular mobile connection. It's incredibly easy, and Konnekt will show you how.
The Videophone also calls telephones (audio only) and other Konnekt Videophones. Elderly friends, medical staff and service providers can still be called by the Videophone. In addition, if you don't answer on Skype, we can setup Videophone to call your landline as a backup.
Konnekt Videophone - How to Connect with Other Devices
Konnekt provides a full ongoing service. We take care of any future changes to Videophone preferences and contacts, so you don't have to. Need to add a new name? Or remove a contact? Need to increase the volume or make the text larger? All it takes is a brief phone call or email to Konnekt. Chat to us or call us via Skype for free, no matter where you are in the world.
We also look after Videophone and video-calling software updates behind the scenes, so the Videophone user doesn't see update prompts or technical messages.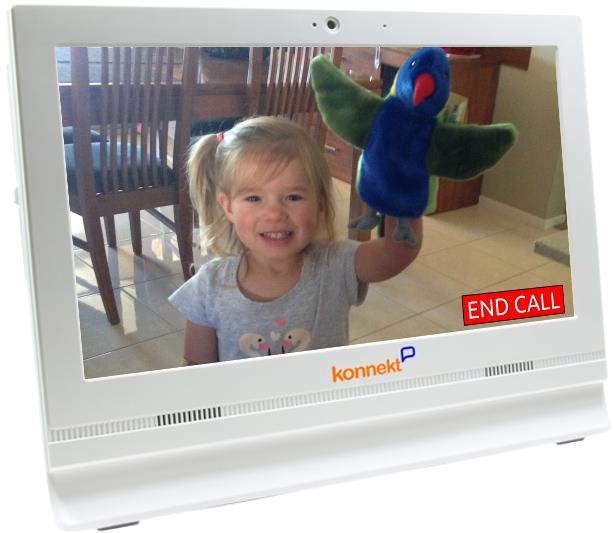 One low, fixed Monthly Fee to Konnekt includes unlimited face-to-face calls, and unlimited calls to telephones* – talk to us for information on specific countries.
Our Videophone users are able to see distant relatives that they may otherwise never see again, without worrying about call costs. They can talk to relatives and friends who live interstate or in a different country, as often as they like, with nothing more than the tap of a name. Older adults can see their grandchildren growing up, by tapping on a 6-inch call button containing a named photo. This is digital technology at its best, bringing people together without fear of bill shocks.
Explore Videophone Features
How does it help older adults?
Konnekt Videophone is incredibly simple to use, designed for someone who may struggle with a tablet or even a phone. It caters for those in their golden years who need a phone that's large, loud, doesn't permit unwanted callers, and doesn't require any management whatsoever. Sons and daughters particularly love the automatic answer for trusted callers. See Seniors applications.
Available worldwide
Konnekt has sales/support partners across Australia / Asia, Europe, United Kingdom, North America, New Zealand and Africa.