Konnekt Captioning Videophone
Konnekt Captioning Videophone
At last. A phone for those with hearing loss, of all ages.
Captions. Fast, private, accurate. Multiple languages*.
Hands-free. Speak and listen without effort.
Read lips, facial expressions. Use sign language.
You may not have to pay a cent* for it — ask us about government funding.
New stock has arrived — reserve your Captioning Videophone
Konnekt is experiencing increased demand from families and Aged Care homes impacted by COVID-19 lockdown.
*Expected availability in USA, UK, Europe and Japan late September 2020
Captions, video and sound
Talk face-to-face with family, friends and colleagues
Captions start automatically; no buttons, no operators
Read lips and facial expressions; use sign language or flash cards
Face-to-face calls shown* to help prevent social isolation and depression
Incredibly easy to use, plus options for cognitive and mobility impairments
It's also a captioning phone
Ideal for all ages, for poor hearing to deafness
Make and receive regular phone calls, with big captions
One touch to call or answer, or dial using a large numeric keypad*
Extra loud; SUPER loud with our powered external speaker
Turn on lamps in other rooms, or vibrate a pocket device, during ringing (with optional hardware)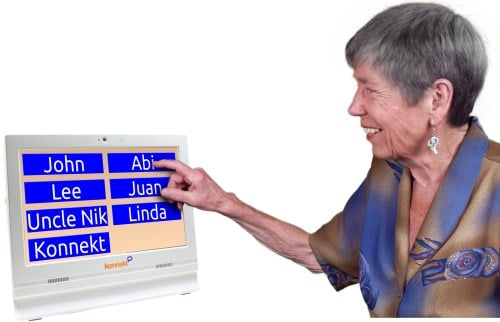 How to make a call
One touch: Press a Name button, or press Dial* to enter a number
Wait: The other person can answer on Skype, or on their regular phone
Watch: If they answer on Skype, you can read lips too
Listen: You can also hear them (loudly)
Read: Captions start automatically, in your language
Finish: Either of you can end the call
Konnekt Captioning Phone vs older captioning phones
Konnekt Captioning Videophone
Video calls and phone calls
Supports lip reading, sign language
Fast, private captioning; no operator
No phone service needed; just Internet
Big captions, multiple languages


Continued support after Feb 2020
Older phone with operator captioning
Phone calls only; no video
No lip reading or sign language
A human listens to your call
Needs a phone service and Internet
Captions in English only


Temporary support via US from Feb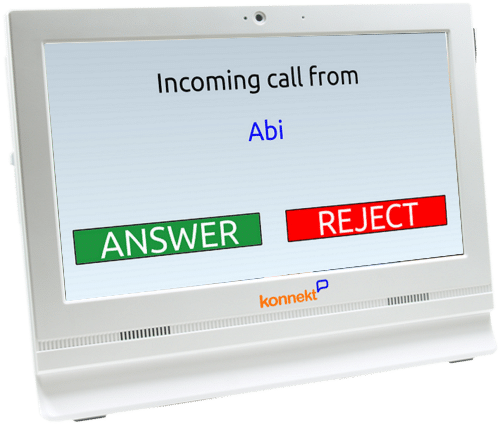 How to receive a call
They call you: The other person either calls your number, or calls you on Skype (shown)
It rings loudly, and the whole screen flashes
Other rooms: Lamps are turned on, or your pocket device vibrates (both optional)
One touch: Press ANSWER – or nominated callers can be answered automatically (optional)
Watch: If they use Skype, see their face and read lips
Listen: You can also hear them (loudly)
Read: Captions start automatically, in your language
Finish: Either of you can end the call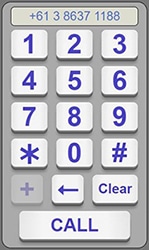 Phone Keypad Dialler
Dial phone numbers easily using the Keypad Dialler*
Huge on-screen buttons: Easy to press
See entered digits: Avoid/correct errors
Send DTMF tones during calls: "Press 1 for…"
Frequently Asked Questions