Konnekt Captioning Videophone
Konnekt Captioning Videophone
At last. An easy phone for those with hearing loss, of all ages.
Captions. Fast, private, accurate. Multiple languages.
Loud, clear sound. Hands-free, or holding a traditional handset.
Read lips, facial expressions. Use sign language.
Read the other person's words, and optionally your own words, as text messages.
Captioned video calls enable lip reading
Making and Receiving a Video Call with Konnekt Captioning Videophone
Talk face-to-face with family, friends and colleagues
Captions start automatically (no buttons, no operators) thanks to Skype under the hood
Read lips and facial expressions; use sign language or flash cards
Face-to-face calls shown* to help prevent social isolation and depression
Incredibly easy to use, plus options for cognitive and mobility impairments
Regular phone calls are captioned
Making and Receiving Regular Phone Call with Konnekt Captioning Videophone
Ideal for all ages, for poor hearing to deafness
Make and receive regular phone calls, with big captions up to 7cm tall
One touch to call or answer, or dial using a large numeric keypad*
Extra loud; SUPER loud with our powered external speaker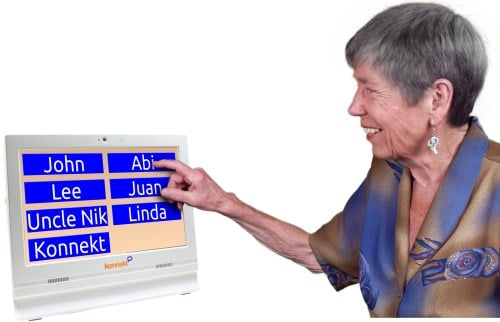 How to make a call
One touch: Press a Name button, or press Phone to enter a number
Wait: The other person can answer on a regular phone or PC / tablet
Watch: If they answer on Skype, you can read lips too
Listen: You can also hear them (loudly)
Read: Captions start automatically, in your language
Finish: Either of you can end the call
Konnekt Captioning Phone vs older captioning phones
Konnekt Captioning Videophone
• Video calls and phone calls
• Supports lip reading, sign language
• Fast, private captioning; no operator
• No phone service needed; just Internet
• Big captions, multiple languages
•

Continued support
Older phone with operator captioning
• Phone calls only; no video
• No lip reading or sign language
• A human listens to your call
• Needs a phone service and Internet
• Captions in English only
•

Temporary support offshore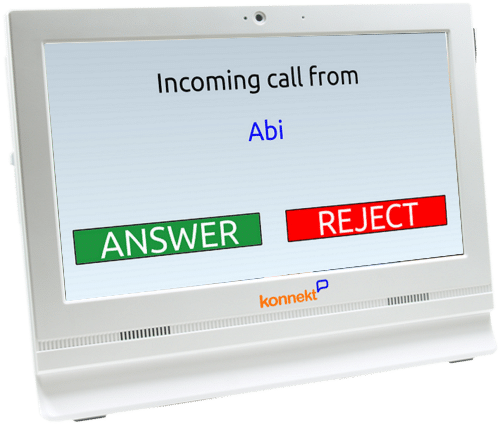 How to receive a call
They call you: The other person either calls your number, or calls you on Skype (shown)
It rings loudly, and the whole screen flashes
Other rooms: Lamps are turned on, or your pocket device vibrates (both optional)
One touch: Press ANSWER – or nominated callers can be answered automatically (optional)
Watch: If they use Skype, see their face and read lips
Listen: You can also hear them (loudly)
Read: Captions start automatically, in your language
Finish: Either of you can end the call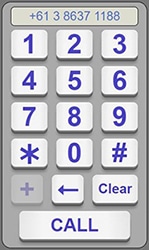 Phone Keypad Dialler
Dial phone numbers easily using the Keypad Dialler*
Huge on-screen buttons: Easy to press
See entered digits: Avoid/correct errors
Send DTMF tones during calls: "Press 1 for…"
*Inclusion of the keypad dialler is optional and not available in all countries. Please ask, if required.
Yes and Yes. There are two ways you can call a regular telephone number:
Keypad dialler
Just enter the phone number you wish to dial on the numeric keypad.
It has BIG buttons. You can most likely see and hit the digits even if you forget your glasses.
If the other person answers, captions will start automatically. No buttons to press. No operator to wait for.
Call buttons
You can have your friends, family, colleagues and important Contacts on one-touch Call Buttons.
Each call button is up to 6 inches wide. The letters are LARGE… up to about 3 inches tall.
Your Videophone comes with buttons already set up (personalized for you).
If you want more buttons, or need to change or remove a button, just ask us. We do it for you, without anyone needing to visit.
Each button can dial, in sequence, up to 5 phone numbers or 5 Skype Names, or a mixture of phone numbers and Skype Names.
So for example, you can have a BOB button that first calls Bob on Skype so that you can talk face-to-face, then calls Bob's work number, and then calls Bob at home.
You can have a FRIENDS button that tries all your important people in your life, one by one until one of them answers, or you can have an ASSIST button that calls up to 5 people who care about you.
Or you can have an ANNE button that simply calls Anne on her home phone.
If the other person answers, captions will start automatically. No buttons to press. No operator to wait for.
Call emergency easily
Option 1: In Australia (to call 000), USA (to call 911), UK (to call 112 or 999) and some other countries: Simply hit an emergency call button to call emergency services, or enter the emergency number using the on-screen dial-pad.
Option 2: Hit an Assist or SOS call button to dial up to 5 people or phone numbers, one after the other.
That's it.
Your conversation with emergency services or emergency contacts will be captioned. Automatically.
Unlimited calls. No surprises.
The Konnekt comes with a subscription unlimited calls to landlines and/or mobile phones, depending on your plan.
Captions are free. You will not have to pay anything for captions.
And in case you missed it: Captions are fast, accurate, and will start automatically. No buttons to press.
Yes. People can call you in two ways: Video calls via Skype, and regular telephone calls to your new phone number. Both will be captioned automatically.
Receiving Skype calls
To call you with a video call, your contacts simply need the free Skype app for their mobile, iPad/tablet or computer. The Skype app is free for them to download and install, and free to call you Skype-to-Skype. It uses just a little of their Internet data. It's very similar to FaceTime, WhatsApp, Viber or Facebook Messenger. They just tap on the Skype icon to start Skype, tap on your name, and tap on the video-camera icon to start a video call (if they want to talk to you face-to-face) or tap on the phone icon to start an audio call.
Just to repeat: If they call you using Skype, their call to you will be free. It will use just a little of their Internet data.
When you answer, captions will start, automatically. No buttons to press.
Receiving regular phone calls
Each Videophone comes with its own phone number. In Australia, for example, you can have your choice of a number that starts with 02, 03, 07 or 08. In the USA, you can have practically any area code. Phone numbers are available for many countries (just ask).
For your callers, calling your Videophone phone number will be just like calling any other Australian phone number: They'll dial your number, you'll answer, and you'll talk. And captions will start, automatically. No buttons to press.
Diverting your old phone numbers to Videophone
You can't "port" (move) your existing phone number to become your Videophone number. Instead, give your contacts your new Videophone number.
You can call-forward (divert) your landline and/or mobile phone services. When contacts call you, Videophone will ring. When you answer, you'll have captions.
Call forwarding may bear a cost, depending on your existing phone plan. Check with your existing phone service provider.
Contact your phone service provider or do this to set up call forwarding:
For Telstra fixed phone services (landlines): Pick up the phone, listen for a dial tone, dial *2 1, enter your Videophone Number, press # and hang up.
For Optus fixed phone services: Pick up the phone, listen for a dial tone, dial *7 8, enter your Videophone Number, wait for two short beeps, hang up.
For all mobile phone services: Go to Phone Settings or Call Settings on your mobile phone, or…
For Telstra and Optus consumer-mobile phone services: Dial * * 6 1 *, your Videophone Number, * * 1 0 #, then press Send or Call. (This will divert calls after first ringing for 10 seconds on your mobile phone, which is perfect for using your mobile phone as an alerting device).
For Vodafone mobile phone services: Either use your Vodafone Smart First app, or use My Vodafone online, or dial * * 21 *, your Videophone Number, #, then press Send or Call.
All calls diverted to your Videophone will be captioned. Automatically.
The Konnekt Captioning Videophone offers much more:
Huge 15-inch screen. About twice the area of an iPad / tablet. Many times bigger than a mobile phone screen. So it's much easier to see faces, read lips, read captions, interpret facial expressions.
Optional handset. You can talk hands-free or you can talk into your optional handset that you hold to your ear and mouth just like a traditional telephone.
Big captions. Captions are LARGE. The font size can be changed. Even the default is MUCH bigger than alternatives.
Clear captions. During a video call, captions are off to one side of the video frame. So they'll be easier to read, clearer, and not superimposed over your contact's face… which means your lip-reading won't be interrupted.
Optional local captions. View your own words as well.
Easy to use. Videophone simplifies video and audio calling, and adds automatic captioning.
6-inch buttons. The call buttons are up to 6 inches wide, so you can locate and press them even if you've forgotten your glasses, or if you need help fast.
It's LOUD. Do you have some hearing ability? Videophone's twin internal speakers are real cone speakers. Not those little buzzy speakers you get in most mobiles, tablets and laptops.
It can go SUPER loud. We can include a powered external speaker that you can control that can go so loud, it would wake up a person sleeping one or two rooms away!
Visual ringing. It can flash, buzz a pocket vibrator*, or turn on lights in other rooms* when it's ringing. No more missed calls or playing telephone-tag. *Extra hardware required.
Privacy option. You have the option of allowing incoming calls only from known contacts. Remember: This is only an option. It is useful for those who may be vulnerable to scams, or wish to hide from telemarketers or unwanted "friends".
Internet. In Australia, Konnekt can set up and manage Internet for you. Why do that? Well, if we provide the modem/router equipment, then we can take care of it. We're responsible for it, and we fix any problems. Videophone can restart it every night, to help keep it reliable. And that modem/router is hand-picked, so we know it extremely well… it's an ultra-reliable device that simply keeps working… it's not a cheap pocket modem. But if cost is an issue, we can point you to a low-cost Internet service that you can self-manage, either with our modem/router or your own.
Zero set-up. Videophone just needs to be taken out of the box and stuck on a table. We personalize it with key contacts before we deliver, and configure it to find your Wi-Fi signal and connect, automatically. Or it can connect via a regular LAN cable. Best of all, if you need to make any changes or additions, simply contact us, and those changes will happen without anyone needing to visit, and without you having to do anything to the Videophone whatsoever.
Disability options. We have a long list of options and accessories to help those with low vision, mobility limitations, poor dexterity, memory loss, acquired brain injury, and, of course, deafness or a hearing impairment. If you're bed-ridden or chair-bound, no problem: We have customers with bed-mount brackets, customers who use wireless mouse-compatible pointing devices, and customers who use an access button (a huge round "jelly bean" colourful button that has no wires and can answer or make calls for those who can't use the touchscreen). Oh, and the touchscreen itself is resistive so unlike almost every other touchscreen on the planet, you can operate Videophone with a bandaged hand, glove, prosthetic, telescopic wand or anything.
Auto-answer, with 2-way video and 2-way audio. But only from trusted Contacts that you nominate. Great for emergencies, when you can't make it in time to answer.
IT Support. If there are any problems, we're in Australia and we have Support in Australia, USA and UK/Europe. You can chat with us online (on the web), call us, call us from your Videophone with captioning, or send us email. It's almost always an Internet problem but don't worry, we'll help you get going, even if we're not managing Internet for you.
Managed service. We take care of everything. And I mean everything. Need to mount it on a wall? We can help you with a bracket. Need a little table for it to go on? We can help you with that, too.
Reliability. Many of our users are overseas or interstate from family and are not at all IT-savvy. Videophone has to just keep working! We use a bag of tricks to make it super reliable. Some of these tricks are under the hood… we can remotely diagnose problems, and we are alerted when something is going wrong so that we can preemptively fix the problem before you even notice. Software updates happen silently, overnight, unattended. Some of our tricks are not obvious… for example, we can disable the power switch (an option many of our customers love) to prevent someone from accidentally or deliberately turning it off. And some of our tricks are just super cool, like the optional power-outlet covers that help prevent the cleaner from unplugging the one device you rely on the most in your life, for connecting with the outside world.
There's a great video that says it all, that reached my heart:
Blindness disconnects you from things.

Deafness disconnects you from people.
So your Konnekt Captioning Videophone will help connect you to people. Face-to-face, as well as for regular calls.
And all captioned.
How captioning worked before 1 Feb 2020
The older legacy captioning phones were disconnected from the National Relay Service (NRS) captioning service from 1 Feb 2020 and were connected temporarily to an off-shore service. If a relay officer was available, the officer would "re-speak" what they heard into a computer, to help convert from voice to text. If there were not too many errors, and if they could spot the errors and correct them fast enough, they would correct the errors. Of course, having to re-speak and having to correct errors with a keyboard added a time delay. The positive was that the accuracy was usually quite high, especially if the speaker didn't talk too quickly. Proper nouns (place names like Gunnamatta and people names like Rheagan) were often corrected, but only if the relay officer knew those places and was able to spell those names. The relay officers were trained and many were used to listening to common accents.
How captioning works with your Konnekt
Your Konnekt Captioning Videophone uses Skype's fast, accurate captioning service for video calls as well as for regular calls to/from telephones. Skype is owned by Microsoft, which is one of the largest companies in the world. Microsoft purchased Skype for US $8.5 billion in 2011. Microsoft completely redeveloped the Skype apps and updated the server infrastructure in 2016-2017. Microsoft continues to invest heavily in Skype and releases an update every week or two, so it continues to improve.
On 3 December 2018, Skype joined the world in celebrating the United Nations International Day of Persons with Disabilities with the launch of live call captions and subtitles. In their press release, Skype announced that captioning works on one-on-one video calls, calls to/from any phone number, as well as in group calls. Live captions offer you a more inclusive experience, especially for people who are deaf or hard of hearing.
Please note that Konnekt does not represent Microsoft or Skype.
The Skype-based captioning does not use any humans. The live captions are optimized to be fast, continuous, and contextually updated as people speak.
What does "contextually updated" mean? It means that as your friend speaks and continues finishing the sentence or phrase, the meaning of the entire phrase spoken so far will be analyzed, and where possible, errors in the captions will be corrected in a split second at the end of each sentence or phrase! This is best illustrated with an example:
Your friend says, "Flour would be" but the captions show "Flower would be".
Your friend says, "…needed in this cake recipe." Aha, the context is baking. A correction is made automatically, so now the captions show "Flour would be needed in this cake recipe."
Here's another example:
Your friend says, "Red" but the captions show "Led".
Your friend says, "…is my favourite colour." Aha, the context is colour. A correction is made automatically, so now the captions show "Red is my favourite colour."
As well as being accurate, it's fast. Very fast. There's no re-speaking, no keyboard correction, and no trans-continental links to overseas-agent captioning centres.
In our experience at Konnekt, the Skype-based captioning is surprisingly accurate, fast, and very convenient. It particularly excels with fast speech and simply does not fall behind, so you will no longer need to ask your callers to slow down. Of course it will not be error-free, and you might still need to remind some people to speak clearly, but this was true of the old system too.
We have compared Skype-based captioning with Google's voice-to-text (which is renowned for its accuracy, thanks also to context-sensitive captioning). They are comparable. The accuracy depends much more on the accoustics (such as background noise from trucks, if you leave the window open and you live on a busy road) and on the person speaking, than on the choice of captioning platform.
We didn't trust our own judgement, so we asked some trusted individuals (who have hearing loss or whose families have hearing loss) who have long experience with other systems. They told us that our captioning system was faster, more accurate, and didn't contain any spelling errors. It's not perfect but we're constantly improving it.
So on that basis, we believe that Skype-based captioning (and therefore the Konnekt Captioning Videophone) is the best replacement available. It's fast, accurate, and a huge benefit to anyone with severe or profound hearing impairment.
And it's private. No humans listening.
Languages
The Konnekt Captioning Phone / Videophone supports captioning in English by default.
If your first language is not English, or if you want to have phone calls or video calls with someone who speaks another language, don't worry:
The Konnekt can do captions in other languages, such as German, Spanish, French, Italian, Japanese, Portugese, Russian, Chinese and more.
So, the person who is speaking to you can speak in their/your first language.
This is something new, that is not supported by operator-based captioning services.
You'll finally be able to talk to those overseas relatives, or local friends, in your favourite language!
We will make a complete list of languages available. If you can't wait, just ask us.
Partial and full deafness
Extra loud: Two large internal speakers. Much bigger than iPad/tablet laptop speakers.
Super loud: Optional powered external speaker.
Hearing-aids, cochlear implants: Compatible. No squeals. Audio output for a hearing-aid loop / amplifier.
Buzz: Videophone can buzz a pocket vibrator, when someone calls in. Extra cost.
Lights: Videophone can turn on lamps in other rooms, when someone calls. Extra cost.
Sign language: Supports sign language via video calling.
Lip reading: High-quality video supports reading of lips, facial expressions, body language.
Screen-sharing: Your Skype contacts can share their screen to your Videophone. Photos, text, browser, social media. Anything.
Automatic captions: No human involved. Privacy. Low delay.
Low vision
For those with blindness or poor eyesight:
High-contrast colours: Ask for our colour scheme #4
Huge screen: 15 inches (2 to 4 times the area of a tablet; even bigger than the $1,700 12.9-inch iPad)
Big buttons: Up to 6 inches wide, large text over 200-point
Wireless access button option: Make and answer calls without using the touchscreen
Wide frame: Room for textured or Braille stickers
Auto-answer: Zero-touch, for incoming calls from only the trusted callers that you nominate
Mobility / dexterity limitations
For those with shaky hands and those who are chair-bound, bed-ridden, or simply slow to move:
Wireless access button option: Make and answer calls without using the touchscreen
Ability mouse: Works with mouse-compatible pointing devices (joysticks, joy-pads, head-mouse, foot-mouse)
Resistive touchscreen: Works with gloved hand, prosthetic, telescopic wand, anything
VESA-100: Use any monitor arm or TV bracket for mounting to wall, ceiling, desk, chair or bed*
Auto-answer: But only for incoming calls from trusted callers that you nominate
Dementia / learning difficulties
For those with memory loss, dementia, acquired brain injury or a mental impairment:
Easy: Konnekt won Best Consumer Friendly Product at ITAC-2017.
Incredibly easy: We have users in their late 90s. There's nothing to remember.
Personalised: Konnekt sets it all up for you and customises the screen.
Zero set-up: Un-box and plug into a power outlet. It connects to Internet automatically.
Automatic captions: Captions start automatically on all calls. No buttons to press.
Languages: Some dementia patients revert to their first language. Videophone can caption in other languages.
Changes service: We do changes for you, such as adding a call button for a new friend, without anyone needing to visit.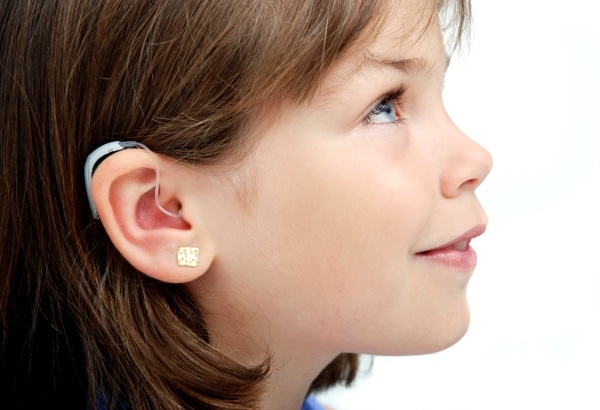 For All Ages, All Abilities
Young: From 4, for those who read facial expressions.
Children, Teens: For anyone who can read or sign.
Adults: At home, in the workplace, working from home.
Independent: Our oldest user is 104.
Care Homes: Virtual visits are the best gift.
Telehealth: Read about Tele-Audiology procedures
ATSA Seminar
Konnekt Captioning Videophone and Lip Reading
Medical Research and Case Studies
Alternative Captioning Phones
When to Recommend
Captioning Videophone – As Seen on TV
Hearing loss? New Technology to Keep in touch with loved ones
To watch the interview: Skip to 1:27 (1 minute 27 seconds) into the video
More about Captioning Videophone