Konnekt Captioning Videophone
Konnekt Captioning Videophone
At last. An easy phone for those with hearing loss, of all ages.
Captions. Fast, private, accurate. Multiple languages.
Loud, clear sound. Hands-free, or holding a traditional handset.
Read lips, facial expressions. Use sign language.
Read the other person's words, and optionally your own words, as text messages.
Captioned video calls enable lip reading
Talk face-to-face with family, friends and colleagues
Captions start automatically (no buttons, no operators) thanks to Skype under the hood
Read lips and facial expressions; use sign language or flash cards
Face-to-face calls shown* to help prevent social isolation and depression
Incredibly easy to use, plus options for cognitive and mobility impairments
Regular phone calls are captioned
Ideal for all ages, for poor hearing to deafness
Make and receive regular phone calls, with big captions up to 7cm tall
One touch to call or answer, or dial using a large numeric keypad*
Extra loud; SUPER loud with our powered external speaker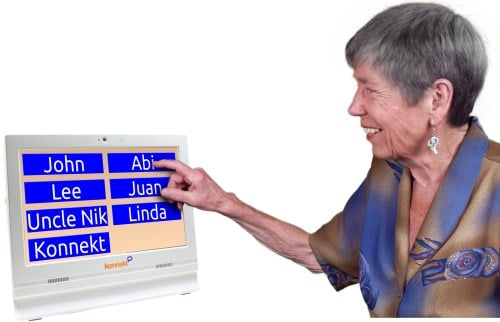 How to make a call
One touch: Press a Name button, or press Phone to enter a number
Wait: The other person can answer on a regular phone or PC / tablet
Watch: If they answer on Skype, you can read lips too
Listen: You can also hear them (loudly)
Read: Captions start automatically, in your language
Finish: Either of you can end the call
Konnekt Captioning Phone vs older captioning phones
Konnekt Captioning Videophone
• Video calls and phone calls
• Supports lip reading, sign language
• Fast, private captioning; no operator
• No phone service needed; just Internet
• Big captions, multiple languages
•

Continued support
Older phone with operator captioning
• Phone calls only; no video
• No lip reading or sign language
• A human listens to your call
• Needs a phone service and Internet
• Captions in English only
•

Temporary support via USA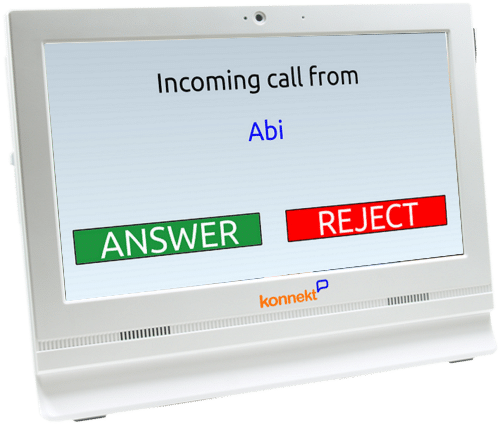 How to receive a call
They call you: The other person either calls your number, or calls you on Skype (shown)
It rings loudly, and the whole screen flashes
Other rooms: Lamps are turned on, or your pocket device vibrates (both optional)
One touch: Press ANSWER – or nominated callers can be answered automatically (optional)
Watch: If they use Skype, see their face and read lips
Listen: You can also hear them (loudly)
Read: Captions start automatically, in your language
Finish: Either of you can end the call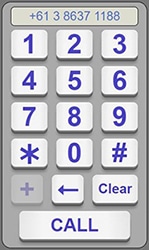 Phone Keypad Dialler
Dial phone numbers easily using the Keypad Dialler*
Huge on-screen buttons: Easy to press
See entered digits: Avoid/correct errors
Send DTMF tones during calls: "Press 1 for…"
*Inclusion of the keypad dialler is optional and not available in all countries. Please ask, if required.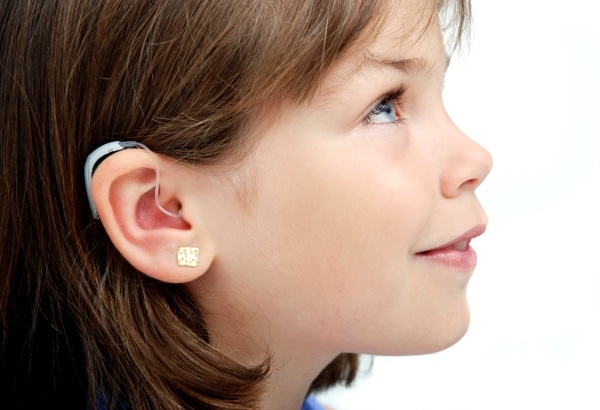 For All Ages, All Abilities
Young: From 4, for those who read facial expressions.
Children, Teens: For anyone who can read or sign.
Adults: At home, in the workplace, working from home.
Independent: Our oldest user is 104.
Care Homes: Virtual visits are the best gift.
ATSA Seminar
Konnekt Captioning Videophone and Lip Reading
Medical Research and Case Studies
Alternative Captioning Phones
When to Recommend
Captioning Videophone – As Seen on TV
More about Captioning Videophone