Konnekt Videophone saves a life, thanks to Auto Answer
14 Dec 2018 Seniors video phone saves Judy's life:
Local innovation prevents tragedy, unites family.
Cheryl Kolff is thankful her Mum Judy is alive and looking forward to family Christmas.
A Skype call enabled Cheryl to visually assess her Mum and see that she was only hours from death. Judy was suffering silently, her Alzheimer's preventing her from calling for help.
My Mum was very ill recently. If I had not installed the video phone, my Mum would have tragically experienced a horrible death in her unit. — Cheryl Kolff, Judy's daughter / retired nurse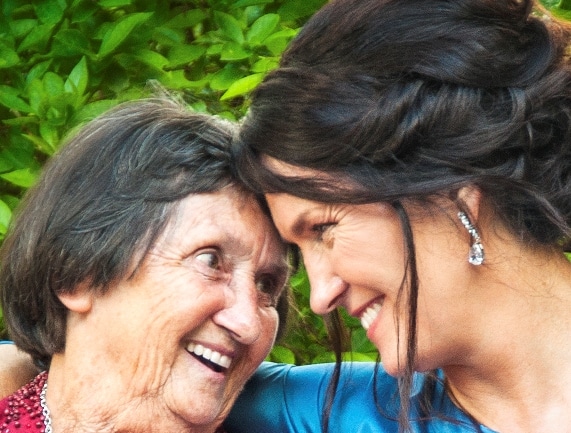 Tragedy averted
Cheryl was on vacation with her husband. Regular face-to-face conversations allowed her to see her Mum often, to share her holiday experiences and to check in visually. On Friday, Judy was a little unwell and a medical appointment was made. However, Judy's health deteriorated rapidly over the weekend. Monday morning's call was answered automatically, and Cheryl, who has a nursing background, could see that she was close to losing her mother.
She was extremely unwell but wouldn't even tell her neighbours. I convinced her to call an ambulance. Mum had emergency surgery. She wouldn't have survived the night — Cheryl
Founders in tears
When she was well enough to leave hospital, Judy moved into respite at a nearby aged care home, where she can be properly assessed and cared for. The operation has taken its toll, and Judy will likely stay in residential aged care. However, the video phone is set up in her new room so that she can see her family members every day. The team at Konnekt, a Melbourne Australia-based business, were quick to fine-tune the touch screen remotely to go dark at night but light up during the day.
When I heard about Judy, I was in tears. It reminded me of my own Mum. It's why we started the company — John Nakulski, Konnekt Co-Founder
Regular calls not enough
Earlier this year, Cheryl, who lives interstate, found that telephone calls were not enough. Her mother's dementia was getting worse, she sometimes wasn't answering calls, and she was struggling to use her phone. She tried the new video calling appliance and found it was simple enough to use for someone completely computer-illiterate.
Ringing up Mum on a regular phone is not the same as seeing her face. She still struggles but she likes it. I can show her things outside like the garden flowers. It's very positive for her.
With so much recent bad press about aged care, it's great to hear a positive story.
Read more about Cheryl and Judy's story in What Others Say.
Learn about Videophone's auto-answer feature, view our videos to see how easy Videophone is to use, or contact Konnekt to find out how Videophone can help those you care for.