What Others are Saying

about Captioning Videophone
Life-Changer for Rodney (United Kingdom)
I just wanted to let you know what a huge difference it has made to all our lives.

What a massive difference! The connection is instant, the picture clarity is really good – and because Rodney is profoundly deaf, the subtitles are an incredible help.

Rodney is so clear… the difference it has made is incredible!

— Dorothy (wife), England.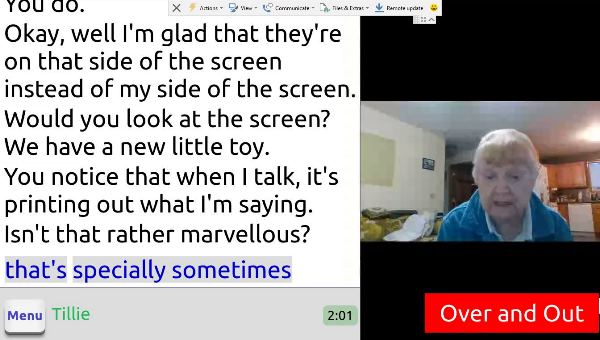 Virtual Visits with Captioning – New York
What a wonderful day we have had… it's almost like visiting my husband's room in the nursing home… we've had virtual breakfast, lunch and dinner together. He has been visited by some of his friends and I've been able to thank staff who have come into his room. I love to dial in and see that he is sitting peacefully which makes my day more peaceful too… THANK YOU for this wonderful gift during this otherwise stressful pandemic.. It has exceeded my expectations.

— Martha Freeman, NY, United States
It saved my bacon
I was told by a doctor friend some years ago that I was a disaster area.

I thought that that was laying it in a bit thick but lately I have begun to think perhaps he was right.

Tonight a connection at the back of my bidet came apart and water began pouring everywhere. My weak hands could not push it back together and I was standing in more and more water. Eventually. Getting no response from ringing my emergency bell repeatedly I remembered where the water cock was just outside my door. Turned it off and the water began to recede but was dripping down through the ceiling of the unit underneath. Half an hour after I started signaling that I needed help someone appeared saying she had been asleep and had to get dressed.

I felt like asking her if she was sure she'd remembered her ear rings but managed not to. Someone contacted the manager of the retirement complex in which I live and she sent a plumber who has only just now, at nearly 1am, departed, having fixed the fault that caused the problem .

I am still sloshing about though on a very wet carpet. I'll be off to bed now

After giving my Konnekt an approving pat for saving my bacon again.

Just as well I'm not an early sleeper.

No doubt the morrow will bring hordes of helpers again and heavy expenses.

Don't hold your breath before the next exciting episode.

Jacqui B., Claremont TAS.

Sent from Mail for Windows
Sees family worldwide during COVID
Grandmother Lily from Finchley, North London is in her 90's and lives with a hearing impairment that affect her ability to communicate over the phone. She has been very keen to stay in touch with family and friends whom she hasn't seen for a long time due to her health and COVID restrictions. Like so many older people she has family in various places at distance, including Norway.

This video was made on day 1 of trialing our Konnekt Captioning Videophone.
Here's what she has to say about it.