What Others are Saying

about Captioning Videophone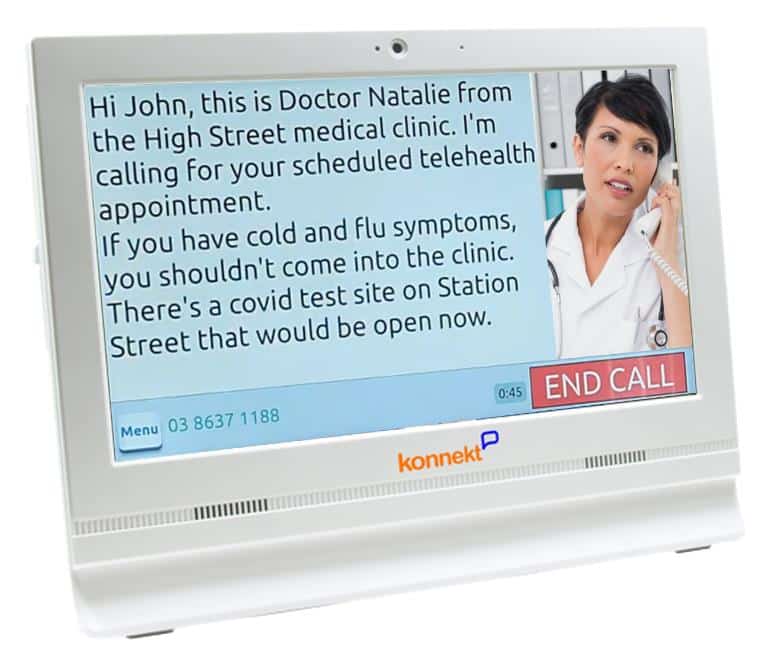 Audiologists use Konnekt Captioning Videophone for Telehealth
We congratulate Konnekt on the work that you have done on the Guidelines and also the contribution that Konnekt has made over several years to equitable design of telecommunications solutions.
— Dr Kevan Penter, Telstra – Accessible Telecommunications Program.
(Picture shown with small video window for illustration only)
Tele-audiology: Read about the 2022 Audiology Telehealth Guidelines.
Wife beaming with joy
Seriously, I didn't know something like the Konnekt videophone existed. When I came across it through browsing the internet, I ordered it straight away.

My wife being a deaf person needed a TTY so she could talk to and read what her family and siblings overseas say to her when on a call. But when I got this for her she is beaming with joy since it is not only taken care of her conversations with her family but is also set up for emergencies. She is much more secure now that she knows that she can call emergency services in case of one.

She is extremely happy with the Konnekt videophone since it's so easy to use. I'm grateful to the team that works tirelessly in getting this together and catering for the needs of the less fortunate. Customer service is excellent, awesome, fantastic, extraordinary, great…. I could go on and on describing them. Keep up the good work guys. You rock! Thank you.

— Mario for Janet Desouza, Konnekt-Telstra Program Participant, Melbourne.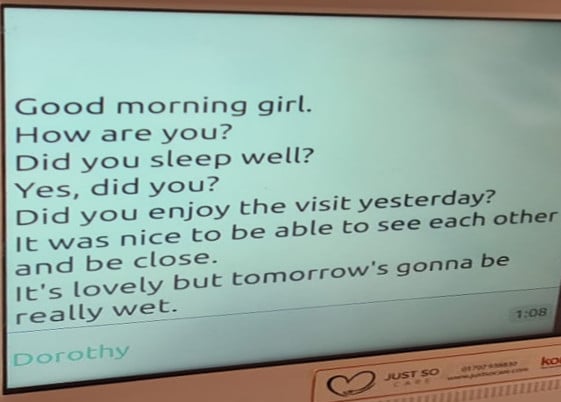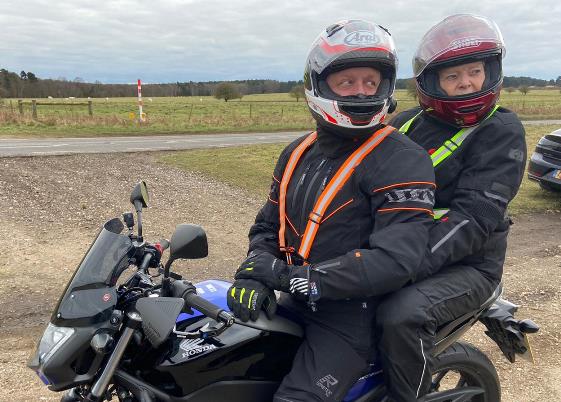 Life-Changer for Rodney (United Kingdom)
I just wanted to let you know what a huge difference it has made to all our lives.

What a massive difference! The connection is instant, the picture clarity is really good – and because Rodney is profoundly deaf, the subtitles are an incredible help.

Rodney is so clear… the difference it has made is incredible!

— Dorothy (wife), England.
Very clear
The captioning videophone is perfect for me very clear my children think is really good as well I would recommend to other people with impaired hearing thanks Des

— Desmond S (64), Quorn, South Australia (Konnekt-Telstra Captioning Videophone Program participant).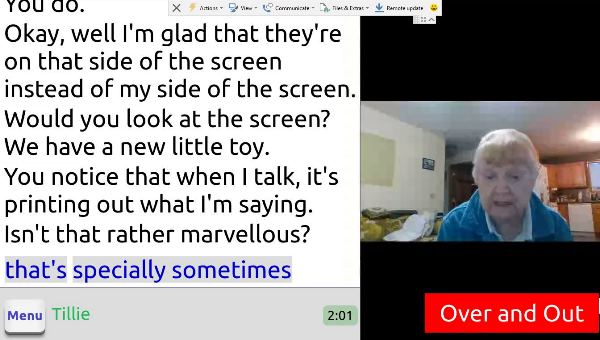 Virtual Visits with Captioning – New York
What a wonderful day we have had… it's almost like visiting my husband's room in the nursing home… we've had virtual breakfast, lunch and dinner together. He has been visited by some of his friends and I've been able to thank staff who have come into his room. I love to dial in and see that he is sitting peacefully which makes my day more peaceful too… THANK YOU for this wonderful gift during this otherwise stressful pandemic.. It has exceeded my expectations.

— Martha Freeman, NY, United States
It saved my bacon
I was told by a doctor friend some years ago that I was a disaster area.

I thought that that was laying it in a bit thick but lately I have begun to think perhaps he was right.

Tonight a connection at the back of my bidet came apart and water began pouring everywhere. My weak hands could not push it back together and I was standing in more and more water. Eventually. Getting no response from ringing my emergency bell repeatedly I remembered where the water cock was just outside my door. Turned it off and the water began to recede but was dripping down through the ceiling of the unit underneath. Half an hour after I started signaling that I needed help someone appeared saying she had been asleep and had to get dressed.

I felt like asking her if she was sure she'd remembered her ear rings but managed not to. Someone contacted the manager of the retirement complex in which I live and she sent a plumber who has only just now, at nearly 1am, departed, having fixed the fault that caused the problem .

I am still sloshing about though on a very wet carpet. I'll be off to bed now

After giving my Konnekt an approving pat for saving my bacon again.

Just as well I'm not an early sleeper.

No doubt the morrow will bring hordes of helpers again and heavy expenses.

Don't hold your breath before the next exciting episode.

Jacqui B., Claremont TAS.

Sent from Mail for Windows
Sees family worldwide during COVID
Grandmother Lily from Finchley, North London is in her 90's and lives with a hearing impairment that affect her ability to communicate over the phone. She has been very keen to stay in touch with family and friends whom she hasn't seen for a long time due to her health and COVID restrictions. Like so many older people she has family in various places at distance, including Norway.

This video was made on day 1 of trialing our Konnekt Captioning Videophone.

Here's what she has to say about it.
Lip-reading Plus Captions
Hi Konnekt team,

My mother started using the Konnekt Captioning Videophone around 12 months ago and it is has proved invaluable.
Mum has less than 5% hearing and relies on a hearing aid and cochlear implant. The Konnekt allows her to lip-read the conversation as well as receiving the captions.

Mum now has severe dementia and has moved to an aged care facility. The Konnekt videophone moved with her and the setup was seamless, aided by the wonderful support from your team.

Despite her dementia Mum finds the videophone easy to operate, and it is a great way for her to stay in contact with immediate family. We could not be more thankful for this device.

Kind Regards

— Mal Grimmond (son), NSW Australia.
Nada celebrates 93 over Captioning Videophone
I don't think there is a cake that could hold 93 candles!

When Mum has had difficulty understanding something important the nurses are trying to tell her, they have even called her on the Videophone while in her room so she can read the captions to make sure she understands.

We even did the annual medical review over her videophone. It was great. I could see the RN and my mother and they could see me. Amazing.

Today is Mum's 93rd birthday and because of Covid restrictions I wasn't able to go to Canberra to celebrate with her, but I phoned her just now and sang Happy Birthday. It was so wonderful to see her face as she told me about the party the Pines gave her and see the gifts people had given her.

It was so lovely to be able to share in her happiness in such a direct way.

Thank you so much Konnekt, I can't imagine how we would have managed this very difficult time without you.

— Carin (daughter) in QLD Australia for Mum Nada in Deakin ACT.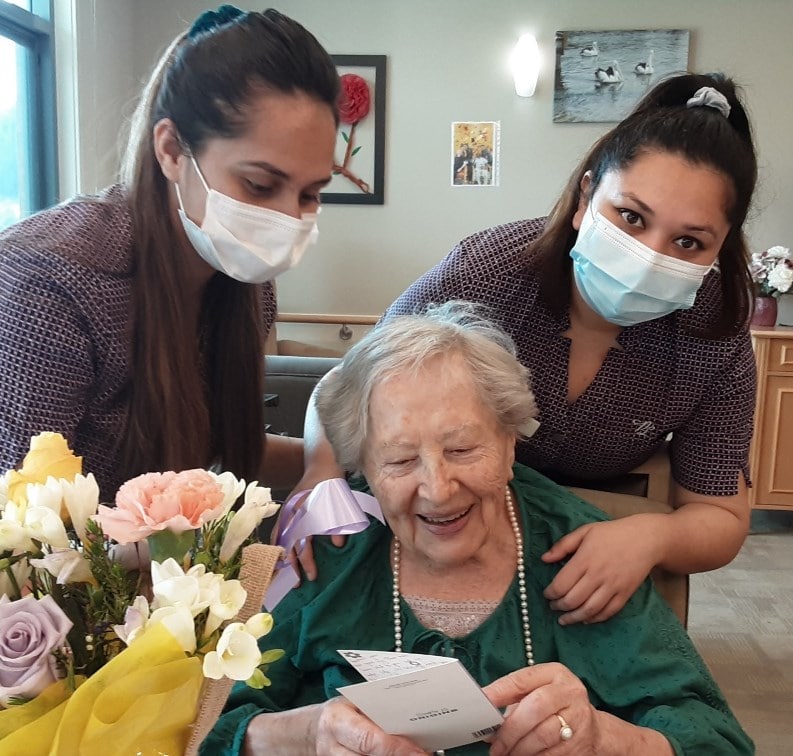 Nada 93 with card flowers carers
Recommended for Lockdown
Added 12 December 2022
I highly recommend Pines Living & also Konnekt Videophone which has enabled us to stay in contact even through covid isolation when no visitors are allowed — Carin.
COVID: Captions and lip-reading bridge family
25 October 2021

Dear John,

I can't thank you enough for the Konnekt Videophone. It has been such a blessing to our family.

I first heard of it back in early 2020 and was so happy to be able to talk to and see my elderly mother who is deaf and lives alone in Canberra while I live on the Sunshine Coast in Queensland. Mum had only had the videophone for a few weeks when Covid struck. What a relief for us to be able to contact her and see how she was. She got used to it very quickly and could call me whenever she wanted. We speak most days, sometimes only for a couple of minutes, other times for half an hour or so. This is made possible because of the captions which are great most of the time as Mum can't hear at all now. We laugh when Skype doesn't quite catch what I'm saying and Mum gets a weird word or two. Occasionally the captions don't work, I think because of internet weakness, but then we can still communicate as Mum can read my lips because she can see me. I am so happy to see and hear her. Mum has loved being able to call anyone on her list so easily, with just a press of the button. She had been feeling very isolated when she could no longer use a regular phone.

In September last year Mum had a bad fall and decided to move into Aged Care so of course the Videophone went with her. We had a few glitches at first but Konnekt was readily available to sort out the issues.

It's been great as often when I call, one of her carers drops in and I get to meet them too and I see their kindness to my mother. Such a comfort as I am so far away.
Captions Enable Family Contact
Just a quick note to let you know the device and service provided by Konnekt has been absolutely outstanding, incredibly professional all the way but also friendly and supportive.

This service has meant that many of us were able to stay in contact with my Grandmother through these very challenging times when a lot of us couldn't travel to see her in person.

It brought a smile to her face every time she could see one of the Great Grandkids on video and they her. Really a big thank you to you and the whole team.

— Josh Evans, Melbourne Australia.
Essential for Hearing Impaired
This product is essential for my severe hearing impaired mother to stay home and be connected . She had a crack in the screen and within 6 hours they rebuilt her personalized device. We were able to replace it for her within 24hrs. Service from this Staff and company it beyond anything we can imagine, the relief mum had to have a new screen was precious.

Thank you Konnekt and your team, we are indebted to you.

This device has given her independence and connection.

Sincerely

— Margaret Scott on behalf of Enid Paterson, South Gippsland, Australia.
Best Thing Ever Invented
<The Konnekt Captioning Videophone> is the best thing that has ever been invented!

— Joy Long, Bethania QLD (Konnekt-Telstra Captioning Videophone Program participant).
Technology-in-Homes funds Konnekt phone for firefighter's mum
Mum is finding the captioned calls to be a vast improvement over the legacy phone. She finds the touchscreen to be simple to use. The large font and bright text make it easy to read even with her failing eyesight.

Konnekt's captioning phone is the only real alternative for hearing-impaired seniors.

— Peter Cole, son of Pauline Cole, mid-coast NSW Australia.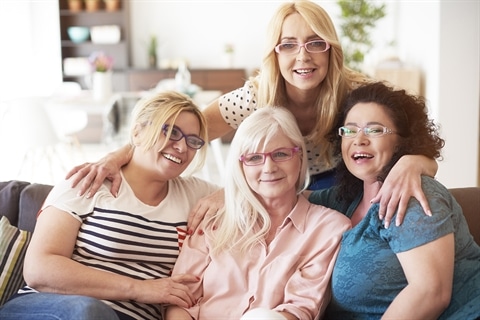 Could Not Function Without This Phone
To the Konnekt Team I would like to congratulate you on the technology you have developed with the Captioning Videophone. It has indeed valued my mum's life.

She is 91 years of age this month and could not function without this phone because of a severe hearing loss. Sometimes she can hear but most times she has to rely on reading the text.

Thankyou so very much for keeping my mother connected to family and friends. It is truly an amazing product. Kind regards

— Wendy Newton, Brisbane QLD (Konnekt-Telstra Captioning Videophone Program participant).
Captioning in Croatian
Life changing device, team at Konnekt couldn't have been friendlier, efficient and super helpful.

Thankyou so much for making my elderly mother very happy and now in daily contact with family.

— Valerie Curic, daughter, Sydney Australia (Captioning is in the Croatian language for her mother).
Setting Up Was So Easy
The people from Konnect were so helpful from the start to setup. Everything was explained and they made it so easy to organize purchase, delivery and setup. Each person I spoke to was friendly and helpful.

Setting up was so easy too and took no time at all.

My mum is 88 and she loves it. She can see me and also read what I say if she hasn't heard me properly.

I work full time so can't see her as often as I'd like so being able to. Skype is the next best thing. I can tell if she doesn't understand and if she doesn't look well. It has made life easier for us both.

Mum can also read the dialogue when she talks to someone else which assists in understanding them.

— Megs.
Excellent for Hearing Loss
Excellent product for people with hearing loss. Dramatically improved the user's wellbeing. Konnect staff were excellent with advice, instructions, installation and follow-up.
— Tony Davis, Frankston Australia (client Jim is on the Konnekt-Telstra Captioning Videophone Program).
Saved my Sanity, Use with my Cochlear implant
This video phone saved my sanity 😂 when I lost my hearing suddenly overnight.
It was a long wait (thanks to covid) bf attaining a Cochlear implant – being able to be in touch with family & friends – seeing their faces meant being able to lipread as well as read the captions of the conversations was extremely helpful.
All the Staff are a delight, friendly & helpful in every way – a big cheerio to you all.
— Dorothy Figgins, Mittagong Australia (a happy participant of our Konnekt-Telstra Captioning Videophone Program).
A Breeze to Use
I would like to thank the Konnekt team for supplying me with a very user-friendly and fun piece of equipment. As well as the obvious benefit of being able to see captions quickly and easily, there is the convenience of great buttons that make communicating easy. Important to families of older relatives, there is no risk of unwanted or scam callers. I look forward to my daily call face to face from my son on a screen big enough to give me good communication, and it is nice to have his undivided attention as he is often driving or attending to chores, as busy people do. He tells me it is a breeze to use Skype, and he seems to enjoy it. For people with hearing loss, costs are negligible.

I think it would also be perfect for people in hospital or nursing homes as it can be secured so that it is always on hand, or alternatively a remote can also be used.

Support is a press of a button away, quick and re-assuringly easy. The support team are friendly and competent.

I am recommending it to any friends who have difficulties using normal phones. It is simple to use, with it's lovely big buttons which only need to be touched. For anybody suffering from isolation, even just one call a day from a friend using the option of visual contact can make a huge difference. Contacts can be limited to nominated family and close friends if wished.

Altogether, I love my "Konnekt" and give it ten out of ten. I have not been paid or pressured for these remarks.

— Trenna S, Konnekt-Telstra Program Participant, West Hobart.
Lifted her spirit
My 96 year old mother who is profoundly deaf was so frustrated at not being able to understand a normal conversation over the phone, that she was at the point of despair with living.

Once she obtained the Konnekt videophone and overcame her initial hesitancy of using this "new phone" to make and receive phone calls, her outlook on life has changed.

My mother can now, through the voice to text feature and video link to family, be part of a phone conversation and quite often initiates the calls to others. It keeps her in touch and has certainly lifted her spirit and lessened any frustration she had with making and receiving phone calls.

— Bruce Black, Konnekt-Telstra Program Participant, Newcastle.
At last I know what people are saying
The Konnekt Videophone is a god send. At last I know what people are saying. I no longer put off making a call because of the stress involved. All I have to do is press the screen and a button, or type in a number on the dialler. Thank you Konnekt.

— Barb L, Konnekt-Telstra Program Participant, Mt Evelyn.
Great investment
We got the Konnekt Videophone for our 94 year old father, father in law and grandfather who is in a retirement village in Bundaberg. He is suffering from Parkinson's Disease and is also hard of hearing. He was very lonely in his room, but since he has had the Videophone, he has been talking to family members every day. He is amazed that he can see people who live long distances from Bundaberg. The Videophone has been a great investment and has provided our father, father in law and grandfather with a means of communicating with the outside world.

The team at Konnekt have been ever so obliging and accommodating of any request. The Videophone was very easy to set up with guidance from the team at Konnekt.

We would strongly recommend the Konnekt Videophone to people who are in need of a state of the art communication device.

— Kev Bishop, Konnekt-Telstra Program Participant, Bundaberg.
Life Changing. Helped with Depression. Decreased Fall Risk.
Dulcie has really taken to the video phone after a couple of months of trepidation (the automated answer feature helped her adjust to using the technology). She now initiates calls and calls someone every day.

The phone has been life changing for her.

Dulcie resides in low care in a residential aged care facility and suffers from moderately-severe to profound hearing loss in both ears. As a result, she is unable to communicate at all on a regular telephone. Her inability to communicate with her family and friends has had implications for her independence, wellbeing, mental state (diagnosed depression) and her cognition due to decreased social interaction. She has trialled various styles of extra loud/big button/hearing aide coupling phones from both the Telstra Disability range and Hearing Australia without sucess. She is unable to hear sufficiently to communicate a message on any audio phone. She has also trialled options of face time/Skype calls via tablet as offered by her RACF and whilst the visual cues of seeing someone onscreen is helpful for her to identify who is calling, she is unable to communicate via video call without the addition of voice to text translation.

Subsequently, I organized a trial of a Konnekt video phone video/talk to text phone for Dulcie.

Dulcie has demonstrated the ability to independently operate and effectively communicate using the Konnekt video voice to text phone over the past 3 months for both incoming and self-initiated outgoing calls. There has been a noted improvement with her wellbeing since she has been afforded appropriate technology to independently communicate with friends and family.
The specific features of the Konnekt phone which have facilitated independent communication and use by Dulcie include:
Voice to large font text translation for incoming audio.
Split screen video which assists with recognition and orientation.
Extra loud ring volume to alert to incoming calls.
Extra large touch screen buttons named for pre-programed contacts – facilitates independent outgoing calls – accommodates issues with dexterity due to Dulcie's benign hand tremor
High contrast large font display appropriate for Dulcie's decreased visual acuity
Automatic answer feature which allows for calls to be auto answered and connected after a specified number of rings – accommodates Dulcie's mobility issues which necessitate increased time to access/answer phone and subsequently decreases risk of falls.
Automatic pre-programmed screen saver function which turns phone off at night and restarts screen in the morning, so as not to disturb sleep schedule (due to bright display).
— Kylie Jones, Occupational Therapist, Terrigal, Central Coast, NSW, Australia.
Konnekt Captioning Videophone - Customer testimonial - Chris
Captioned Calls at 104
Hear how Chris's mother, with severe hearing loss, used Captioning Videophone to talk to family and friends — with captions and, during video calls, lip reading too.
See also our regular Konnekt Videophone reviews (Videophone without captions).
Available worldwide
Konnekt has sales/support partners across Australia / Asia, Europe, United Kingdom, North America, New Zealand and Africa.