Perfect For
Aged Care

 Homes / Nursing Homes
The Konnekt Videophone is an Aged Care Home phone that offers 8 9 benefits for aged-care facilities, retirement villages and in-home service providers:
0. Mitigate visitor restrictions during the COVID-19 pandemic. Read here to learn more.
We are taking orders now for stock arriving May 2020. Konnekt is experiencing global demand from Aged Care homes entering Coronavirus lockdown, and from impacted families.
Are your residents at risk of social isolation and loneliness? Do you aspire to fulfil an obligation of care? Without risk to residents or staff?
Videophone can be installed by anyone, anywhere: If visitors are restricted, staff simply need to unbox Videophone and plug it into any power outlet.
No risk to residents or staff.
Konnekt performs set-up and later additions and changes, remotely, without the need for anyone to visit.
No risk to residents or staff.
Videophone's unique push-sensitive touchscreen is resistive, not capacitive. No skin contact is required. Use any object or a gloved hand.
No risk to residents or staff. 
Residents can initiate calls with one press of a face or name on a button. It's incredibly easy. Even dementia patients use it without staff.
No risk to residents or staff.
Konnekt is the only video-calling solution designed specifically for dementia. It
wins back independence
reduces dependence on staff
upholds privacy requirements
increases family peace-of-mind
Konnekt Videophone enables you to satisfy the requirements of Part IV, Aged Care Quality Standards, on social and personal relationships. (Most OECD nations have similar standards, such as UK CQC).
CEOs, Site Managers, Home Care providers, Clinical and Lifestyle Leads: Can you hold your head up to this statement?
The workforce tackles barriers that prevent consumers from connecting socially, maintaining personal relationships.
How have you tackled COVID-19? Is your facility teeming with family social interaction, or does it resemble a prison camp hospital?
How has your organisation maintained social supports and increased opportunities for social interaction?
With iPads / seniors tablets: Your staff run around, from room to room, with alcohol wipes, trying not to breathe on residents. This robs residents of independence, privacy, and the freedom to see family at any time. It keeps your staff busy, and places them at risk.
In contrast, Videophone needs zero staff help. It has no menus or modes. Just 6-inch buttons. It is large, loud, incredibly simple. It has options for dementia, hearing loss, low vision and mobility/dexterity limitations. Read what world-leading medical researchers and customers say.
1. Increased wellness and happiness
Studies link loneliness and social isolation to health issues such as high blood pressure, poor sleep, dementia, depression and higher mortality rates. (For links to the research, see Five Ways to Improve Quality of Life for the Elderly or Sick). Although Aged Care residents enjoy great care and each other's company, it doesn't replace connection with close friends and family.
41-46% of residents are mildly or severely depressed — Dr D Meyer Gerontechnology nursing home study
The Konnekt Videophone helps maintain that vital connection. In addition, smiles from their loved ones are contagious, increase happiness, and have a positive impact on quality-of-life.
The one-touch screen is incredibly easy to use, promoting greater independence and therefore higher self-esteem.
The Konnekt video phone system in his Aged Care Home room has really helped Dad connect better with friends and family. Also, he doesn't have to remember phone numbers! The simplicity of the system enables him to be more connected to family and friends, reducing his sense of isolation and aloneness.

— Wendy Wintersgill, Registered Nurse (RN).
2. Client peace of mind
Lee's family took their tablet PC with them on vacation. They were able to call "Grandpa" on his Videophone from anywhere they had Wi-Fi or wireless Internet. They involved him in dinner conversation, took him on a virtual tour of the resort, and — best of all — let him watch his grandchildren play by the pool.
Videophone helps families place a parent in respite for the first time, or leave a parent alone at home. Your clients feel better about their decision. They can check on health, signs of loneliness, and be reassured that "Nanny" is smiling and in good care!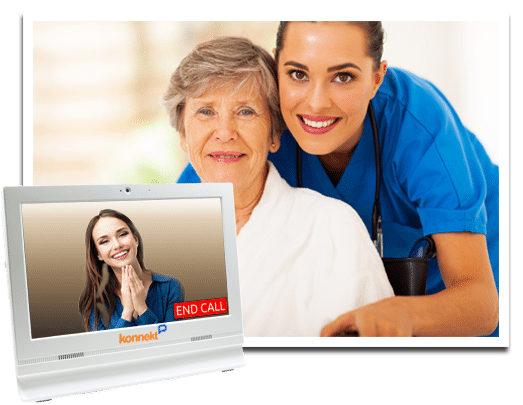 3. Additional service

Providing a high level of care is central to your mission. We're sure you're constantly striving to improve your services, stay ahead of industry trends and build your reputation.
Konnekt enables you to offer an additional service to your clients: Videophones can be either
provided to nursing-home residents within all rooms or premium rooms;
offered as an optional service to socially isolated residents; or
offered as an in-home product/service to those living independently.
4. Fill rooms faster

The transition into Aged Care can be challenging. Potential clients — especially short-term respite clients — often visit and interview five or more facilities. Residents fear a loss of connection with the people they love and their surroundings. Families want to be able to SEE that their loved one looks happy and well looked-after.
The Konnekt Videophone is a differentiator that speeds your client's decision, freeing up your time and filling rooms. Satisfied respite clients return. One day, they return as long-term residents who appreciate your premium service.
As little as two weeks of reduced vacancy pays for each Aged Care Home phone. Ask for Konnekt's ROI Calculator to estimate the return-on-investment for your facility.
5. Lifestyle Activities Coordinator — Connect your residents
Your Lifestyle Activities Coordinator, Diversional Therapist or Pastoral Care Manager can connect individuals who are "in need" to their family — especially while the family travels or goes on vacation!
Konnekt can setup each Videophone for one or for several willing residents to call family and friends (with client approval). We can also link residents across sites or between two rooms in one building in order to help you run group activities.
Your Business Development Manager can use the same Videophone while entertaining a prospective client, to promote your innovative facilities and services.
Often, a shared or watched Videophone experience is the first step for a resident or client towards renting a unit for their own room.
6. Replace problem behaviours with joy
Behavioural problems manifest or worsen when a resident feels lonely or bored: Apathy, waking at night, refusing to cooperate, eating disorders, disturbing other residents, dialing emergency services, pressing the "nurse call" button, poor personal hygiene, wandering and asking to "go home". Forgetting to use glasses, hearing aids or walking aids can lead to accidents. By maintaining a strong bond with family and friends, Videophone reduces social isolation and promotes healthy habits. Happier residents, happier staff!
7. Increase staff efficiency in three ways
When a daughter or son calls, your staff member probably runs around your facility with a cordless phone, looking for the resident. Konnekt Videophone allows the relative to dial the room directly, and gives the resident ample time to answer. Depending on local policy and with permission, a missed-call auto-answer option can also be setup. This allows an authorised caller to check whether the resident is asleep or away from the room, without pestering your staff.
Conversely, when the resident wants to call her family or friends, Videophone makes it super simple. With just one touch, it tries multiple numbers automatically, so it's much more likely to connect… and less likely to result in a request to your staff for assistance.
During busy times, your staff can attend faster to "nurse-button calls" by calling residents on their Videophones. This may help them prioritize room visits when multiple residents call at the same time. With the client's permission, your staff can check on residents remotely. Unlike a web-cam, the caller does not "spy" on the resident. The resident's Videophone rings and, if not answered manually, it is (optionally) auto-answered, with TWO-WAY video and voice. This allows the resident to see who is calling and have a two-way conversation with your nurse or staff member.
8. Aged Care Quality Standards
New Aged Care Quality Standards mandate that residents, as well as those receiving in-home services, must receive adequate social engagement. Studies show that only face-to-face conversation decreases social isolation and depression risk. By offering or recommending Videophone to your clients, you automatically increase social engagement, helping satisfy the requirements of auditors and also helping differentiate the range of services you offer your clients.
Designed For

Aged Care Facilities
We make it easy for you to stand out
Konnekt provides a Videophone product flyer for your client information pack, and we can assist with demonstrations of our Aged Care Home phone to residents and clients.
Contact us to learn how we can help you surprise and delight your clients, overcome their fears, and help you stand out with a premium service – without further loading your busy staff.