Perfect For
Aged Care Homes

& Assisted Living
Introducing the Konnekt Videophone 20, designed specifically for Aged Care, Dementia and Disability Care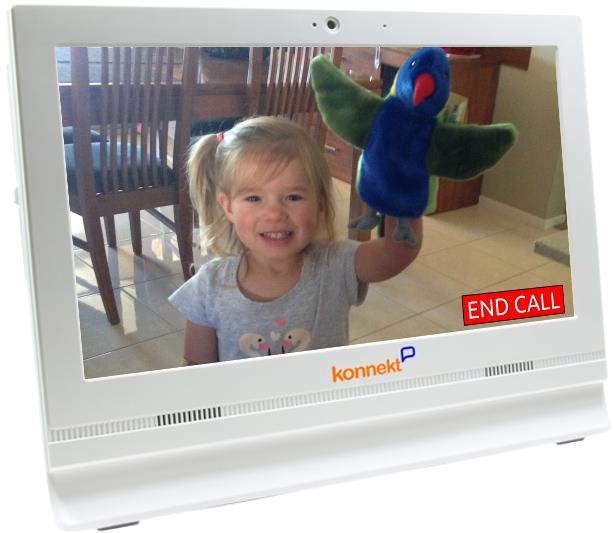 Videophone 20 for Aged Care
Shared Videophone for your Care Home residents
Reduce social isolation
Mitigate the mental-health impacts of COVID-19
Incredibly simple for residents
Incredibly easy for staff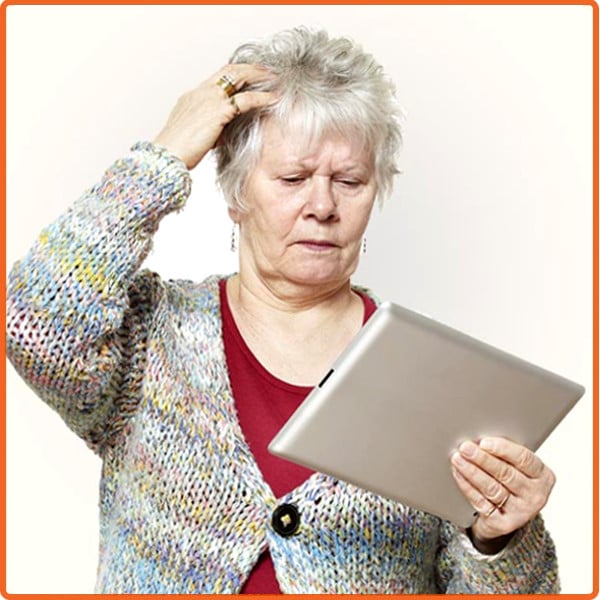 Why iPads / tablets don't work for 60% of residents
It is too hard to initiate and answer calls
Small screen, hard to hear, fiddly buttons
No captions or tiny subtitles for those with hearing loss
Too easy to disrupt calls (pop-ups, menus, buttons, icons)
Requires staff to stay, watch, and wait for the call to end
Free-up your staff with our simple, bullet-proof Videophone.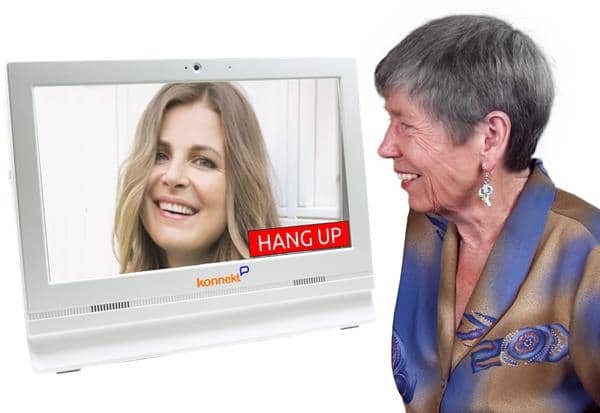 Simple for residents
One-touch ANSWER, with auto-answer option
Nothing to go wrong
Designed for dementia, hearing loss, low vision, mobility/dexterity limitations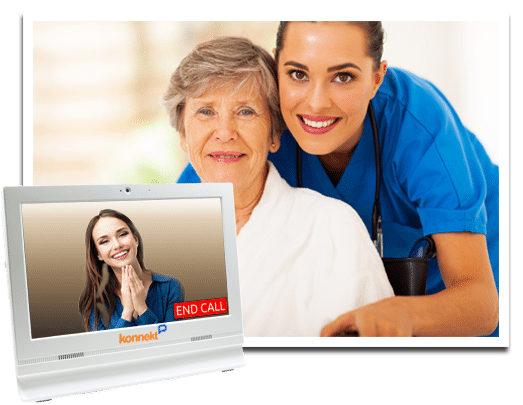 Simple for staff
No need for staff to even touch the Videophone — COVID-safe
No need for staff to stay, watch and wait
Frees up staff
Fast ROI: Typically 3-6 months*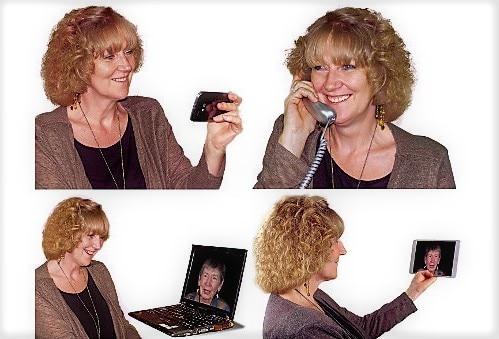 Simple for family & friends
Video-call from your mobile phone, computer or tablet
Uses Skype: Family has no call costs or subscriptions
You can also dial Videophone from any phone, including landlines
How It Works
Videophone 20 arrives pre-configured for your Aged Care Home. It has its own phone number and uses Skype under the hood.
Simple for everyone
Care Home: Provide free video-calling to reduce visits during the pandemic, or offer families a paid subscription.
Care Worker (often a Lifestyle Activities Coordinator): Run it as a scheduled service, or simply respond to requests from residents or family.
Family Member: Install the Skype app on your phone, or use Skype on your PC/Mac browser (no app required). Phone to request a video call. Ask for the Videophone's Join Link or phone number.
Resident: Sit in front of the Videophone. For those who are bed-ridden / chair-bound, the Care Worker may take the Videophone to you, with an optional wireless access button.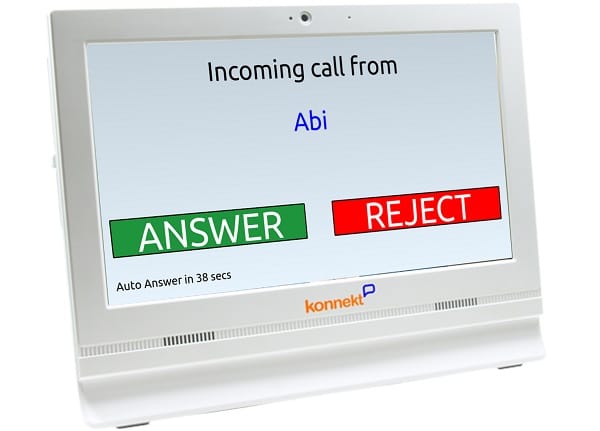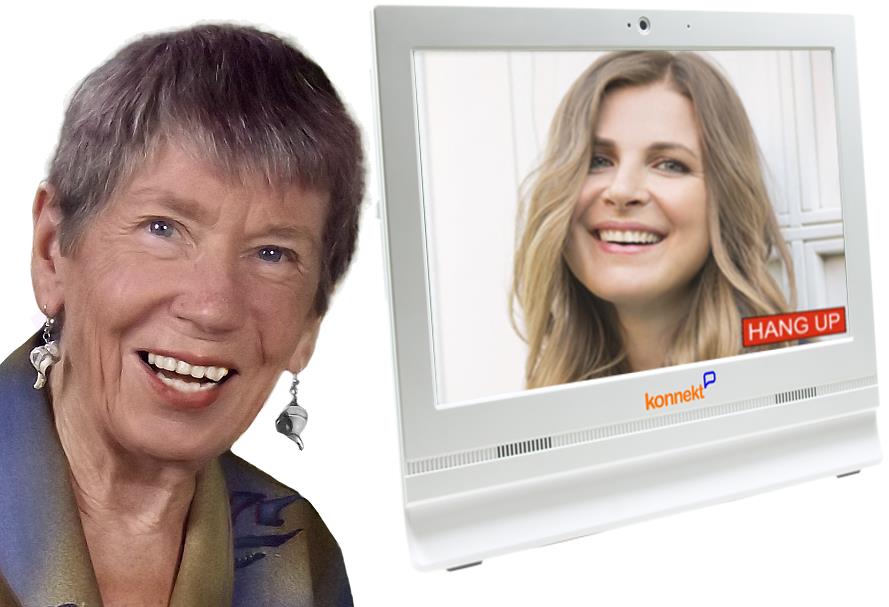 Abi calls Konnekt Videophone
Konnekt Videophone auto-answers
Incredibly easy
Call Videophone: Family member enters Videophone's phone number into Skype, taps the video-call icon. That's it! Or use the Guest link on a PC/Mac without a Skype account.
Answer: Press the huge, 6-inch wide ANSWER button. You'll be talking face-to-face in seconds. Auto-answer available where permitted.
Privacy: The Care Worker can walk away and get on with other duties, leaving the call completely private.
Flexible
Group calls: The family member taps the screen and invites others. Nothing for the resident to do!
Follow-on calls: The same family member can call in again, or other family members can call.
Phone calls too: Older family members can simply dial Videophone from any phone, as a normal call without video.
Call Staff: Had enough? The resident taps Call Staff to speed-dial Care Workers on 1 to 5 phone numbers.
Konnekt Videophone - Aged Care
Videophone is used successfully in aged care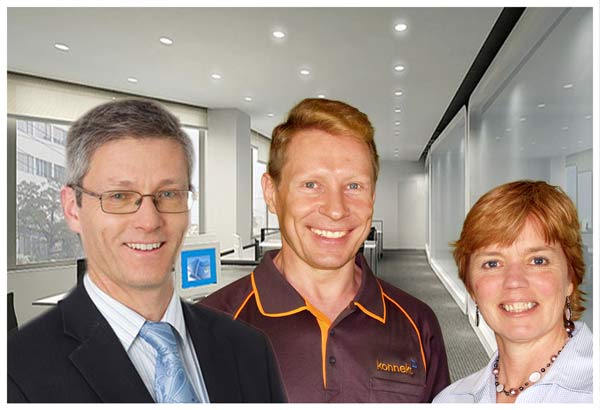 Inclusions
Video calls: Unlimited, worldwide, including group calls
Regular calls: Unlimited calls to domestic phone numbers*
Phone number: Receive inbound calls from any phone
Preconfigured: Arrives ready to use
Software updates: Installed overnight, unattended
Gold support for staff, residents, even family members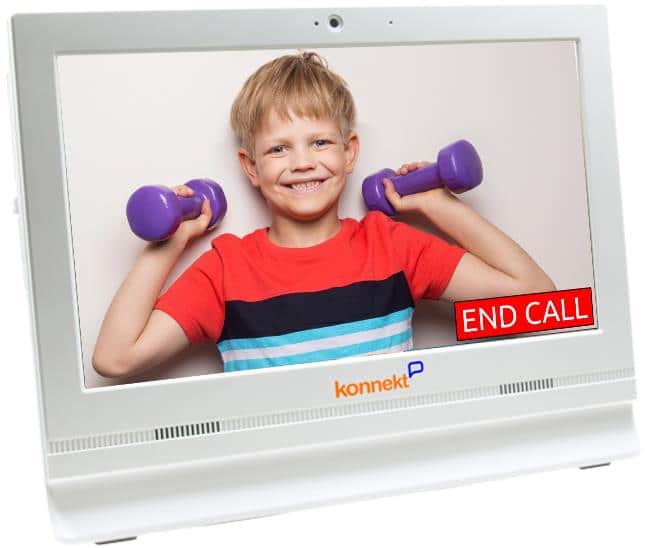 Videophone 20 Specifications
Touchscreen: 20-inch (4 times the area of an iPad / tablet)
Dimensions: 49 x 32 x 5 cm W x H x D
Dimensions with stand: 49 x 41 x 22 cm W x H x D
Mount: Use any VESA-100 monitor bracket / arm
Power: 90-260 Volts, 50/60Hz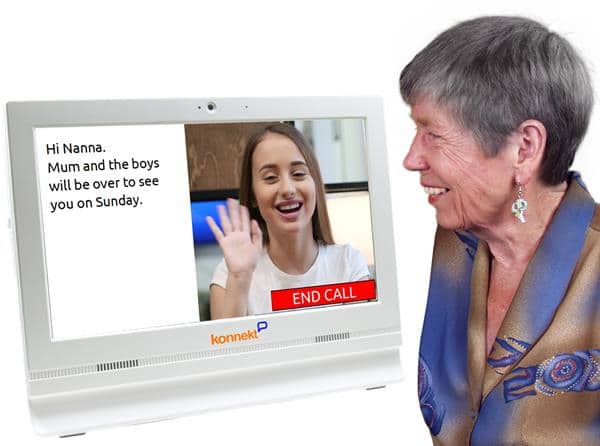 Options
Captioning for deafness / severe hearing impairment
On-screen dialler — call regular phone numbers (to alert family, who then call back via Skype)
Call buttons — Up to 40 speed-dial buttons for frequent users to call loved ones with one touch
Telehealth — Buttons to video-call medical specialists
World calling option — Unlimited phone calls to landline numbers in 63 countries and mobile numbers in 8 countries
4G mobile Internet option
extendable-arm wall-mount
Hardware Accessories
Videophone can be mounted on a trolley for quick and easy wheeled deployment to resident rooms
UPS power supply — allows deployed operation without using a power outlet
4G cellular-mobile Internet modem* — for Care Homes with poor Internet
Powered external speaker — super loud, adjustable volume
Wireless button — large push-button for bed-ridden / chair-bound residents
VESA-100 pan-tilt bracket or arm — for wall-mount
Calculate your Return on Investment
Using an iPad or tablet, your Care Worker must stay and supervise each call for residents with dementia or disability
to help answer or re-initiate calls with family
to prevent tampering or inadvertently ending the call
to ensure the tablet isn't knocked over, broken, misplaced or stolen
to re-adjust volume or other settings
With Konnekt Videophone 20, your Care Worker is only required for a few minutes per call.
Your Care Worker can leave the resident and be productive while the resident talks face-to-face, privately, on multiple calls, with one or more family members.
Calculate how fast your Videophone 20 will pay for itself:
Special Events
Use your site's Konnekt Videophone for
Virtual religious service
The local religious leader can broadcast using a Smartphone from a place of worship or a private home. Residents sharing the same faith or with the same language need can gather around a shared Videophone to celebrate and worship together.
Palliative care
Overseas and interstate relatives can provide great comfort to palliative care patients and visiting family. Simply place the Videophone near the bedside, and provide the Join link to relatives.
Birthdays
Grandchildren birthdays are not to be missed! Imagine the joy you can provide by bringing the party to the resident's room. And vice-versa: Schedule surprise group calls on each resident's birthday. Videophone uses Skype, which allows up to 50 to join a video call. For a longer, more personal experience, schedule a series of one-on-one calls that makes the whole day special.
Daily rotation
Allow 7 or more residents to share a Videophone — one resident per day or half day — in rotation. Make every week special. Recover the cost or provide a free service to families unable to visit weekly or locked out during the pandemic.
Tele Health
Virtual appointments with medical practitioners and specialists. The specialist can use Skype on any computer, tablet or mobile phone; no need for special equipment.
10 Benefits for Aged Care Homes
Konnekt Videophone offers ten benefits for aged-care facilities, assisted living, retirement villages and in-home service providers:
1. Mitigate visitor restrictions during the COVID-19 pandemic
Are your residents at risk of social isolation and loneliness? Do you aspire to fulfil an obligation of care? Without risk to residents or staff?
Videophone can be set up by anyone, anywhere: Simply unbox Videophone and plug it into any power outlet. No phone line required.
No risk to residents or staff.
Konnekt provides gold-level support remotely, without the need for anyone to visit.
No risk to residents or staff.
Residents can answer calls with one tap. It's incredibly easy. Even dementia patients use it without staff. Auto-answer available where permitted.
No risk to residents or staff.
Konnekt is the only video-calling solution designed specifically for dementia. It
wins back independence
reduces dependence on staff
upholds privacy requirements
increases family peace-of-mind
Konnekt Videophone enables you to satisfy the requirements of Part IV, Aged Care Quality Standards, on social and personal relationships. Most OECD nations have similar standards, such as UK CQC.
CEOs, Site Managers, Home Care providers, Clinical and Lifestyle Leads: Can you hold your head up to this statement?
The workforce tackles barriers that prevent consumers from connecting socially, maintaining personal relationships.
How have you tackled COVID-19? Is your facility teeming with family interaction, or is everyone isolated in silence?
How has your organisation maintained social supports and increased opportunities for social interaction?
With iPads / seniors tablets: Your staff run around, from room to room, with alcohol wipes, trying not to breathe on residents. This robs residents of independence, privacy, and the freedom to see family at any time. It keeps your staff busy, and places them at risk.
In contrast, Videophone needs zero staff help. It has no menus or modes. It is large, loud, incredibly simple. It has options for dementia, hearing loss, low vision and mobility/dexterity limitations. Read what world-leading medical researchers and customers say.
2. Increased wellness and happiness
Studies link loneliness and social isolation to health issues such as high blood pressure, poor sleep, dementia, depression and higher mortality rates. (For links to the research, see Five Ways to Improve Quality of Life for the Elderly or Sick). Although Aged Care residents enjoy great care and each other's company, it doesn't replace connection with close friends and family.
41-46% of residents are mildly or severely depressed — Dr D Meyer Gerontechnology nursing home study
The Konnekt Videophone helps maintain that vital connection. In addition, smiles from their loved ones are contagious, increase happiness, and have a positive impact on quality-of-life.
The one-touch screen is incredibly easy to use, promoting greater independence and therefore higher self-esteem.
The Konnekt video phone system in his Aged Care Home room has really helped Dad connect better with friends and family. Also, he doesn't have to remember phone numbers! The simplicity of the system enables him to be more connected to family and friends, reducing his sense of isolation and aloneness.

— Wendy Wintersgill, Registered Nurse (RN).
3. Client peace of mind
Lee's family took their tablet PC with them on vacation. They were able to call "Grandpa" via Skype from anywhere they had Wi-Fi or wireless Internet. They involved him in dinner conversation, took him on a virtual tour of the resort, and — best of all — let him watch his grandchildren play by the pool.
Videophone helps families place a parent in respite for the first time, or leave a parent alone at home. Your clients feel better about their decision. They can check on health, signs of loneliness, and be reassured that "Nanny" is smiling and in good care!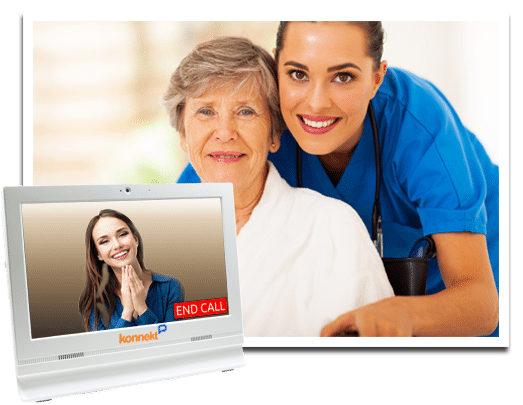 4. Additional service
Providing a high level of care is central to your mission. You're constantly striving to improve your services, stay ahead of industry trends and build your reputation.
Konnekt enables you to offer an additional service to your clients: Videophone can be either
provided as a shared resource;
installed in premium rooms;
added as a service to socially isolated residents;
sold to those living independently.
5. Fill rooms faster
The transition into Aged Care can be challenging. Potential clients — especially short-term respite clients — often visit and interview five or more facilities. Residents fear a loss of connection with the people they love and their surroundings. Families want to be able to SEE that their loved one looks happy and well looked-after.
The Konnekt Videophone is a differentiator that speeds your client's decision, freeing up your time and filling rooms. Satisfied respite clients return. One day, they return as long-term residents who appreciate your premium service.
As little as two weeks of reduced vacancy pays for each Konnekt Videophone.
6. Lifestyle Coordinator: Connect residents
Your Lifestyle Activities Coordinator, Diversional Therapist or Social Worker can connect individuals to family — vital during the pandemic!
Konnekt can set up each Videophone for shared use (incoming calls). In addition, up to 40 residents can be offered one-touch Family Call Buttons. We can also link Videophones across sites to help you run group activities.
Your Business Development Manager can use Videophone to promote your Home's innovative services to prospective clients.
After a shared Videophone experience, a resident's family may ask to rent or buy a unit for their own room.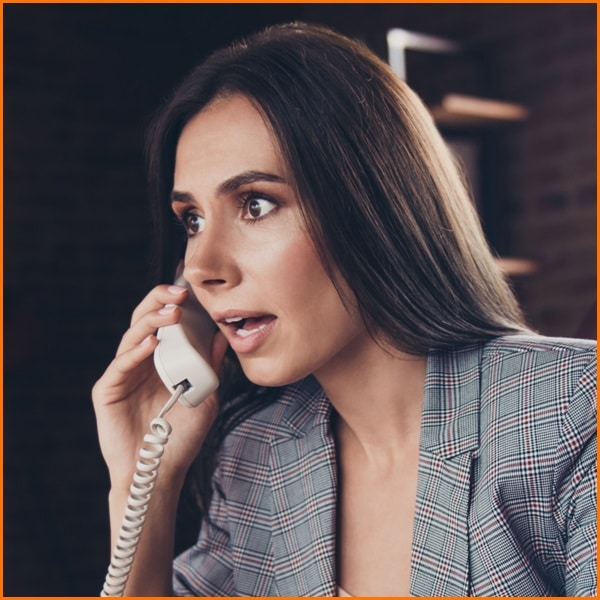 7. Replace problem behaviours with joy
Behavioural problems manifest when a resident feels lonely or bored:
Apathy
Waking at night
Refusing to cooperate
Eating disorders
Disturbing other residents
Pressing the nurse-call button repeatedly
Poor personal hygiene
Wandering
Asking to go home
The resident is more likely to neglect to use their glasses, hearing aids or walking aids. This can lead to accidents.
By maintaining a strong bond with family and friends, Videophone reduces social isolation and promotes healthy habits. Happier residents, happier staff!
8. Increase staff efficiency
When a daughter or son calls, your Care Worker would normally run around your facility with a cordless phone or tablet, looking for the resident. Your Care Worker must then assist until the call is over.
With Videophone, video calls and normal phone calls are easy and hands-free. The Care Worker does not need to stay and wait for the end of the call.
9. Attend resident emergencies remotely
With a Videophone in each room: During busy times, staff can attend faster to "nurse-button calls" by calling residents on their Videophones. This will help staff prioritize room visits when multiple residents call at the same time. Simply call the Videophone and check on the resident visually.
Unlike a web-cam, the caller does not "spy" on the resident: The resident's Videophone rings and, if not answered manually, it is (optionally) auto-answered — but only for trusted callers that you nominate — with TWO-WAY video and voice. This allows the resident to see who is calling and have a two-way conversation with your Care Worker.
10. Aged Care Quality Standards
Aged Care Quality Standards mandate that residents, as well as those receiving in-home services, must receive adequate social engagement. OHSU studies showed that only face-to-face conversation decreased social isolation and halved depression risk.
By offering Videophone to your clients, you automatically increase social engagement, helping satisfy the requirements of auditors and also helping differentiate the range of services you offer your clients.
Designed For

Aged Care Facilities
We make it easy for you to stand out
Konnekt can provide a product flyer for your client information pack. It's easy to demonstrate Videophone to residents and clients.
Further Aged Care Readings
Elderly Living At Home vs Nursing Homes
Available worldwide
Konnekt has sales/support partners across Australia / Asia, Europe, United Kingdom, North America, New Zealand and Africa.
Contact us to learn how we can help you surprise and delight your clients, overcome their fears, and help you stand out with a premium service – without further loading your busy staff.
95% of Konnekt Videophone 30-day trials are successful.