1 Feb 2020 Melbourne Australia:
Firefighter's Mum Lives Independently
Hot Australian Innovation enables Captioned Calls for 99yo
The Most Fearsome Threat
During the scorching hot Australian summer, Pauline Cole was terrified. Terrified she'd be unable to keep her home. Bushfires? No, they didn't worry her. Loss of independence. That scared her!
Being profoundly deaf, Pauline desperately needed a new phone. A phone that's extremely easy to use, with large text and accurate captioning that doesn't fall behind. A phone that would allow her to stay in her own home.
Loving Son Fights Fire with Fire
Peter Cole volunteers as a Crew Leader with the NSW Rural Fire Service (RFS). Peter has been fighting fires on the far South Coast since late November and often works at night. Last night, his team was directly in the path of the flames, conducting controlled burning to deprive the flames of fuel.
Last night, a tree fell on one of the fire trucks. It destroyed the cabin gate.
Seniors-Friendly Phone, Mastered in Minutes
Today, Peter made the 8-hour trip to visit his mother Pauline. Next to him was a sophisticated video phone, with AI (Artificial Intelligence) captioning. Why on earth was he giving this to his mum?
Peter unboxed it, plugged it in and waited. In less than 2 minutes, Pauline was wearing a smile.
She had mastered her new Konnekt Captioning Videophone.
Pauline, 99 and Fiercely Independent
Peter's mother Pauline turns 100 this year. Her deafness is so severe that hearing aids no longer help. Her hearing loss is a huge impediment. She has lived independently – fiercely independently – since her husband passed away a few years ago. She is determined to stay in her own home.
The house she lives in is the one that she and her late husband built in their retirement. The family has watched Pauline's world shrink: First from the district in which she once lived, to the garden she once treasured, to the house, and now pretty much the upper level of that house. Although she is still ambulant, her mobility is limited. Her days consist of reading, looking through photo albums, and feeding her beloved birds – the lorikeets, the butcher birds and other species that visit her daily.
Communications with the outside world, particularly her family, is absolutely vital. It eases the loneliness and silence. The candles of her nearby friends have all burned out.
Captioned Calls Helped Keep Pauline at Home
Despite its shortcomings, Pauline's previous captioning phone was a mainstay of her ability to stay in her home. Her family's only means of communications with Pauline were email and captioned calls. Phone calls provided an immediacy; she was able to ring services she required, as well as friends.
The service was intermittent. The Internet in her area was patchy, and the phone's screen would sometimes show that no operator was available. Peter talked to her often. As the CapTel service approached its extinction, they realised that – without an alternative – she would be forced into supported care. That option truly terrified her.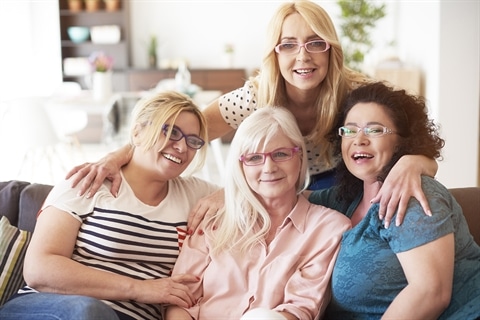 A Spark of Hope
An Occupational Therapist visited to demonstrate a TTY phone. The single line of unlit text was not suitable for Pauline, whose sight is slowly failing.
About 6 weeks ago, Peter learned of Konnekt's new Captioning Videophone from consultant Peter Rath at MidCoast Assist, a forward-looking ageing-and-disability support service of MidCoast Council. MidCoast Assist was sympathetic to Pauline's needs, and found funding to include her in their Technology in Homes program.
The Konnekt Captioning Videophone
When Peter Cole contacted Konnekt, the Founders – Karl and John – were kind enough to invite Pauline to be one of the first to "burn in" their new phone on a 30-day trial basis.
Konnekt described the long history of their easy-to-use Videophone and its popularity among very old adults wishing to remain independent, see their grandkids more often, and feel safe knowing that trusted family could check-in visually in case of a fall, illness or emergency.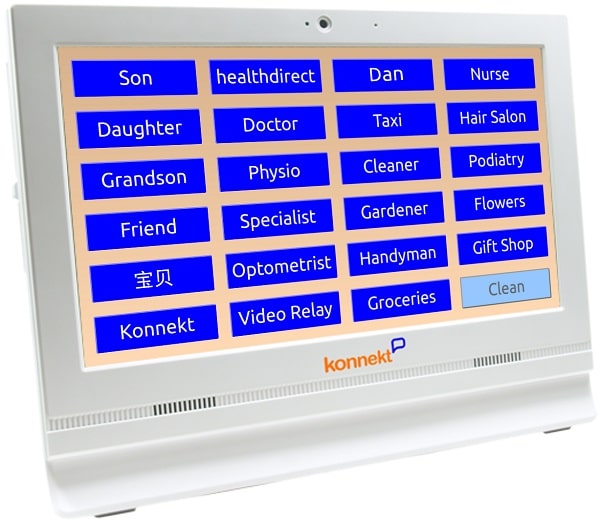 One-Touch Captioned Calls
Each of Pauline's relatives, friends, local shops and service providers was set up for "speed dial" by Konnekt.
Contacts appear by name (and optionally by photo) on 4-6 inch wide one-touch buttons on the large 15-inch touchscreen.
Konnekt explained that a numeric dialler would arrive within weeks via an automatic software update.
Vast Improvement
Pauline is now enjoying her second week with the Konnekt phone. Peter reports that his mum is finding the captioned calls to be a vast improvement over the legacy phone. She finds the touchscreen to be simple to use. The large font and bright text make it easy to read even with her failing eyesight.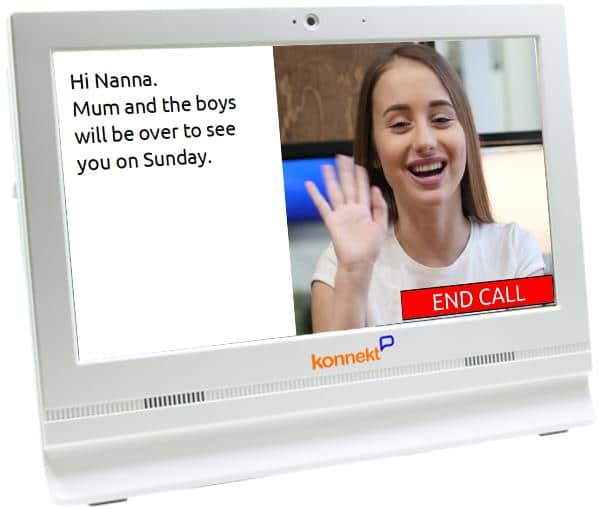 Captioned Video Calls, Too
Peter has installed Skype on his mobile phone and has just started to try video calls with Pauline. The ability to read lips and body language will aid comprehension.
A 2019 OHSU medical study showed that face-to-face video calls, 3 times per week, reduced social isolation and halved depression risk.
Peter says that Konnekt's captioning phone is the only real alternative for hearing-impaired seniors.
Government Support for Living Independently
Peter highlighted the need for education about government-support programs for assistive technology.
Konnekt's product and service can be funded via NDIS and MyAgedCare. It helps those with hearing loss (or other disabilities, including cognitive impairment) to live independently.
Peter feels that additional support to facilitate the availability and capability of the Konnekt would seem an excellent move.
Pricing and Availability
Learn how the Konnekt Captioning Videophone can help you, your family member or a client, get pricing, and find out how to apply for government funding.
Konnekt is out of stock, and our February delivery will soon be pre-sold. Simply contact Konnekt to find out how to reserve your Videophone.