Almost everything about Videophone can be personalized to suit your individual needs: The number of contact buttons and their layout, your contacts' names and numbers, whether to avoid voicemail, auto-answer options, language, colours, text size and more. These Videophone preferences are altered by Konnekt without the need for us to visit – just Contact Us, or hit the Konnekt Call button, and tell us what you need.
Konnekt Videophone - Personalisation
Konnekt is the world's most customisable Videophone
Recommendations For Personalising Your Video phone
The number and size of Call buttons is adjustable to suit your needs and eyesight capabilities.
If your eyesight is failing, you have an unsteady hand, or you just want to be able to use your Videophone without wearing glasses, ask for larger buttons with larger text size. Use short names for your Call Buttons, start with fewer buttons, and arrange them in just 2-5 rows.
Some users have Call buttons just for immediate family. Some have a button for each friend and colleague, virtually replacing the need to call from their regular telephone. Others like to have buttons for services, such as medical, cleaner, gardener, taxi, and even pizza delivery.
Buttons can be arranged in groups (family; friends; services; overseas) or alphabetically. Blanks or empty rows can help.
Call Button operation
Each Call Button can either:
Call face-to-face on Skype, using a Skype video call, to practically any mobile phone, tablet or computer
Call a landline phone number, or a mobile number (depending on your subscription), as a regular phone call
Both: Call on Skype first and if there's no answer, call a backup number
Multiple: Try calling up to 5 people in sequence, with any mix of Skype Names and phone numbers — useful for an Assist button or Family button
Videophone 30-day trials are generally limited to Skype calls only and 4 Call buttons.
For purchases, and for Captioning Videophone trials and purchases, you can have 40 buttons!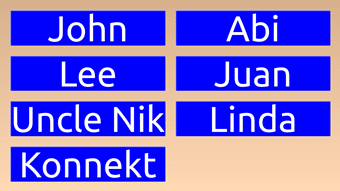 Get family onto Skype
Perhaps a few of your family and friends use Skype. After they see your Videophone and receive our hints and tips, many will get their own Skype accounts so they can talk to you FACE-TO-FACE to your Videophone.
Call Button flexibility
For each of your contacts, you can specify up to five destination Skype Names and telephone numbers. When you press a contact's Call Button, your Videophone will try calling those Names and numbers in the order you specify. We like to place the Skype Name first so that whenever possible, you'll be able to SEE and talk to your contact. Next, we list landline numbers, such as home and work. Mobile numbers in some countries* (depending on your Videophone plan) can also be called directly as destinations. You can also reach your contacts on their mobiles either by asking them to install Skype on their mobiles, or by using call forwarding. We can help them with this — it's part of the Konnekt service.
To avoid voicemail or answering machines, we can set a very short timeout duration, such as 25 seconds. If you're worried that this isn't enough time for your contact to answer, then either your contact can extend his/her phone's ringing time, or your Videophone can be setup to try calling your contact's phone twice.
One-way contacts
You may have a special friend whom you call occasionally but that you don't want to hear from. Perhaps your friend doesn't understand time zones. Just tell us, and we can block incoming calls from that contact.
Conversely, you might like some friends to be able to call you, but you don't want a Call Button for them on the Videophone. We can set that up too. This is especially useful for professional care providers, and for family of those Videophone users who repeatedly call everyone.
Auto Answer
If you have family or people that care for you that you trust, you might like to allow "auto-answer" from just those contacts. If you can't make it to your Videophone fast enough to answer, then a 2-way call will be setup automatically. This allows your trusted contact to check that you're OK so that they don't worry. It also allows you to see who is calling or even yell out to them if you're in the next room or unable to get up. You can nominate as many trusted contacts as you like. You can even choose the time duration before your Videophone automatically answers.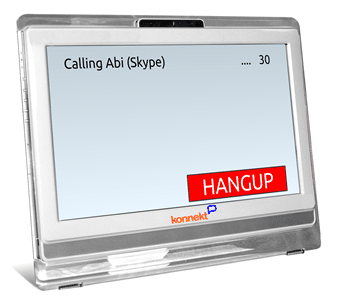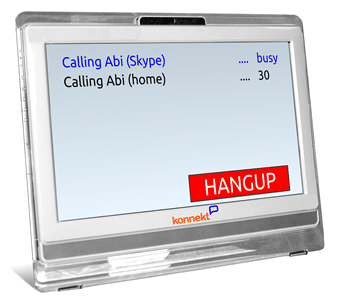 Videophone call to Abi 1st try video call
Videophone call to Abi 2nd try call to a landline_s
If English is not your preferred language, or if some of your contacts have names that you'd prefer to see in their original character set, we can personalize the Call buttons, action buttons and on-screen text messages. If you're our first customer to ask for a new language – such as Navajo Indian – we'd love to work with you to help translate our user interface!
The Konnekt Videophone's default colour scheme ensures that your buttons and text are bright, easy to read and pleasing to the eye. The default colour scheme's palette includes the Konnekt blue, carefully chosen because studies show that blue promotes happiness, confidence, calmness and creativity. For a dark room, we suggest to use our "Dark" colour scheme. We also have "Green", "Blue" colour schemes, to help you match the décor in your room or your favourite colour. There's also high-contrast "Yellow", which we recommend for those with poor vision.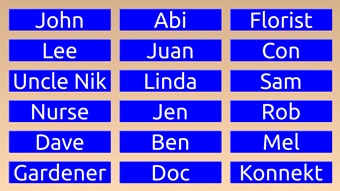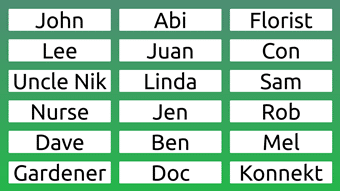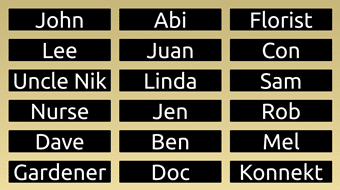 A "font" is a computer typeface that gives the text characters a specific style.
Choose Liberation font for an old-school look if that's what you're used to. "Purisa" is a fun font that looks hand-written. However, we suggest you use our default modern Ubuntu sans-serif font (with no squiggly bits) because it's less fatiguing, easier on the eyes, simple and clear.
By default, the Konnekt Videophone uses the words "ANSWER", "REJECT", "HANG UP" and "START" on action buttons. If this is confusing or if you'd prefer something a little different – such as "IGNORE" rather than "REJECT", or "END CALL" to replace "HANG UP" – we can accommodate, in your choice of language.
Similarly, we can customize the key on-screen messages for you. For example, "I'm sorry, no numbers answered" could be shortened to "Your call was not answered" or "No answer; please try later". The text that appears during a call, (which by default is "You are talking to"), can also be personalized.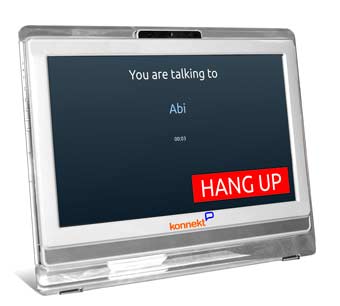 If you don't use your Konnekt Videophone then after a few minutes, it starts a screen saver. The word START travels around a dark screen slowly. This allows you to take a nap in the same room more easily without lighting up the room. It also reminds you that the Videophone is always ready for you to call your friends and relatives: Simply touch the screen anywhere to show the Call buttons. If there is an incoming call, the screen saver will stop, and the Videophone will ring and show you who is calling. Konnekt can customize the time taken before the screen saver starts, or we can even disable the screen saver so that the Call buttons are always displayed.
We can also set up the screen saver to make the screen completely dark after some more minutes. This helps preserve the life of the screen, reduces energy usage, and makes sleeping in the same room even easier. This is preferred for smaller residential Aged Care rooms. In general, we suggest that during your first few weeks with the Videophone, the screen should NOT go black, so that you're reminded to use your Videophone to talk face-to-face with your friends and family! Once you're in the habit of using Videophone for most calls, please contact us, and we can change it so that your screen becomes completely dark after a period of inactivity.
The volume of your Konnekt Videophone is loud enough to hear from anywhere within the room, during a normal conversation. For rooms with a high level of background noise or for those hard of hearing, we can make it louder so that you can hear your contacts without having to lean in. Conversely, if you share the room with someone who likes to nap while you talk, we can make the volume softer.
When someone calls you, our 1920s Australian Phone ringtone plays. It sounds like an old-style telephone with real bells. We can change it for you to a different sound, and we can configure the ringtone at a soft, normal or loud sound level. We can also adjust the calling, connecting and busy sounds.
The ringtone level is relative to the regular volume setting… so if your general volume level is set loud, you do not need to set the ringtone level to loud as well. Our strong recommendation: Start with a normal ringtone level. For large homes, we suggest a loud ringtone level. For small apartments and Care Home rooms, start with a soft ringtone level.
For those with age-related hearing loss, we highly recommend the Australian Muted Tone (loud) ringtone. It has a bassy low-frequency sound that is easiest to hear.
Microphone sensitivity is set, by default, to suit someone seated 1-4 metres away. At this level, it can still hear voices in the next room. For those with extremely soft voices or aphasia, or where Videophone is primarily used with "auto-answer" to monitor a large home, we recommend a more sensitive setting.