Reduced

Phone Bill Costs
Save money with unlimited calls to family and friends, all over the world.
We have seen regular phone bills higher than $120 per month. By using your low cost video phone for most calls, you virtually eliminate the need for regular telephone calls to your contacts' mobiles, domestic and overseas phones. Your regular phone bills can be greatly reduced — perhaps to zero.
PLUS you benefit from face-to-face calls with your family and friends.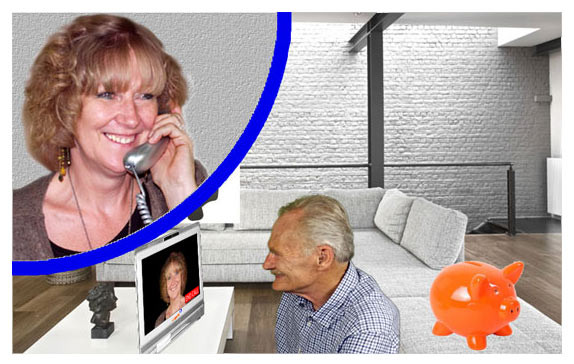 You can also make unlimited voice calls to any "landline" phone in your own country, and almost any landline overseas.
Konnekt completely manages your Internet calling subscription.
You can talk to your contacts as often as you want, as long as you like, at any time. No bill surprises!
Family & friends can also save on their calls to you
Your friends and family can also reduce their regular telephone and mobile phone bills. By calling your Videophone using Skype (from their mobile, iPad, tablet, computer or another Videophone), as well as having the option to see your face and share your smile, they can avoid the cost of a regular phone call. This is great for your callers who are overseas, interstate, away on vacation, or often on their mobile phones.
Skype is free for your family and friends to use to call your Videophone. It will use a little of their Internet data. Konnekt has tips to help your friends and family get started on Skype and get the best quality when they see and talk to you. Konnekt Videophone offers:
Unlimited face-to-face calls to mobile phones, tablets and computers, worldwide
Unlimited calls to domestic landline telephones and almost any landline overseas
Talk as often as you want, as long as you like, at any time
Friends and family also save, each time they call your Videophone
How does it help seniors and those who are not tech-savvy?

The Konnekt Videophone lets you talk FACE-TO-FACE with family and friends. It's simpler to use than an iPad or telephone. It reduces your regular phone bill, and saves money for those who call you. Unknown callers are blocked. Loved ones can show you photos, without you having to do a thing. We set up EVERYTHING and provide full support. See Seniors applications.
Available worldwide
Konnekt has sales/support partners across Australia / Asia, Europe, United Kingdom, North America, New Zealand and Africa.