An incredibly easy to use
Seniors

Video Phone USA
The Konnekt Videophone is a seniors video phone for U.S. and overseas seniors. It is specifically designed for the very elderly who would be challenged to learn a computer tablet, or who are becoming frustrated with regular telephones. Our users in the United States and across the globe enjoy the independence of a one-touch appliance that lets them talk to family, friends and carers face-to-face. Trusted sons and daughters love the ability to check-in visually, with 2-way video and audio.
If "Dad" or "Gran" doesn't or can't answer their calls, or presses their emergency pendant panic button, nominated contacts are automatically answered.
Videophone is therefore the perfect social tool for older adults and the ideal companion product to an emergency pendant.
Our video phone is LOUD, has huge 6-inch buttons, and won an award for its extreme ease of use. Most users are over 80 or suffer from dementia, a learning difficulty, or a disability. It's the ideal present for the senior in your family who doesn't want any presents, but wants to keep living at home for as long as possible, or wants to live more independently in a retirement village, nursing home, assisted living, or memory care facility.
Why U.S. Seniors Love Videophone
Skype. Super Easy.
When Irene in California calls her elderly Aunt Lily in Malaysia, Lily's Videophone answers automatically with 2-way video and sound.
Lily would be unable to use a tablet or computer for video calling, but loves talking face-to-face with family & friends on her Videophone.
Lily is very safe because strangers, scammers and telemarketers can't call her or invite her to chat.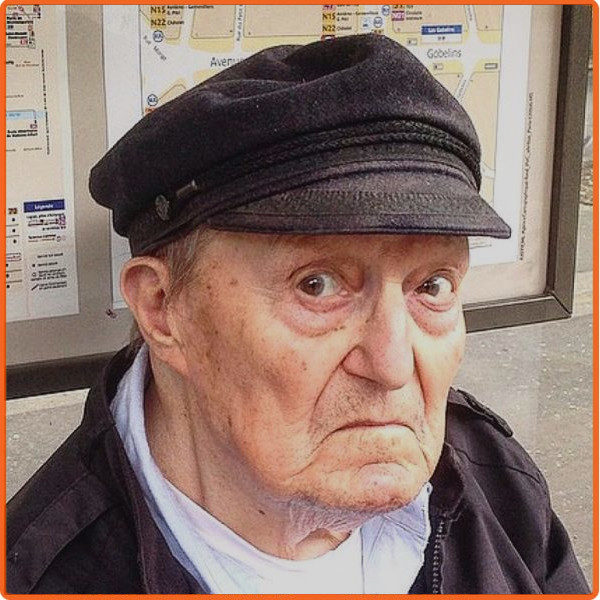 Much less lonely.
Joe's Grandpa, who lives out of Boston, was lonely and has trouble speaking. Loneliness is linked to declining health.
Joe in Florida calls his Grandpa most days. The two-way video aids communication.
Studies show face-to-face contact reduces social isolation and halves the risk of depression.
Carers can look in. Fast.
Since his wife passed away, Graham lives alone. He is at risk of falls and illness.
Interstate son Mal calls daily. When Graham can't answer, Videophone answers automatically. It's a HUGE relief.
Videophone lets upstate daughter Wendy, who is a registered nurse, quickly check on Graham's health and happiness, using visual cues.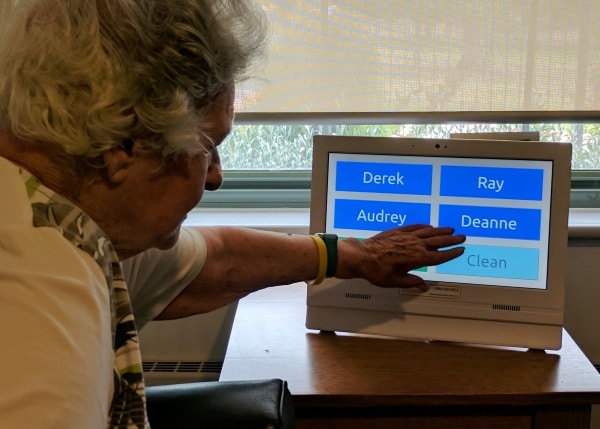 I have seen an enormous difference in my Grandma since having a Videophone installed in her room at her aged care facility. She seems so much happier and more settled than I have seen her in a long time. I truly can see the impact that having that instant connection to her loved ones has made all the difference for her. The face to face contact that video calls provide is just so important for someone in her position. To see that smile on her face when we talk is fantastic. Thank you Konnekt. Your customer service has been outstanding. Thank you for your meticulous attention to detail.
— Deanne Joosten, Granddaughter
Seniors

Video Phone USA
Videophone is available and works worldwide including the US and North America, Central and South America, Europe, Asia, the Middle East and Africa. Delighted customers use it successfully to keep in touch with family & friends, face-to-face, across state and country boundaries.
Designed for your Elderly Parent
Dementia, non-tech-savvy: One touch to dial/answer. One screen. No menus, icons, charging.
Poor hearing: Extra LOUD sound and ringtone, much louder than tablets.
Low vision: LARGE 15-inch screen, bigger than tablets.
Shaky hands: HUGE Call buttons, up to 6 inches.
The vulnerable: Blocks strangers. No telemarketers or scams!
Poor memory: No numbers to remember. Dials Skype, then home/office.
Poor health: Auto-answers trusted carers. "Look in" when they can't answer.
North America sales, support and service
During US business hours, call our US Phone number above and talk to our California-based US Partner/Reseller. Or do you want to talk to us when it's late? No problem: Throughout the Americas, customers use our after-hours US phone number during their afternoon/evening, when they've finished work or have more time to think of family. We use our Australian presence (and its time-zone difference) to your advantage: You can use our after-hours US number until 10:30pm Sun-Thu PST or until 1:30am Sun-Thu EST.
Our United States partner and our logistics site are both in California. Delivery takes as little as 2-3 days.
North, South and Central America, Sales and Support
Konnekt Videophone USA partner ESSI
1701 Westwind Dr Ste 212
Bakersfield CA 93301, USA
North America, Logistics
17224 S. Figueroa Street #A2329
Gardena CA 90248, USA
Hardware support is easy. Our hardware supplier is a top-ten computer / peripherals manufacturer, with service hubs across the globe including just out of Los Angeles, California. Software is 100% Konnekt owned and developed, and software updates download and install themselves automatically, at night. No scary pop-ups or reminders! Skype itself has a long history and owes its great quality to the teams in California and Prague. And Konnekt has a generous return policy and international warranty.
Our 30-day trial is most popular in the USA. We go out of our way to provide A+ service and support. This includes phone support during setup (it's so simple, it's usually not required), and calling each Contact to make them comfortable to call Videophone from their Skype app, face-to-face, with great quality.
The U.S.A. is home to world-leading research into geriatrics, social isolation, depression and dementia. A ground-breaking study by our colleague Dr Alan Teo, a Professor and lead researcher at OHSU in Oregon, shows conclusively that face-to-face contact is critical for physical and mental elderly health. A separate, ground-breaking study by Prof Hiroko Dodge showed that increased daily face-to-face contact via video conversation improved cognitive function in participants with and without dementia, in just 6 weeks. (Of course, we cannot guarantee that your family member or client will achieve the same outcome).
Our oldest U.S. user is 99 years old! We have users in Memory Care Clinics, Aged Care facilities, and in their own homes.
Grandpa, Mom & Chelsea, down under
Konnekt Videophone – Grandpa, Mum & Chelsea
The World's Simplest Video Phone for US Seniors
Worldwide delivery, personalized and tested, ready to go.
Use the form below for a quote for your delivery address and special needs. Enquire here. Ask for our ex-demo specials.
For only about US $2 a day. Less than a cup of coffee. What's it worth for your senior parent to see grandkids at the touch of a button?
For 30 days. We are confident you'll love it.
95% of trialists go on to be our customers.
US Partner covers Americas
Konnekt's US Partner/Reseller ESSI handles Konnekt sales and support throughout the 52 US states, all provinces of Canada, Puerto Rico, Central America and South America.
Together with our overseas partners, this has extended the Konnekt opening hours to almost 24 hours per day (including Sunday evenings), while allowing Konnekt's "Aussies" to sleep in a little more!