Captioning Phone Replacement
Alternatives for those with deafness or impaired hearing, relying on the CapTel phone and national captioning service
Captioning phone alternatives
From 1 February 2020, Captel phones were no longer connected to the National Relay Service — read why in the Statement to the House. Many rely on captioning phones to communicate with the outside world including their doctors, pharmacists, family, friends, colleagues, customers and care-givers. Understand the need to migrate to alternatives.
How CapTel captioning used to work
The CapTel® captioning phone worked in a similar way to a regular phone but added live captioning, sometimes known as transcription, subtitles, or voice-to-text.
To call a friend from your phone, you would first press a Captions button to enable captioning, then dial your friend's number. The phone would connect you to your friend so that you could talk, just like using a traditional phone.
The phone would also connect you to the domestic captioning service, via the Internet. The captioning service would transcribe your friend's voice into text, using a human relay officer, sometimes called a relay agent. The officer would re-read what he thought he heard into a computer (adding a delay) and then, using his keyboard, the officer would attempt to correct anything that was mis-heard or mis-captioned (adding another delay). The text was sent to your phone via your Internet connection, and appeared on a small screen built into the phone. This enabled you to read what the other person was saying.
The captioning service is run by the National Relay Service (NRS). NRS is a government initiative that offers a wide variety of services to help people who have hearing and/or speech impairments to make and receive calls.
In Feb 2020, the phones in Australia were temporarily connected to a US captioning centre, providing additional time for users to transition to alternatives. The temporary voice connection across the globe, plus the return trip for the captions, would add another 0.5-1.0 seconds to the captioning latency, slowing down what you see on the screen.
Strengths
Direct dial: You dialed the phone number of the person you wanted to call, and vice-versa. There was no need for you or your callers to call the relay officer (as is the case with some other systems such as TTY).
Accuracy: Captions were delayed but were usually quite accurate, due to the use of a trained Australian human relay officer, as long as the speech was not too fast.
Emergency service: The user could pick up the handset, press the Captions button if required, and dial 000. Some other systems require a separate phone number and/or a 9-step procedure.
Shortcomings
Lack of privacy: A relay officer would listen in to your phone calls.
No video: The Captel phone does not allow video calling, so there was no ability to lip-read, perceive facial expressions, interpret emotional cues, use sign language or show flashcards. Video calling could otherwise augment captioning to provide a richer, multi-mode experience, and help reduce social isolation.
Missed calls: If the phone would ring while you were in another room, you might have missed the call.
Teletypewriters are slower, smaller, harder to use, risky in emergencies
Teletypewriter (TTY) systems can be:
Slow: The user must first make contact with a relay officer to arrange their call.
Hard to read: The screen is much smaller, not as bright, and shows less text (1-2 lines), making it difficult for those with low vision, slow readers, and those who might misplace their glasses during an emergency.
Difficult to use: The TTY needs many more steps and requires re-learning — making it difficult for some older adults and those with poor dexterity or poor memory.
Risky in emergencies: There is a nine-step card that shows how to call emergency services. A different phone number is used. During an emergency, the user may forget the nine steps, the number, or fail to locate the card.
Internet-browser alternatives can be hard to use, require a new device
There are Internet browser-based captioning relay apps and services:
New device: A computer or tablet is required. It must be left on all the time so that incoming calls are not missed.
Potentially complicated: The browser-based services require registration, login, and multiple steps to make a call or prepare to receive a call. For many, they can be complicated and difficult to use.
Operator: Your caller cannot simply call you directly. The caller must call an operator and enter more digits thereafter. Many callers (such as businesses) simply may not bother to call you back.
Employers at risk: Those who work need a solution for office and home. Employers need a solution to avoid potential legal action for workplace discrimination. A business phone cannot be diverted to a system that requires an operator to be dialed.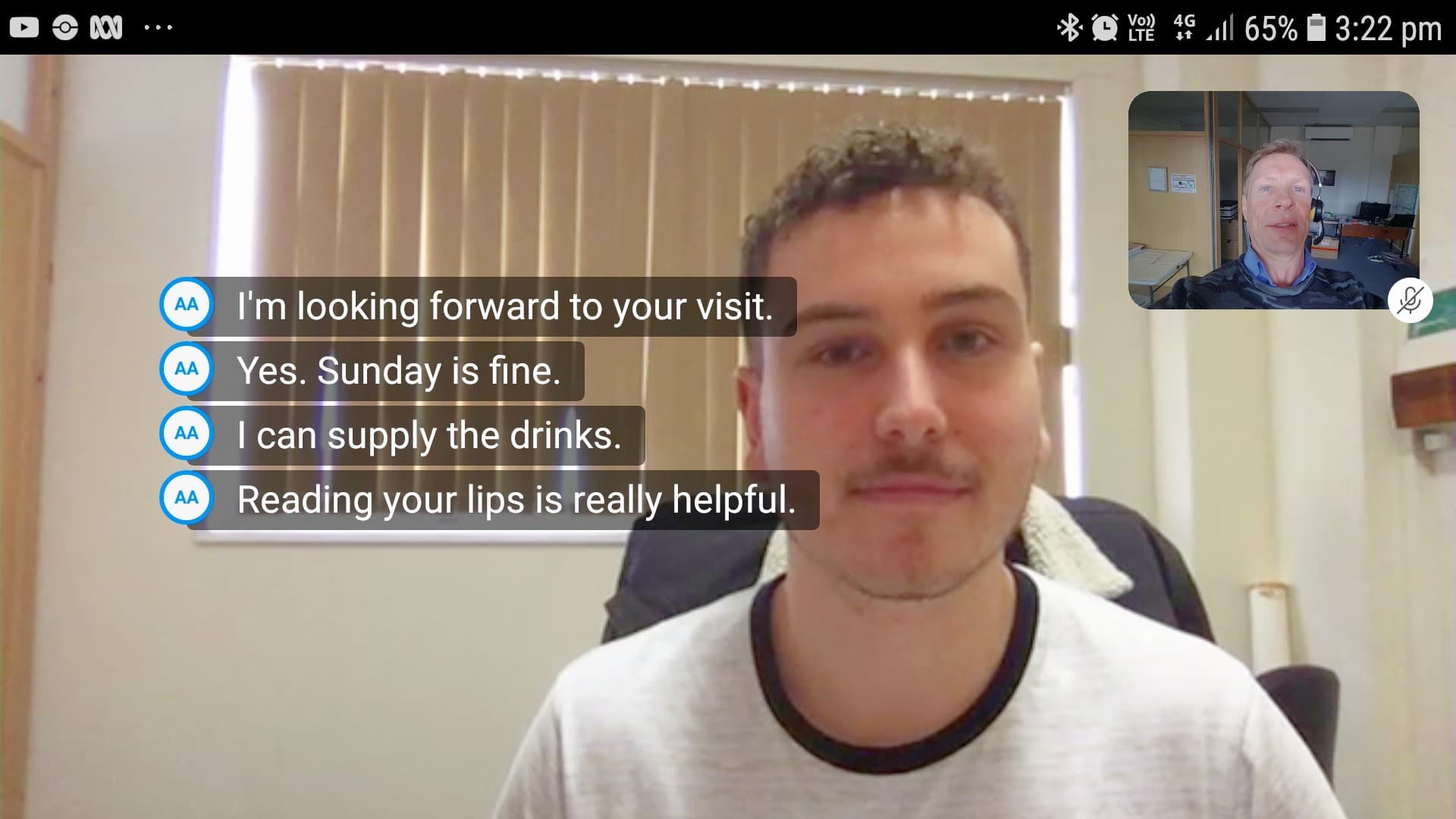 Skype with captioning
Phone calls and video calls: Read lips, share screens, use sign language
Any device: Works on a mobile, iPad/tablet or PC/Mac
Private: Automatic transcription; no humans listening
Learn it: Suits those who are able to learn a new app
Uses Internet: No active phone service is required
Watch and follow: Set up Skype captioning
How to set up captioning/subtitles on Skype
How to set up Skype captioning
Download Skype: Get the Skype app from skype.com or your device's app store. It's free to download.
Start Skype: At the top of the Chats screen, tap the circle containing your own initials or photo. Scroll down. Open Settings.
Settings: In Settings, tap on Calling, located midway down on the left of the screen.
Calling Settings: In Calling Settings, tap on Call subtitles.
Subtitles: Turn on Show subtitles for all calls. Captioning starts automatically for both voice and video calls.
Problems? Contact Konnekt by phone or online chat. We'll walk you through it.
Frequently Asked Questions
What about an easier solution?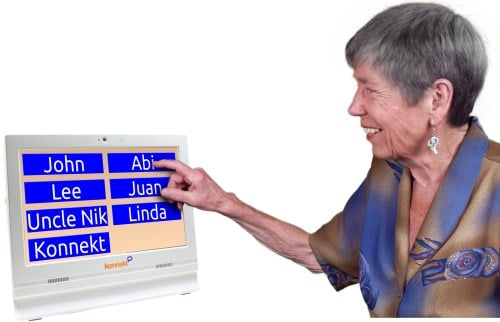 Konnekt Videophone for the hearing impaired
Incredibly easy: One touch to call; large 15-inch screen
Phone calls and video calls: Lip reading, sign language
Loud; SUPER loud with our optional powered speaker
Hearing-aid compatible, or plug in a loop/amplifier
Face-to-face calls shown to reduce depression risk
Fast, large, accurate captioning on phone calls and video calls
Regular phone calls: Call regular phones, too (including landlines)
When it rings: Turn on lamps, vibrate a pocket device
Government funding: MyAgedCare and NDIS
Government funding can pay for your Konnekt
If you have a hearing impairment, you very likely qualify, but there are waiting lists. Act now!
Learn how to apply: Get Konnekt's Government Funding information sheet.