What is LINE?
LINE is a freeware communiations app that provides text, voice and video chat, as well as a growing number of services such as the LinePay digital wallet and video-on-demand. LINE was developed in 2011 by NHN Japan, a unit of the Korean NHN Corporation, as a response to earthquake and tsunami damage to telecommunications infrastructure in Japan.
In 2013, LINE became Japan's largest social network and by 2017, LINE had 700 million users worldwide. LINE also enjoys popularity in Taiwan, Thailand, Indoneisa and Turkmenistan.
LINE is It supports group calls for up to 200 participants and offers end-to-end encryption for 2-party calls as well as group chats, voice and video calls, making it popular for those who value security and privacy.
LINE can use your mobile phone's cellular or Wi-Fi connection to make and receive calls, making it available for use practically everywhere on the globe. LINE has some unique features that are popular in Japan, including digital comics Line Manga and Line Webtoon. Today, LINE offers LINE Delima within the same app. LINE Pay is a digital payment system that enables money transfer between friends, and in-store mobile payments.
Unlike FaceTime, LINE is available across multiple platforms including iOS, Android, Windows and Mac. This means the entire family can take part in calls and group calls, regardless of the type of phone or computer they have.
How to setup LINE for the elderly
If you are setting up line for a very old adult, it is recommended to use a larger tablet, iPad Pro or computer. Mobile phones are generally too small, making them harder to see, difficult to hear, and cumbersome to handle for those with failing eyesight, hearing loss or shaky hands.
Unfortunately, like WhatsApp, an active mobile phone service is required to set up LINE, so if your parent doesn't have an active mobile phone service, they may struggle to set up LINE. With other platforms such as Skype, this is not a problem because multiple accounts can be registered to different email addresses, and a single mobile phone number can be used to verify several accounts. LINE accounts can be accessed on only one mobile device running the LINE mobile app, plus one computer running the LINE computer app. Additional mobile devices can install the app but require different mobile numbers or e-mail addresses. We are unsure whether a single mobile number can be used to verify multiple LINE accounts that are registered to different email addresses.
When you install LINE on a tablet or computer, a verification code will be sent to the mobile device. After entering the code on the tablet or computer, it will be connected to LINE, and you will be able to use it for LINE communications include voice and video calls. You can also register an email address.
Install LINE onto your parent's device using either the App Store or Google Play Store, or by visiting LINE on the web – line.me
Open the LINE app and agree to all terms and conditions.
Enter their or your mobile phone number into the provided field then enter the verification code sent to the phone.
Set a name (nickname) and optionally add a photo to the LINE account.
Register an email address as an alternative login / identifier. This is useful if using multiple devices and to cover yourself in the event that your phone number changes.
Find and add a person you wish to contact. Click and select to contact them via text, voice call or video call.
Making the LINE experience easier for a senior using a tablet
Remove all other icons from the screen and simply place the LINE icon by itself
Turn off automatic updates to prevent pop-up reminders or unfamiliar notifications
Leave their device permanently attached to a charger via a long cable
Purchase a protective case to prevent the screen from breaking when the device is dropped
Ensure that the Wi-Fi signal is strong in every part of the home where they might take the device
Set the volume to a level comfortable for talking and listening, but loud enough for them to hear the device ringing.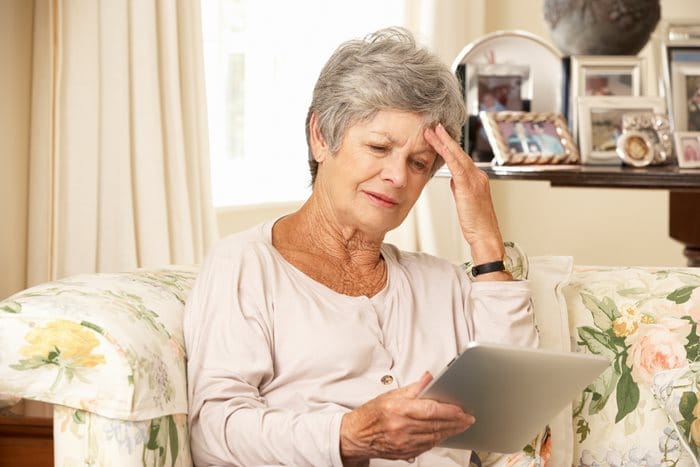 The LINE app may be quite difficult for a very old adult to use. If your parent is not technologically savvy, they may struggle using LINE.
Alternatives to LINE
LINE accounts can only be used on one mobile phone (running the app) and one personal computer. Other mobile devices can install the app but require different mobile numbers or e-mail addresses for the LINE account. This may make it difficult to help manage your parent's LINE account remotely.
There is a LINE Lite app that was originally developed for countries with slow or expensive Internet access and where lower-specification devices are used commonly. LINE Lite is unavailable in Japan and several other countries in Asia. If LINE Lite for Android is installed and activated, the user is told that they will be "logged out of the normal LINE". This message does not make clear that it might be more difficult to log back in to the normal LINE. If you are planning to give your parent an older device, please be aware of this limitation.
For comparison, Skype also has a Skype Lite app that was developed for the same reasons. It does not have the limitation of the LINE Lite app.
LINE has an OpenChat feature that lets you find and talk to people with similar interests. For older adults, those with a cognitive impairment and others who are vulnerable, OpenChat might pose a safety risk.
Notwithstanding the above issues and other common problems with LINE, the LINE user interface is quite tricky for a very old adult. If your parent finds new devices and apps to be difficult to use, they may struggle using LINE.
Fortunately, there are alternatives to LINE that are easier to navigate, and easier to manage remotely by a son or a daughter. Alternative apps include Skype, FaceTime, Facebook Messenger and Viber, all of which include video calling.
Konnekt has reviewed, evaluated and analysed over 20 video-calling platforms. The best alternative to LINE, from our experience, is Skype.
Skype calling for seniors
Skype is a video chat and messaging app which allows people to connect with each other from anywhere, using only an Internet connection. Unlike LINE, you may not need to verify your account using a unique mobile phone number, and therefore you do not need to first install Skype on a mobile phone with an active service.
Skype provides:
Calls to regular phones including landline phones, using "Skype Out", and calls from any telephone using "Skype In"
Options to create group calls that include some members on Skype and some members using their regular landline phone number
Great reliability, worldwide support and continued refinement, thanks to the investment of its current owner.
The Skype user interface is reasonably easy to use for most adults and is very reliable. However, the Skype app (like most video-calling apps) has many features that older adults don't need and may confuse them. Thankfully, there is a better way.
Konnekt Videophone

– World's Easiest Video Calling for Seniors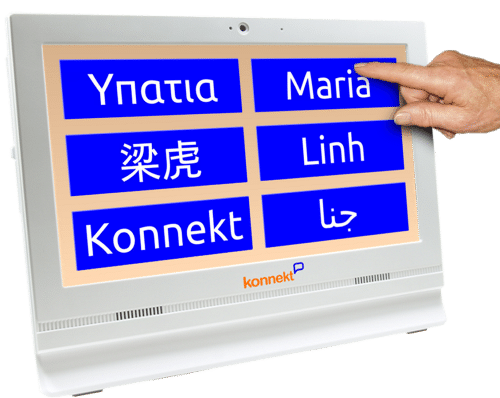 The Konnekt Videophone includes unbelievable service: Personalization. Setup and management of the Skype account. Contact invitations. Delivery. Best of all, IT Support: When Grandma's Internet or your device has a problem, we help.
Need more buttons? Increase volume? Konnekt can do it for you. Remotely. This works great for those who live in a different city or town than their elderly parent.
Konnekt even helps relatives and friends get onto Skype, and tests with them. Imagine: Your whole family happily using Skype on their mobile and home gadgets, and you don't have to convince them or show them how!
Konnekt Videophone
Konnekt helps make Skype even easier for older adults to use. The Konnekt Videophone can be used to talk to anyone worldwide using Skype, but has the easiest interface. Konnekt's Videophone won Best Consumer Friendly Product in the aged-care segment.
Your parents will be able to communicate easily with their family and friends. It's simpler to use than a traditional mobile phone, tablet or computer – no skills required!
Our simple interface gives seniors the capability to use Skype easily. It can also be used as a regular landline phone and is a lot easier than a traditional telephone.
With Videophone you will never see any pop-ups or update requests, and by default the user will not receive calls from anyone who is not an authorised contact.
HIDDEN – Skype is hidden, making it super easy
LOUD, Louder than a conventional tablet or phone speaker
HUGE one press-buttons. Great for those with shaky hands.
UNLIMITED Calls to phones – no surprise bills
AUTOMATIC answering from selected trusted contacts
UNPACK – There is no technical setup required, just plug it in to power
LARGE screen, much bigger than a fiddly tablet
MANAGED – Account subscriptions and software are remotely managed
Note that Konnekt does not represent LINE, Skype or Microsoft.