What is Zoom?
Zoom is a video conferencing platform that can be used to connect with people using audio and video calls. It enables users to interact with colleagues, friends and family members.
Zoom requires a cellular or Wi-Fi connection to organise calls and is accessible from nearly everywhere on the planet! Zoom has recently gained worldwide popularity due to the COVID-19 pandemic as many people are forced to work from home and be distant from their loved ones.
Unlike FaceTime, Zoom is available on practically any platform, whether that be iPhone, Android, Windows or Mac.
Zoom can be installed and downloaded onto any device, enabling users to organise meetings for work and family catchups virtually. This means no family members will be left out of the conversation due to the device they have.
How to setup Zoom for the elderly
Its recommended that Zoom is set-up on a computer for an elderly person. This is because mobile phones are smaller and quieter than a computer. While Zoom can be downloaded on all devices, its functionality is a bit limited on tablets with some functions not being as accessibly as they are on a computer.
Installing Zoom on a computer
An active internet service is required to set up Zoom. You will need to download the right version of Zoom depending on the device you are using. It is important to make sure you select the right version for Mac or Windows to enable Zoom to install correctly.
Ensure you have closed any programs on your computer that can access the camera.
Click the Zoom link that's been sent to them in an email, and Zoom should automatically and quickly download to the computer
Alternatively, you can ask them to go into the zoom website- Zoom.us and click on 'Join a meeting' button which will prompt them to install Zoom to their computer before using.
In the Downloads folder on the computer, click Zoom_launcher.exe. Zoom should automatically point this out with a large orange flag
Once Zoom has launched, a screen should pop up asking for their name. This will identify them during the video call.
Installing Zoom on a Phone / Tablet
Install the Zoom app onto your parent's device using either the App Store or Google Play Store, or by visiting Zoom on the web – Zoom.us
Alternatively, you can ask them to go into the zoom website and click on 'Join a meeting' button which will prompt them to install Zoom to their phone or tablet before using
Once the Zoom app has downloaded, they can enter the meeting ID and log in
They will be prompted to enter their name before joining the call
To end the video-call, simply hit the red Leave Meeting button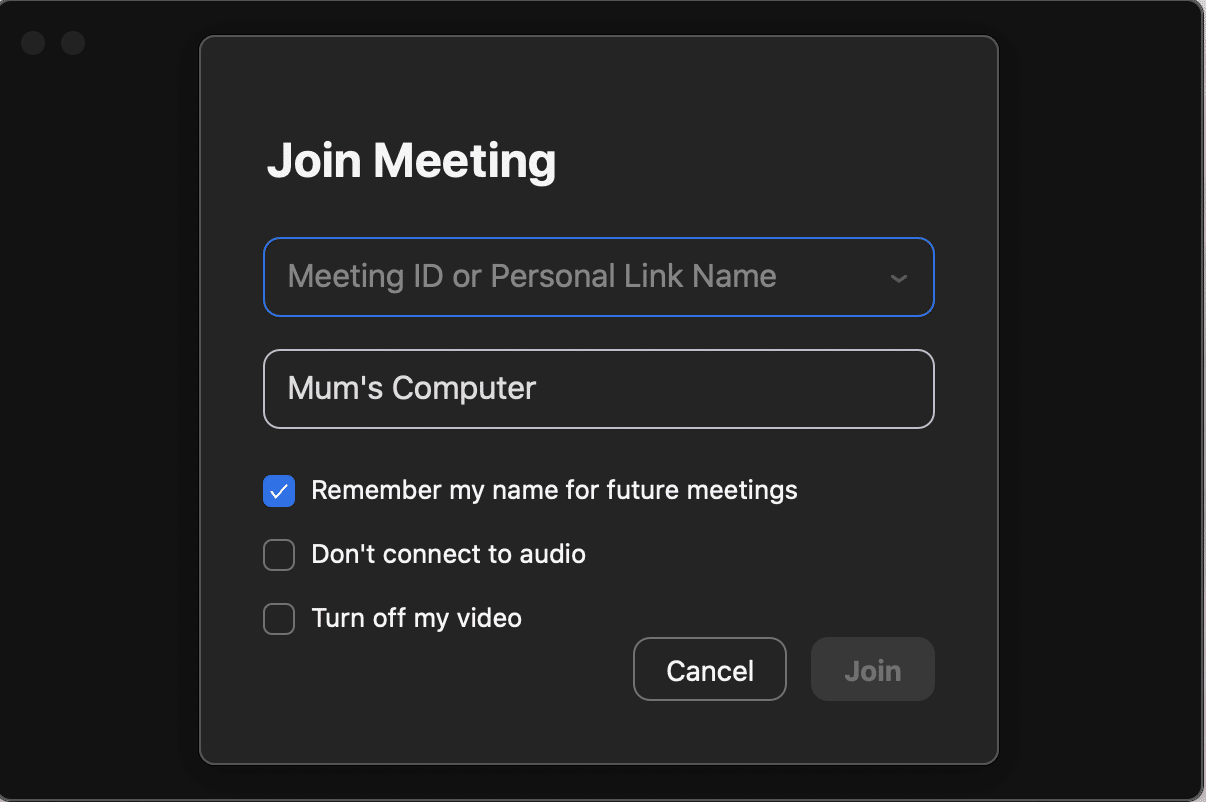 Zoom requires users to enter a unique meeting ID in order to organise voice and video calls.
Users can also enter a name to identify them during a call. Ability to select the option to keep their video switched off and only use the microphone.
Making the Zoom experience easier for seniors
Remove all other icons from the screen and simply place the app alone on a screen
Turn off automatic updates to prevent pop-up reminders or anything your parent may be unfamiliar with
Leave the device permanently attached to a charger with a long cable
Purchase a protective case to prevent the screen from cracking when it is dropped.
Purchase a suitable headset to minimise background feedback.
Ensure that the Wi-Fi signal strength is strong in every corner of the house where they make take the device.
Set the volume to required level.
Enter all relevant details such as name and pre select the. video call option while installing Zoom.
You will need to call them ahead of time to ensure they have the meeting link and are able to join the meeting.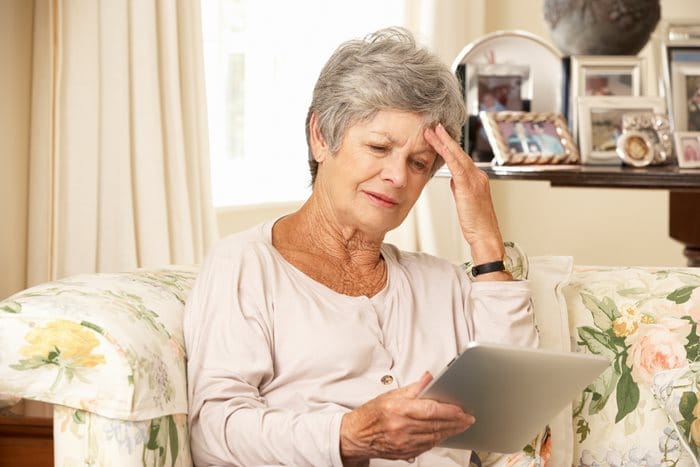 Zoom is primarily used to simulate a workplace environment for those working from home. For this reason, the Zoom interface may be quite difficult for a very old adult to use, so if your parent isn't technologically savvy or has mobility issues, they may struggle using Zoom.
Alternatives to Zoom
Zoom has recently gained popularity due to the increased number of people working from home. However its main use still remains the ability for colleagues to stay in touch and organise 'meetings' like they would in the office. The organisers can host a meeting and send the link to participants to enable them to join the meeting. However if you do not have the link, you cannot join a call.
Recently there have also been privacy concerns as outsiders have been able to join confidential meetings simply by obtaining the link. This can be concerning if your parent or loved one uses a device that is shared by others. Users also need to click on many links and follow steps in order to join calls.
Combined with the above issues, the interface is quite difficult for a very old adult to use, so if your parent isn't technologically savvy, they may struggle using Zoom.
Fortunately, there are other alternatives to Zoom that are easier to navigate, and present as a more reliable option. Apps including Skype, FaceTime, Facebook Messenger and Viber are all other video-calling applications
Konnekt has reviewed, evaluated and analysed over 20 video-calling platforms. The best alternative, from our experience, is Skype.
Skype calling for seniors
Skype is a video chat and messaging app which allows people to connect with each other from anywhere with an Internet connection. Unlike Zoom, you do not need to first install Skype on a device with an internet connection.
Skype gives users:
Calls to regular landline phones
Options to create group calls that include some members on Skype and some members using their regular landline phone
Great reliability, worldwide support and continued refinement, thanks to the investment of its new owner.
Live subtitles for those who are hard of hearing.
The Skype user interface is quite easy to use and proven to be reliable. However, the Skype app (like most video-calling apps) has in many features that older adults don't need and may confuse them. Thankfully, there is a better way.
Konnekt Videophone

– World's Easiest Video Calling for Seniors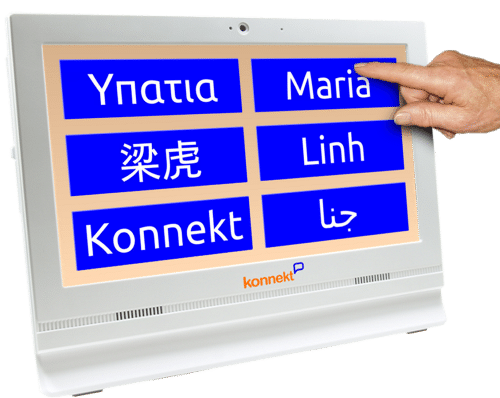 Konnekt Videophone comes with unbelievable service: Personalization. Setup and management of the Skype account. Contact invitations. Delivery. Best of all, IT Support: When Gran's Internet or your device has a problem, we've got your back.
Need more buttons? Increase volume? Konnekt does it for you. Remotely.
Konnekt even helps relatives and friends get onto Skype, and tests with them. Imagine: Your whole family happily using Skype on their mobile and home gadgets, and you don't have to convince them or show them how!
Konnekt Videophone
Konnekt makes Skype even easier for elderly to use. The Konnekt Videophone can be used to talk to anyone worldwide using Skype, but has the easiest interface, winning Best Consumer Friendly Product in the aged care sector.
Your parents will be able to easily communicate with their family and friends with no trouble at all. It's easier to use than a traditional mobile phone, tablet or computer – no skills required!
Our simple interface gives seniors the capability to use Skype easily. It can also be used as a regular landline phone and is a lot easier than a traditional telephone.
With Videophone you will never see any pop-ups or update requests, and by default the user will not receive calls from anyone who is not an authorised contact.
HIDDEN – Skype is hidden, making it super easy
LOUD, Louder than a conventional tablet or phone speaker
HUGE one press-buttons. No need for glasses
UNLIMITED Calls to phones – no surprises
AUTOMATIC answering from selected trusted contacts
UNPACK – There is no technical setup required, just plug it in to power. That's all
LARGE screen, much bigger than fiddly tablets
MANAGED – Account subscriptions and software are remotely managed
Note that Konnekt does not represent Apple, Zoom, Skype or Microsoft.