Record your Parent's Life Story
How to
Record the Life Story of your Senior Parent
In six easy steps:
Plan the Questions / Chapters, using our Guide
Interview and record over Skype
Chose a format: Video playlist? Audio book? Narrated slide show? eBook?
Voice-to-text: Do it yourself, or use a service
Music: The emotional touch
Publish: Private, public, or just for family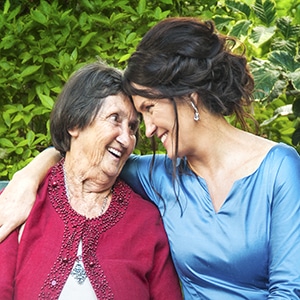 Why record your parent's life story?
Learn your history, by virtual visit
One day, your children will ask
Brain training for your parent
Play it at anniversaries, birthdays
Something to do, during COVID lockdown, without needing to visit
Step 1: Plan the Questions / Chapters
Take them on a Journey
Tell me about your parents and home town?
Was your home and school life fun and full of friends?
What were your favourite foods?
Who was your first love?
How did you two meet? Was it love at first sight?
What were your happiest moments?
Step 2: Interview and Record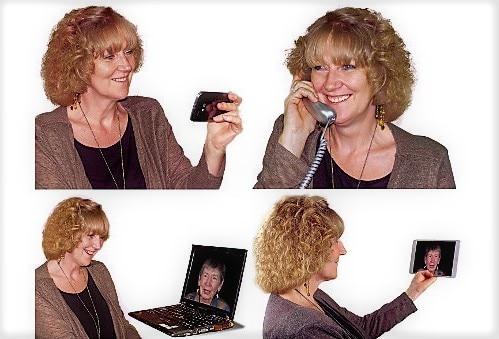 There are many free tools but we recommend…
Use the free Skype app
Runs on mobile phones, tablets, computers
Free recording of voice or video calls
Interview remotely – perfect during COVID lockdown
Share photos during the interview to prompt memories
Download from your app store or visit skype.com
Capture voice and video
Start a free Skype-to-Skype call, or call their regular phone number
Tap screen, select "…", select Start Recording
To share your screen: Tap screen, select "…", select Share Screen
Recordings are available for 30 days to download
Step 3 Chose a format: Video? Audio? Slide show? eBook?
Create a Video Playlist
Create yourself a free YouTube account
Upload each video chapter to your "Channel"
Create a YouTube Playlist to link your chapters
Share your Playlist URL to selected friends and family
YouTube can caption your video, and translate subtitles to other languages for relatives. You can even edit and download captions for an instant eBook.
Step 4 Voice-to-text: Do it yourself, or use a service
Write an eBook
Let YouTube caption each video. Download the subtitles file. Edit the mistakes in Word.
For $1-2 per minute, you can use a transcription service such as Rev.
Save your Word document to PDF, ready for sharing.
Bring your eBook to life with scanned family photos, downloaded Facebook pics, and "stills" from your videos.
Step 5 Music: The Emotional Touch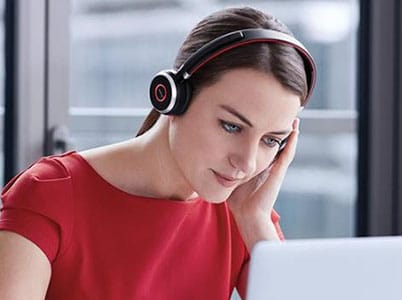 Make an Audio Book
Personalize your audio book for yourself or someone special by recording your own introduction.
Private, public or just for family
Change the privacy settings of your YouTube videos and playlist
Select Public, Private or Unlisted
eBooks are small enough to email friends and family
Audio books can be shared via Dropbox, Microsoft OneDrive or Google Drive
Create a short URL for your playlist that's easy to remember, using the tinyurl service.
Can Your Parent Use Skype?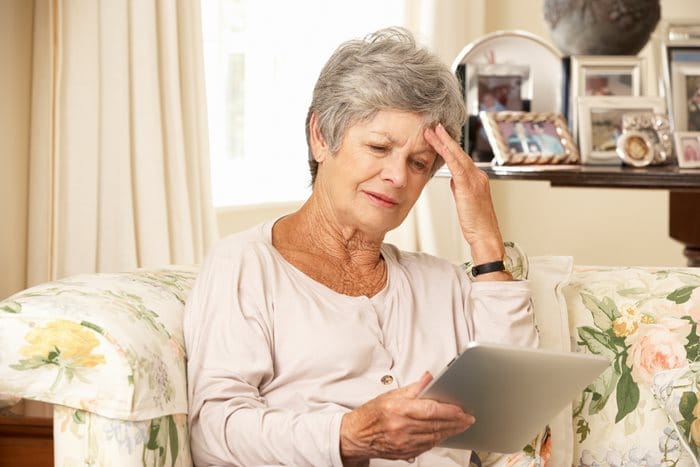 Skype is our choice…
Skype runs on almost any mobile phone, iPad / tablet or computer. It is free to download and install, uses hardly any data, and there are no charges for Skype-to-Skype calls.
However…
For someone very senior or with a fading memory, using video calling on a regular device can easily lead to frustration: Tiny text. Charging connectors. Confusing icons. Menus and settings. Too many options!
Alternatives to Skype on an iPad / Tablet / PC
Konnekt has reviewed, evaluated and analysed over 20 video-calling platforms. The best alternative, from our experience, is Skype.
Fortunately, Skype also runs on a dedicated device designed for very old adults in their 80s and 90s.
Skype calling for seniors
Skype is a video calling and messaging app that enables people to connect with each other practically anywhere in the world. Skype features:
Video calls to other Skype users
Calls to and from regular phone numbers, at a small cost
The ability to create group calls that include some participants on Skype and some on a regular phone
Great reliability, worldwide support and continued improvement
Live subtitles for those who are hard of hearing.
The Skype platform is very reliable. However, the Skype app (like most video-calling apps) has many features that older adults don't need and may confuse them. Thankfully, there is a better way.
Konnekt Videophone

– World's Easiest Video Calling for Seniors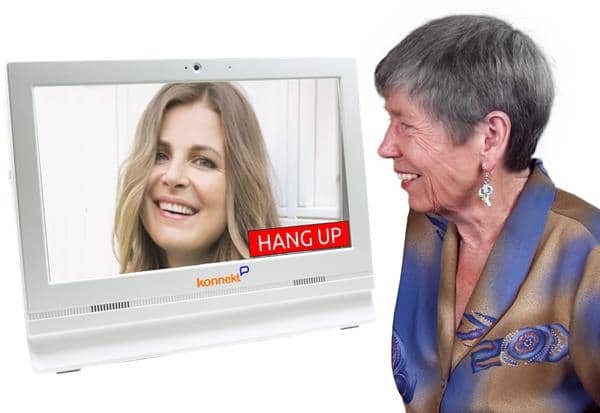 Konnekt Videophone is designed specifically for seniors and those with a cognitive or physical impairment. It is incredibly easy to use.
Videophone comes with unbelievable service: Personalization. Setup and management of the Skype account. Contact invitations. Delivery. Best of all, IT Support: When Gran's Internet or your device has a problem, we're your support.
Konnekt even helps relatives and friends get onto Skype, and tests with them. Imagine: Your whole family happily using Skype on their mobiles and home gadgets, and you don't have to convince them or show them how!
Konnekt Videophone
For more than just Life Stories
Konnekt makes Skype even easier for elderly to use. The Konnekt Videophone can be used to talk to anyone worldwide using Skype, but has the easiest interface, winning Best Consumer Friendly Product in the aged care sector.
Your parent will be able to easily communicate with family and friends. It's much easier to use than even a traditional telephone – no skills required!
Our simple interface gives seniors the capability to use Skype easily. It can also be used as a regular landline phone for calling older relatives and services, such as the family doctor.
With Videophone you will never see any pop-ups or update requests, and inbound calls can be restricted to receive calls only from authorised contacts.
HIDDEN – Skype is hidden, making it super easy
LOUD, Louder than a conventional tablet or phone speaker
HUGE one press-buttons. No need for glasses
UNLIMITED Calls to phones – no surprises
AUTOMATIC answering from selected trusted contacts
UNPACK – There is no technical setup required, just plug it in to power. That's all
LARGE screen, much bigger than fiddly tablets
MANAGED – Account subscriptions and software are remotely managed
Note that Konnekt does not represent Microsoft, Skype, Apple, Google or YouTube.