Seniors Captioning Phone – The best large screen phone for the elderly
Do you have an elderly relative or family member who struggles to use small screens on phones and tablets? Are you looking for a better alternative that is easy to use with no set up required? Look no further!
Introducing
Konnekt phone with large display and captions
The Konnekt Captioning Phone is the ideal product for seniors and the elderly. It is easy to use, features a huge display and is completely customised straight out of the box!
It is the ideal choice for older adults who want to stay in touch with loved ones but don't want the hassle of setting up a new device. If your elderly parent or relative struggles to use new technology, this product will solve all their problems.
Key Features include:
Large Screen
Features a HUGE 14 inch screen – Large display for easy viewing
Big buttons – For those with poor eyesight and mobility issues
Simple screen layout – no messy menus or pages to navigate. Simple set up and easy to use
Captions – Automatic captions that start when the call starts. No operator and completely private!
Loud Volume Settings
We can make your Videophone EXTREMELY loud if you have trouble hearing, or softer if you must use it in a room shared with others.
The videophone is ready to be used straight out of the box. Konnekt can customise the phone for you so it's ready to be used from the minute you receive it.
Easy to use
One touch calling – No fiddly menus or options
Captions: Fast, fully private, context-sensitive error correction
No Set up – Nothing for you to do, just sit back and talk to loved ones
Konnekt captioning phone with lip-reading - It's a video phone and a regular phone, all in one
Lip Reading – Improving communication and wellbeing
Lip reading is the method of using speech sounds to understand what is being said. People can use lip reading along with a variety of cues to understand the context of what is being said.
These cues can include, but are not limited to facial expressions, gestures and sign language. Lip reading enhances communication without needing to rely on written text. Studies have also shown that 30 to 45 percent of conversation can be understood by lip reading. It improves the overall quality of the conversation and improves communication.
Reducing isolation and risk of depression in the elderly
Face to face communication is more beneficial than regular phone calls and lowers the risk of depression (1), especially in older adults. It is crucial for strengthening mental health and looking after the well being of those we love. Face to face communication also reduces social isolation(2) and loneliness as well as improving overall health and well being.
Older people prefer face to face communication over regular telephone conversations as facial expressions provide an emotional element that is missing for those that are unable to hear voice intonations. This also enables them to read lips if they are a little hard of hearing.
Given the many benefits of lip reading older adults and seniors prefer face to face communication over regular telephone calls. However, social isolation and busy lives can often make face to face interactions harder.
Luckily, the Konnekt Captioning Videophone let's you see your elderly family member easily and talk to them face to face!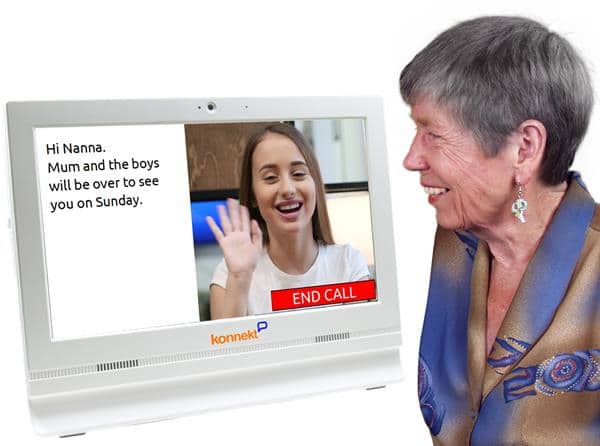 Better communication
Enhanced conversation
Improved wellbeing
Reduces isolation and depression
Captioning Videophone – The best solution to face to face interactions
It has a LARGE screen that makes it easy to see loved ones. The 38cm display ensures that you can easily read lips and see facial expressions for better communication.
The Captioning Videophone is Easy to use. Call friends and family with the touch of a button. No fiddly buttons or menus to navigate!
Use for Video calls or regular phone calls. Ideal for older adults and seniors who are hard of hearing
Videophone comes installed with automatic captions that start automatically when people start talking. Since the captions are automatic and do not rely on an operator, your phone calls are completely private!
The Captioning Videophone is extra loud and the volume can be adjusted to suit your needs. The ringing volume is separately adjustable and can be made EXTRA loud. When someone calls, you can hear the ringing from several rooms away – even if you're a little hard of hearing.
Check in virtually with friends and family from the comfort of your own home
Free Skype-to-Skype calling
To find out more, contact us
Konnekt Captioning Videophone: Captioned video call by CEO
Talk face-to-face with family, friends and colleagues
Captions. Fast, private, accurate. Multiple languages*.
Hands-free. Speak and listen without effort.
Read lips, facial expressions. Use sign language.
Large display and easy to use screen
Huge buttons. Call family and friends with one touch
Completely customised for your needs
Results of Research and Studies
Lack of Face-to-Face Contact doubles Incidence of Depression
Study of 11,000 older adults concludes face-to-face contact, 3 times per week, specifically with family / friends, reduces social isolation, halves depression risk. Derived gains endure years later. However, phone conversations, written communication, and contact with others (non family / friends) had no measurable impact.
Dr. Alan Teo Professor Oregon Health and Science University, Face-to-face socializing more powerful than phone calls, emails in guarding against depression in older adults, OHSU Research Paper 2015-10; also published as A. R. Teo et al, Does Mode of Contact with Different Types of Social Relationships Predict Depression in Older Adults?, Journal of the American Geriatrics Society, vol. 63, no. 10, pp. 2014-2022, 2015.
Systolic Blood Pressure was 14.4 mm worse after 4 years between the least and most lonely.
L. C. Hawkley and J. T. Cacioppo, Loneliness Matters: A Theoretical and Empirical Review of Consequences and Mechanisms, Annals of Behavioral Medicine, vol. 40, no. 2, 2010.