An incredibly simple to use
Skype

Phone
The Konnekt Videophone is a dedicated appliance that makes it incredibly simple for practically anyone to use Skype to talk face-to-face with friends and family.
We've designed the Konnekt Skype video phone for those who want a device that's even easier to use than their regular telephone but adds video calling. There's no keyboard or mouse. No complicated swiping or dragging. Just touch one button to make a call!
The buttons are BIG, the phone is LOUD, and the screen is LARGE enough to see from across the room. It's always ready for you to use — with just one touch of the screen.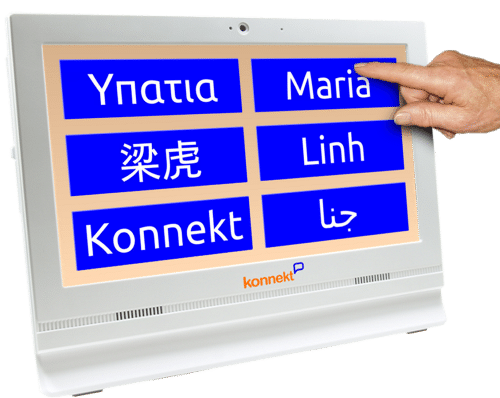 The Konnekt Videophone is much more than a product. It's backed by our full service. Konnekt does it ALL for you: We deliver and setup the Skype video phone to meet your needs. We set up your contacts, personalize buttons and messages (in any language) and customize volume and ringing so that it fits your needs. For help, just contact us or touch the big Konnekt button. We can make changes remotely, without the need to visit.
Take advantage of Skype phone face-to-face communications without having to start a computer, fiddle with a tablet or squint at a Smartphone.
Skype 

Specific Features
LARGE 38 cm screen, easy to view from anywhere in the room.
HUGE one-touch Call buttons. Completely replaces and simplifies the user interface.
Two-way, face-to-face video and sound. No emoticons, no ads, no stranger invitations.
No usernames or numbers to remember. Each Call button is labelled the way you want, and first calls your contact's mobile / tablet / computer face-to-face, and then tries backup home / office landlines in turn. All with one touch.
Managed Skype account and subscriptions. Reduce phone bills for you and your family, without the worry of surprise bills.
Friends and relatives can show photos from their computers to your Videophone while you talk. You do NOTHING! Just sit back and enjoy.
Auto-answer option for nominated contacts, rather than "all or nothing". Reduce their worry when you can't answer.