Easy Google Home for Seniors
What is Google Home?
Google Home is a smart speaker device with a built in Google 'assistant' that enables you to use the device for multiple purposes. It is used by using the phrase 'Hey Google' or 'Ok Google' to wake the device and follow it up with a command such as 'Play music'.
It can be used as a speaker to play music, control 'smart' lights and switches and make calls. You can also ask it basic questions such as 'What is the weather' and it will tell you the weather in your location.
It has a hands free option for those who want to control their surroundings using just their voice. It can be useful for those who have mobility issues and require a voice-activated device.
Google Home devices only require stable Wi-Fi to set up and operate. No phone connection required!
Google Home is available in various models to suit different needs. The different Google Home devices are available as smart displays in the form of Google Nest Hub and Google Nest Hub Max which have a 7-inch and a 10-inch screen respectively. These devices can display time, weather and be used as a digital photo frame.
Also available are Google Home and the Google Nest Mini which are smart speakers (without display) that can be placed anywhere in the house within range of Wi-Fi. All Google Home devices come equipped with Google virtual assistant.
How to setup Google Home for the elderly
It's recommended that you place the Google Home on a flat, easy to access surface. This is so that the device can hear you clearly and can easily be accessed if needed. The Google Home devices should also be placed where they are in range of the wi-fi signal so they can operate smoothly.
Google Home needs the Google Home app to set up the devices so you will need a smart phone to set up the device.
Download and install the Google Home app from the iOS or Google Play app store
Open the app
Plug in your device and follow the set up instructions
Select the + button located on the top left corner
Click Set up device from the list of options
Select a Home or create a new home if needed
Google will search for the new device
Follow set up instructions and give access for different features
Next, select the Wi-Fi network you want to connect to and enter password (if required)
Select the room your Google Home device is located in
Your device is now ready to use
Making the Google Home experience easier for a senior
Provide them with a basic understanding of how the device works
Help them to register their voice with the Google assistant so the device can recognise their voice
Create a wall chart that displays, in huge letters, the wake-up phrase and 5 useful requests, such as "Call my daughter Amy on her mobile."
Leave it permanently attached to a charger with a long cable
Set it up on a flat, easy to access surface
Ensure that the Wi-Fi signal strength is strong in every corner of the house where they use the device.
Set the volume to required level
The Google Home devices may be quite difficult for older people to set up, as they requires a smart phone, strong wifi signal and a Google account to use the virtual assistant.
If your parent isn't technologically savvy, they may struggle using the Google Home devices.
Challenges to using Google Home devices
Google initially introduced its smart speaker with built in Google Assistant in November 2016. The first Google Home device was a smart speaker that could be placed anywhere in range of a strong Wi-Fi signal. Once set up, users could ask the Google assistant to perform a range of functions. Since then the product line has extended to include the Google Nest Hub and Nest Hub Max (with a display) and the Google Nest Mini (compact version).
Difficult Setup
While these devices are easy to use for technologically savvy consumers, set up and day to day use can be difficult for older users. This is due to the fact that a smart phone, strong Wi-Fi signal and a Google account are required to set up and use these devices.
No Phone Connection
These devices also rely on Wi-Fi to make and receive phone calls. They also need to be plugged in 24/7 in order to be functional. In instances such as power outages and accidental disconnection, the user needs to follow the set up procedures again to be able to use the device.
Since the device is entirely reliant on Wi-Fi, users cannot use them without a stable internet connection.
Small Buttons
The devices also have small buttons and built in controls that can be harder for older users and those with mobility issues to navigate. Furthermore, only devices such as the Google Nest Hub and Nest Hub Max have a touch screen. The other Google Home devices do not have a screen. They are mainly voice operated and all changes need to be said as 'commands' to the device.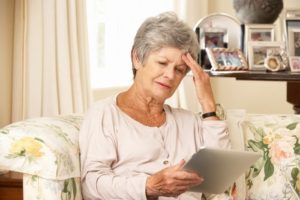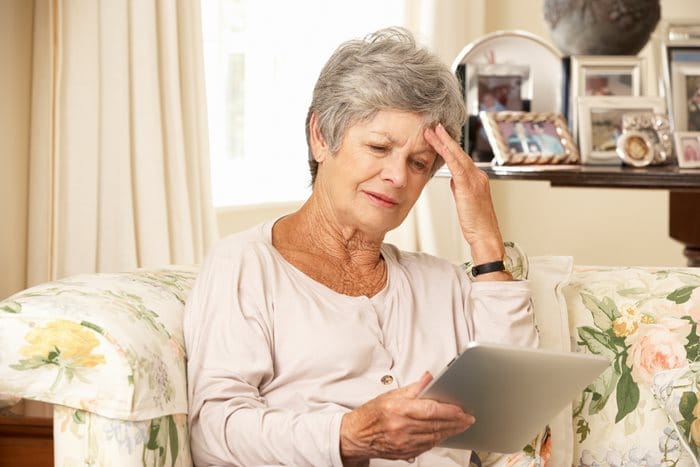 Privacy Concerns
Many users also have privacy concerns regarding smart speakers such as the Google Home. Users report concerns with having a device in their homes that listens to every word they say. There is also the risk of activating the Google assistant without meaning to as it can at times respond to similar sounding words and phrases.
Therefore, while the Google Home devices offer great features to users who enjoy having a hands free option, they can be harder for older people to use if they are not technologically savvy or have cognitive issues.
These devices also cannot replicate the comfort of talking to loved ones face to face and having a dedicated phone number for friends and family to contact you on without relying on Wi-Fi.
Fortunately, there are other alternatives to Google Home that are easier to navigate, and present as a more reliable option. Apps including Skype, FaceTime, Facebook Messenger and Zoom are video-calling applications that can be downloaded onto most devices.
Another alternative to the Google Home and Google Nest devices are the Amazon Echo devices. Konnekt has created a guide to using these devices here: Amazon Echo for seniors
Konnekt has reviewed, evaluated and analysed over 20 video-calling platforms. The best alternative, from our experience, is Skype.
Skype calling for seniors
Skype is a video chat and messaging app which allows people to connect with each other from anywhere with an Internet connection. Unlike Google Home devices, you do not need to first install the Google Home app on a mobile phone to set up the device. You also do not need to purchase a seperate device to make and receive calls. Skype is free to download on all Apple and Android devices.
To read more about how to get Skype on iPhone, visit our Get Skype on iPhone page.
Skype gives users:
Calls to regular landline phones
Options to create group calls that include some members on Skype and some members using their regular landline phone
Great reliability, worldwide support and continued refinement, thanks to the investment of its new owner.
The Skype user interface is quite easy to use and proved to be reliable. However, the Skype app (like most video-calling apps) has in many features that older adults don't need and may confuse them.
Fortunately, Skype also runs on a dedicated device designed for very old adults in their 80s and 90s
Konnekt Videophone

– World's Easiest Video Calling for Seniors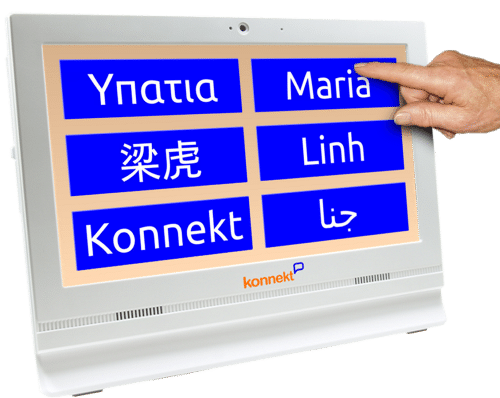 Konnekt Videophone comes with unbelievable service: Personalization. Setup and management of the Skype account. Contact invitations. Delivery. Best of all, IT Support: When Gran's Internet or your device has a problem, we've got your back.
Need more buttons? Increase volume? Konnekt does it for you. Remotely.
Konnekt even helps relatives and friends get onto Skype, and tests with them. Imagine: Your whole family happily using Skype on their mobile and home gadgets, and you don't have to convince them or show them how!
Konnekt Videophone
Konnekt makes Skype even easier for elderly to use. The Konnekt Videophone can be used to talk to anyone worldwide using Skype, but has the easiest interface, winning Best Consumer Friendly Product in the aged care sector.
Your parents will be able to easily communicate with their family and friends with no trouble at all. It's easier to set up and use than a smart speaker and can be easily customised for you.
Our simple interface gives seniors the capability to use Skype easily. It can also be used as a regular landline phone and is a lot easier than a traditional telephone.
With Videophone you will never see any pop-ups or update requests, and by default the user will not receive calls from anyone who is not an authorised contact.
HIDDEN – Skype is hidden, making it super easy
LOUD, Louder than a conventional tablet or phone speaker
HUGE one press-buttons. No need for glasses
NO WAKE PHRASE to remember
UNLIMITED Calls to phones – no surprises
AUTOMATIC answering from selected trusted contacts
UNPACK – There is no technical setup required, just plug it in to power. That's all
LARGE screen, much bigger than fiddly tablets
MANAGED – Account subscriptions and software are remotely managed
Note that Konnekt does not represent Apple, Skype, Zoom or Google