A truly simple to use
Seniors

Phone
Studies shows that about 30% of over 85s and 52% of aged-care residents have Dementia. If your loved ones are experiencing memory loss or having difficulty in following storylines then they may be suffering from early dementia. Dementia is the greatest cause of disability in seniors and 3rd leading cause of disability burden.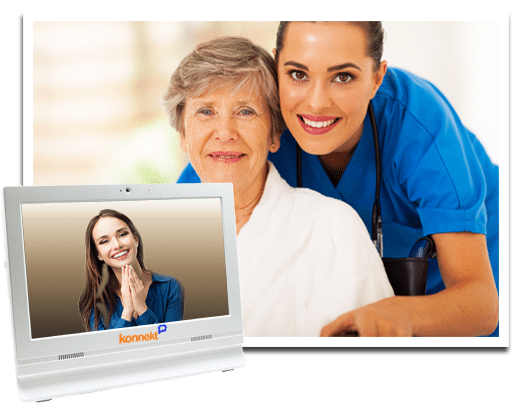 Konnekt Videophone

 is the solution!
The Konnekt Videophone is a simple seniors phone ideal for older adults to give them a better quality of life. They can SEE family and friends as often as they like, without the travel. Live independently but still be part of the family. See relatives during vacations, at special occasions, and any time they can't be there in person. Watch their grandkids grow.
The Konnekt Seniors Video Phone is incredibly EASY to use, with one-touch calling. It's LOUD, has large call buttons and a big 15-inch screen. To make a face-to-face call to daughter "Amy", for example, simply TOUCH the huge "Amy" button on the Videophone screen. That's it!
Technology designed for seniors
The Konnekt Seniors Phone is a registered Assistive Technology, classed as a Communication Aid. It's recognized as a powerful social tool for helping older adults connect to community, to regain control of their lives, and to remain living independently for longer. Safety is increased too: Videophone blocks scammers, telemarketers and other unknown callers. It also lets trusted, nominated family members and carers check in visually when there's no answer or in an emergency.
Features to help Seniors
LOUD and hi-fidelity sound from two large, in-built speakers. Much louder than tablets or laptops.
Especially LOUD ringtone available, audible across many rooms.
LARGE 15-inch (38 cm) screen, easy to see from anywhere in the room.
HUGE one-touch Call buttons. Incredibly simple.
Auto-answer option for trusted carers. Reduce their worry when you can't answer.
Friends and relatives can show photos from their computers to your Videophone while you talk. You do NOTHING! Just sit back and enjoy.
Blocks unknown callers. No telemarketers or fraudsters!
No numbers to remember. Each Call button first calls your contact's mobile / tablet / computer face-to-face, and then tries backup home / office landlines in turn. All with one touch.
Reduce phone bills for you and your family.
Winner, Best Product in Aged Care
Ideal for those with dementia, or at risk
Hear it from

 our customers
Videophone Helps Save Judy's Life
If it was not for the Konnekt video phone assisting me to visualize my Mum, I am pretty certain my Mum would have died…

— Cheryl Kolff, Judy's Daughter / Retired Nurse
Read Cheryl and Judy's Story...
My 84 year old mother has Alzheimer's disease. Mum lives independently in an over 55's retirement village interstate. She wears an Emergency Assist button "just in case".
In September I visited Mum and found her ill with an acute bowel problem. Mum hadn't told anyone she was unwell, or that she hadn't eaten or drunk fluids for several days. This illness really hit home how fragile Mum was becoming.
I was due to travel overseas a few weeks later so I implemented some measures to assist Mum. One measure was a video phone from Konnekt which would allow me to use Skype with her and was also simple for Mum to use. I wanted to be able to see Mum when I was away as she had become very labile in her ability to inform family, friends and her GP when she had pain, or was feeling unwell.
When I left Australia, Mum was feeling okay. Three weeks later we spoke on the video phone and she said her abdominal pains had returned. Thankfully she had taken herself to see her GP that afternoon. Unfortunately, the x-ray procedure he ordered was not available for a week or so later and Mum was not able to inform him as he had gone home for the weekend. Subsequent Skype sessions over the weekend enabled me to visually check on Mum's condition: she appeared stable.
I decided to call her via Skype early Monday morning Australian time to find out her exact x-ray appointment date so that I could ask her GP to push for it to be performed earlier. I have Mum's video phone configured so if she doesn't answer it opens up anyway, allowing me to see what is happening. On this occasion Mum didn't answer and the video phone went to automatic opening just as she was coming into view. I could see she looked very unwell and was in obvious need of an ambulance. To cut a long story short, the video phone allowed me use my nursing skills to assess my Mum and determine that her bowel was possibly obstructed and that she was dehydrated. Due to her age and heart problems Mum was heading towards a potentially catastrophic event i.e. a cardiac arrest.
The video phone allowed me to observe my Mum and comfort her whilst waiting for the paramedics to arrive. It also allowed me to tell the paramedics what had happened as they assessed her before taking her to the Emergency Department. Mum was diagnosed with a bowel obstruction and was operated on that day.
If it was not for the Konnekt video phone assisting me to visualize my Mum, I am pretty certain my Mum would have died a very horrible death in her unit within 24-48 hours as her recent behaviour suggests she would not have told anyone how she felt.
— Cheryl Kolff, Judy's Daughter / Retired Nurse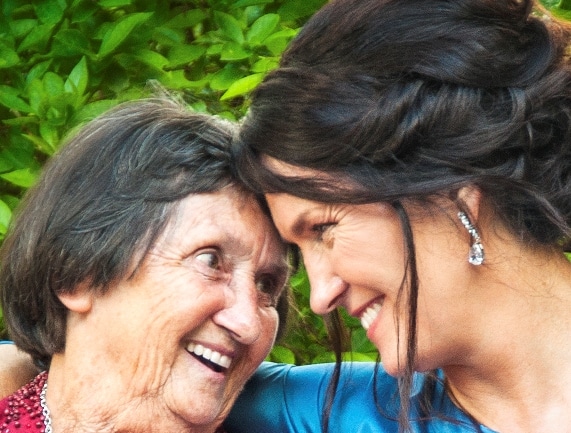 Happier, Great Service
I have seen an enormous difference in my Grandma since having a Videophone installed in her room at her aged care facility. She seems so much happier and more settled than I have seen her in a long time. I truly can see the impact that having that instant connection to her loved ones has made all the difference for her. The face to face contact that video calls provide is just so important for someone in her position. To see that smile on her face when we talk is fantastic. Thank you Konnekt. Your customer service has been outstanding. Thank you for your meticulous attention to detail.

— Deanne Joosten, Grandaughter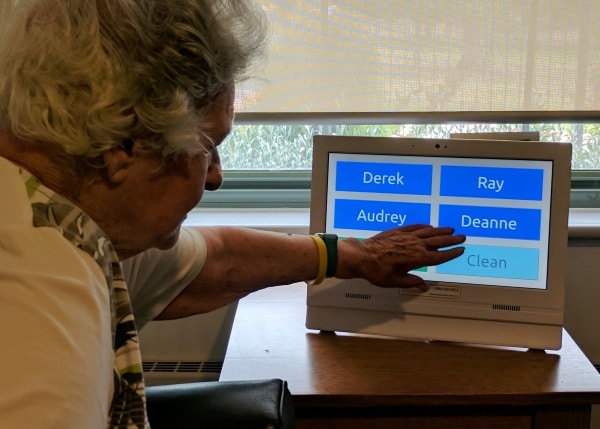 Konnekt – for Seniors of all abilities
Konnekt videophone – setting up
Do Seniors 

Tablets work?

Our market research found that most over 75 have trouble using even the simplest tablets designed for seniors.
Read more
Available products have screens that are too small and volumes that are too low. The icons are baffling and hard to remember – especially for someone whose memory has had better days. The volume buttons are too easy to knock. Shaky or unsteady fingers are always creeping over the edge and accidentally changing settings or running unwanted apps. Most of all, the text is tiny – usually to make room for those icons. There are simply too many options. Menus were never part of Gran's home telephone, so why does she need menus now?
Portability is great in theory. In practice, it results in lost, misplaced and dropped devices. Devices that are taken to rooms where Wi-Fi is poor and ringing can't be heard.
Most manufacturers cram seniors tablets full of features. Features that Grandma probably doesn't need, such as email, weather maps and texting. Most 80-year-olds want one thing more than anything else: Staying connected, face-to-face, with family and friends… and perhaps, if it's extremely easy, to see and talk about photos of their grandkids.
A survey of the elderly showed that 80% are willing to try video calling. How hard can it be?
Seniors struggle to use these seniors tablets, and end up feeling frustrated.
We call these top-drawer fillers. They end up in the top drawer, along with other unused gadgets!
Don't wait for the memory loss to get worse.
Find out now whether you qualify for a no-obligation trial.
Available worldwide. Click here