Pre-loved Videophones
Occasionally, we receive ex-rental or ex-demo Videophones that we're able to offer at a substantially reduced price.
Unless otherwise stated, all pre-loved Videophones are:
Fully functional
Current 15-inch hardware; no missing parts
Refurbished, with the latest Konnekt software
Tested
Equipped with localized power adaptor
Setup to your needs with your Contacts and Preferences
Personalized to the new user and re-tested before we deliver
Available with our usual high-quality I.T. support worldwide for you and your family/friends
Konnekt assists the customer and other contacts, anywhere in the world, to get started with Skype
Supported by Konnekt including remote changes/additions without the need to visit
As new, fully refurbished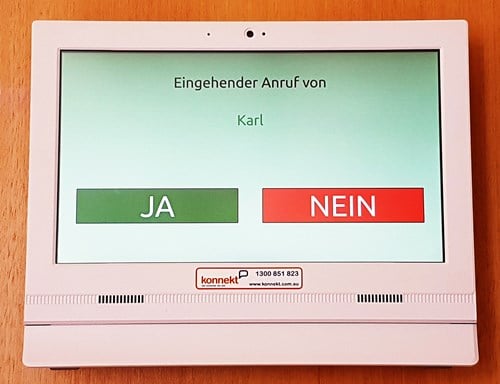 20% to 40% off our purchase price
Original Videophone: 40% off

Current model Videophone: 20% – 40% off, depending on age

Available in almost any language (German example shown above)
As-new condition
Warranty: Minimum 3 months
Delivery available worldwide
Exact price with delivery will depend on your delivery location
Hurry to take advantage. Ideal gift for an elderly relative or friend.
Damaged but fully functional
50% off our purchase price
Please register with Konnekt to learn when a scratched or damaged unit becomes available
These units may have a screen that is less bright, or may have scratches or blemishes that do not impede operation
3-month Konnekt warranty (touchscreen excluded)
Ideal for the budget-conscious, or for those needing a 2nd Videophone for bedroom / upstairs
Enquire now online for exact pricing for your delivery address.
Alternatively, talk to a real human being! Contact Us