Selecting An Aged Care Home
Selecting an aged care home – Choosing a care facility that's right for you and your loved one
A nursing home, also known as a care facility or an aged care home is a residential facility for older adults who require on-going assistance with day-to-day tasks and cannot live on their own.
It is an out-of-home care facility that is also suitable for older people who have health-care needs that cannot be met in the individual's home and require special care.
Choosing An Aged Care Home
Deciding it's time to move into an aged care home is a tough decision. Often this decision is not made lightly and is a stressful time for the whole family.
Some people can be very hesitant to make the change from living independently to relying on others. Each residential facility is different and with so many different options, selecting the right one can be daunting.
We've made a list of top things to look for, the questions to ask and key issues to keep in mind while considering care facilities, so that you can select a care provider for your loved one with peace of mind.
Making It a Family Decision
Since moving to a care facility is a difficult decision for everyone, we have some tips and tricks to help with having the chat, ensuring you and your loved one are on the same page.
Chat about your loved one's health and the risks in continuing to live alone.
Your parent is likely to be thinking the same thing but not willing to admit it. Ask them what they think. Listen.
Reassure them that you'll visit just as often, after the move.
Involve them in the decision: Take them to see Care Homes. Introduce them to staff. Ask them what they think. The more involved they are in the process, the more likely you will pick a place where they will be happy.
Try the food: Many Homes will allow you to join in for lunch. After all, they will be eating here everyday, so it's important they enjoy it!
Try out one or two Care Homes just for 10-14 days, as a period of respite. Be sure to visit and call often during this time. This will allow your loved one to immerse themselves in the environment and envision their life there.
Most importantly, assure your loved one that moving to a care facility doesn't mean they will give up their independence! They will still be able to live autonomously, in a safe and secure environment.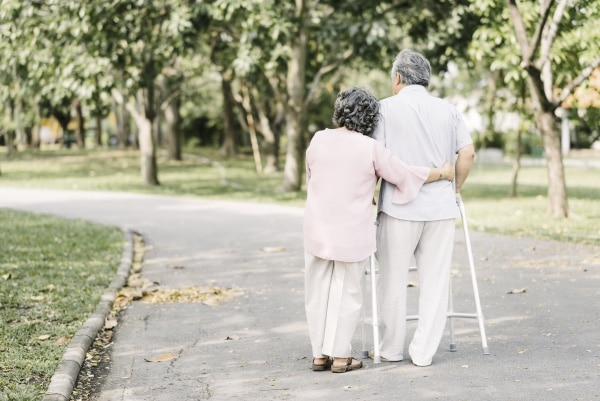 Main worries when choosing a care facility:
Giving up independence
Fear of the unknown
Moving away from family
Loneliness
Deteriorating mental health
Reports of problems with nursing homes
Change in lifestyle
Affordabilty
Things to look for when choosing a care home:
The Location:
One of the main things to consider in an aged care home is the location.
Most people look for facilities in or around the current home. It's important to find a facility that is close to family and near a familiar area. You want to select an area that is close by and convenient for loved ones to visit.
This is also a good time to discuss and agree on who should be the closest to the care facility and, if multiple children are involved, who will be the primary carer. This will help to narrow down the area and the list of potential care homes.
The Facilities:
Another important factor to consider is the current facilities offered.
When considering aged care homes, we recommend looking at facilities such as the residential rooms, the communal areas and the Internet and phone facilities.
Residential rooms need to be large enough to enable the resident to move around safely without tripping over furniture and fittings. The bathroom door must be easy to open for someone using a walking aid. Walk around the room yourself, imagining daily activities including sleeping, changing clothes, reading, hosting visitors, relaxing, enjoying a snack or drink, and phoning or video-calling family members.
A good aged care home has a strong Wi-Fi signal in residents' rooms, and reliable Internet and phone capabilities to ensure you can keep in touch with your loved one. All good aged care homes enable you to install your own phones, such as the Konnekt Videophone, to enable you to see your family as often as you want!
Find out more about the Konnekt phone here: www.konnekt.com.au/big-button-phone
Care home facilities will be used on a daily basis by your loved one, so it's important to ensure that the facilities tick all the boxes.
Research shows: Those without FACE-TO-FACE contact with FAMILY or FRIENDS at least 3 TIMES PER WEEK have DOUBLE the risk of DEPRESSION. Furthermore, feelings of loneliness predict dementia onset.
Konnekt Videophone - Health and Happiness
Customer experiences match health research findings
The Carers:
The people caring for your family member must put the needs and wellbeing of residents above all else. They will impact the physical and mental health of your loved one every day.
We recommend visiting all care facilities you are considering to ensure the carers are well trained and equipped with the resources to help your loved one.
It's also important to find out the resident-to-staff ratio to ensure your elderly relative will have sufficient care. In Australia, public (state-run) facilities in the state of Victoria have legislated ratios for resident-to-staff numbers to ensure appropriate levels of care. Currently, the mandated ratios are one nurse to seven residents (plus a nurse in charge) during the day, one nurse to eight residents (plus a nurse in charge) in the evening, and one nurse to 15 residents overnight.
Source: Victorian government backs staff-to-resident ratios in private aged care
These numbers apply to state-run facilities only. The private sector does not have any legislated ratios at the time of this article. While there have been calls for an integrated system, there isn't one at present, and other Australian states don't currently have any legislated ratios in place.
In the United States, according to a 2020 Health Services Insights medical study, most care homes do not provide sufficient staffing to ensure basic quality. More than half of U.S. nursing homes were found to have lower Registered Nurse, Certified Nursing Assistant, and total nurse staffing levels than those recommended by experts. Overall, 75% of care homes almost never met the Registered Nurse staffing levels expected by the Centers for Medicare & Medicaid Services (CMS).
Visiting the facilities multiple times is a great way to observe the level of care that the residents receive. Talk to staff and don't be frightened to ask. While staff ratios are only one measure, higher ratios are associated with better health outcomes, lower mortaility rates, and improved activities-of-daily-living (ADLs) independence.
The Lifestyle & Services:
Does the care home have parks and open areas for residents to meet? Does It have communal areas for socialising? Is it secure and safe? Is the food healthy and nutritious to meet varying dietary needs?
Many good nursing homes have a Lifestyle Activities Coordinator or a Diversional Therapist who runs activities, connects residents to their families, conducts outings, and is most likely to know the mental health and wellbeing of the residents. They are often the heartbeat of the facility and will be able to provide an insight into the resident's overall wellbeing.
All these factors impact the mental and physical health of your relative and should be an important factor in choosing a care facility.
Since social isolation is directly linked to risk of depression and accelerating dementia, it's essential to find an aged care home that will ensure your loved one has a community and friends in their new home.
Medical research shows that residents in aged care home with strong connections are much happier and healthier overall!
Other Residents:
Meeting and Speaking with other residents can prove very insightful as they can elaborate on the day-to-day life within the aged care home.
Strong social connections and community can also have other health benefits:
Social relationships encourage healthy habits
A study "Quality in Ageing and Older Adults" shows that social relationships:
encourage adequate sleep, diet, exercise and medication compliance,
discourage smoking, excessive eating and alcohol abuse.
As a health risk, social isolation is worse than cigarette smoking and physical inactivity.
The digital revolution has left many older people behind.
Sources: "Social Isolation Kills, but how and why?" Psychosomatic Medicine, Vol 63; and an analysis of 148 studies published in PLoS Medicine, Jul 2010.
Video Calling in Nursing Homes
Most elderly people in nursing homes receive limited social interaction and face-to-face conversation.
This leads to loneliness, worsening mental health and decline in wellbeing. Diminished mental health can also lead to increased depression and chances of developing dementia.
One way of combatting this is to set up an easy-to-use private phone with video calling, such as the Konnekt Videophone.
Research has shown that 82% of elderly adults are open to video calling, and look forward to this time with their loved one.
Buying a dedicated videophone is great way to provide your loved one with the independence to stay in touch with the whole family, at the press of a button! This can make the transition from living at home into an aged care facility easier and more enjoyable.
It's easy to use, completely personalised and no set-up required!
Konnekt does it all for you, so all you have to do is start using it. The staff and residents love it as it provides complete independence to the residents without requiring the staff to arrange calls.
Click here to see what other's have to say about the Konnekt Videophone.
Care Home Resident Phone

Specific Features
Big buttons up to 15cm (6 inches)
One-touch: Incredibly simple to use — award-winning
Huge 15-inch screen, extremely large text
Resistive touchscreen – press with absolutely anything
Super LOUD
Shows you who is calling, blocks telemarketers and fraudsters
Personalization and changes included – nothing for you to do
Captioning option for the hearing-impaired
If your loved one has, or develops, severe or profound hearing loss, their Konnekt Videophone can be remotely upgraded to include subtitles (voice-to-text). All video calls and standard calls are captioned. During video calls, the user also benefits from reading lips and facial expressions. Learn more about Captioning Videophone.
Konnekt Captioning Videophone: Captioned video call by CEO
Talk face-to-face with family, friends and colleagues
Captions. Fast, private, accurate. Multiple languages*.
Hands-free. Speak and listen without effort.
Read lips, facial expressions. Use sign language.
Large display and easy to use screen
Huge buttons. Call family and friends with one touch
Completely customised for your needs
Results of Research and Studies
Social isolation and telecommunication in the nursing home: A pilot study

Nearly 40% of elderly nursing home patients were either mildly or severely depressed, roughly half were not satisfied with the current level of communication with their family members, and 46% did not believe that the social support from family and friends was adequate.

Read the study

.

Lack of Face-to-Face Contact doubles Incidence of Depression
Study of 11,000 older adults concluded that face-to-face contact, 3 times per week, reduces social isolation, halves depression risk. However, phone conversations and written communication had no measurable impact.
Dr. Alan Teo Professor Oregon Health and Science University, Face-to-face socializing more powerful than phone calls, emails in guarding against depression in older adults, OHSU Research Paper 2015-10; also published as A. R. Teo et al, Does Mode of Contact with Different Types of Social Relationships Predict Depression in Older Adults?, Journal of the American Geriatrics Society, vol. 63, no. 10, pp. 2014-2022, 2015.